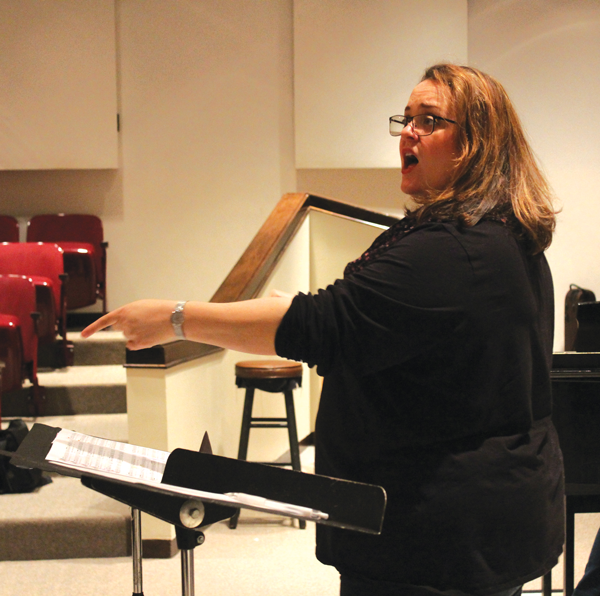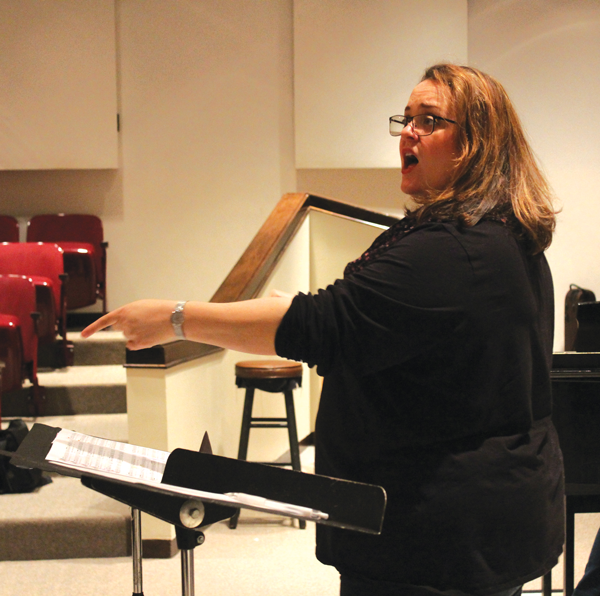 By Parker Ward
Even when 40 voices rise together in song, Melinda Imthurn can hear a single bad note.
"Melinda has an amazing ear," said Radha Daswani, who previously sang with the Dallas Women's Chorus.
Imthurn, Eastfield's director of vocal studies, also teaches private vocal lessons in her studio and has worked as an announcer at WRR 101.1. For 10 years, she has been artistic director for the Women's Chorus of Dallas, planning the group's season, working with collaborators, choosing music and conducting.
"Melinda's passion and commitment to the Women's Chorus just says something strong about her, considering the other facets of her life," said Daswani, now general manager of the Women's Chorus. "On top of that, she manages to run it so smoothly."
Imthurn has also performed at a wide variety of venues including the AT&T Performing Arts Center, Casa Mañana and the Meyerson Symphony Center and has conducted at Carnegie Hall in New York City.
Imthurn graduated from Texas Woman's University with a bachelor's degree in music performance and a master's degree in music pedagogy. She has also studied with Tony Award-winning actress Betty Buckley and continued her graduate studies with the University of North Texas and the Shenandoah Conservatory. "
My degree is in vocal pedagogy, which is teaching voice, but I still have a passion for choral music. Those are my two passions," Imthurn said.
Before she came to Eastfield, Imthurn taught private voice lessons.
"I taught private voice from when I was about 20 starting in middle school [students] and then going up into high school," Imthurn said. "Then when I was a graduate student, I had a teaching assistantship doing college-level voice."
Imthurn knew early on that community college was the right fit for her to teach.
"I was thinking what the ideal student for me was, and I decided that was the community college student," Imthurn said. "I started teaching adjunct. I started with one class and that solidified the fact that that was something I had passion for."
In order to achieve her dream of teaching community college, Imthurn decided to work at Mountain View College.
"I did that for a lot of years and then moved to Dallas. I started teaching at Mountain View College which was near where I lived and ended up going there as a visiting scholar."
Because she already had a passion for teaching, Eastfield seemed like a natural fit.
"I had known some colleagues who had worked here [at Eastfield], and the school had a great reputation, " Imthurn said. "So I thought, let me come on over to Mesquite, and I have loved it ever since."
Since coming here, other faculty have noticed a large change.
"Literally the semester before she came to Eastfield, there was seven or eight people in the choir," said Dr. Oscar Passley, faculty coordinator of the music department. "The semester she took over there was 30. She's a great recruiter and has a really great work ethic."
Along with her choral and private vocal work, Imthurn has also had other interesting jobs.
"I used to do radio. I did one year as an announcer for WRR, classical 101.1. Not a big station, but it's a big deal as far as classical stations go," she said. "I went in with no experience. They had a job opening and my friend worked there. I went in and recorded a demo, and was hired to be there Sunday from 6-4."
On March 25, Imthurn will be performing music from several of her favorite women composers. The recital will take place 12:30-1:30 p.m. in room F-117.
"The main featured composer will be Claire Schumann. She was a romantic composer," Imthurn said. "She was really a pioneer in music as far as women in music go. She made an international career as a concert pianist, which was absolutely unheard of at the time. "
She believes that women have come a long way since the Romantic Era.
"The only thing women were doing performance wise was singing because they needed sopranos and altos. But other than that, women weren't doing that kind of thing, so it was a big deal," Imthurn said.
Imthurn enjoys the community surrounding Eastfield's arts departments.
"It's such a great thriving arts community in this building," she said. "Everybody who teaches is active outside the campus in their art form. I like it here."