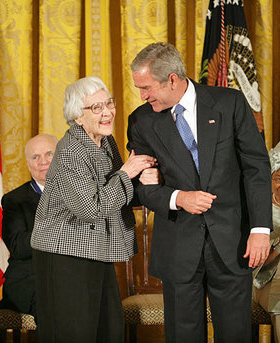 By Courtney Schwing
I was 8 years old when I first read "To Kill a Mockingbird" and 15 when I re-read Harper Lee's classic work for a high school advanced English class.
Sassy and quizzical, narrator Scout Finch was my hero, aside from Hermione Granger.
Her character is immortally effervescent. With the way young Scout befriended the underdog and listened intently to her wise father, Atticus, she became the heroine of "Mockingbird" and a literary legend.
You could imagine my disappointment when I realized Harper Lee had never written another book after publishing her Pulitzer Prize-winning
"Mockingbird" in 1960. That was until earlier this month, when HarperCollins Publishers announced a sequel (of sorts) to the beloved American classic.
"Go Set a Watchman" is set to release July 14 and is already a best-seller on Amazon due to pre-orders. Fifty-five years after the release of its predecessor, the highly anticipated novel has become the subject of great controversy.
Currently 88 years old, Lee lives in an assisted-living facility due to the recent passing of her sister and caregiver, Alice.
According to family members and close friends, it wasn't a secret that Lee had written two versions of "Mockingbird" and that the abandoned manuscript was in Alice's possession. After Alice's passing, Lee's lawyer Tonja Carter discovered it.
Lee has frequently been labeled as a recluse, avoiding media interaction as much as possible. Exploitation is on the lips of many people, fans and critics alike.
The famous author had a stroke in 2007, which reportedly left her nearly blind and almost deaf. How could a woman who is almost completely disabled be in the position to authorize the publication of a manuscript that was deemed unpublishable 58 years ago? How far is too far? Do we celebrate the work of a renowned author who has shed light onto racial inequality and become a staple of literature in classrooms nationally despite this gray area of consent? How do we honor great artistry that has proven itself to be timeless and moving without disrespecting the wishes of the artist?
I have mixed feelings about the release of "Watchman." "Mockingbird" immortalized a perception of racial injustice this country was not expecting to hear in the middle of the Civil Rights Movement. Because of the advocacy Lee's work sparked, "Watchman" already shines brightly in my mind as I await the return of Scout Finch in her adult years.
Despite my adolescent nostalgia, I pause to think of what Lee wants. If she chose never to release "Watchman" or write another novel, I respect that mystery.
The fact remains that there is no proof of exploitation, nor is there proof that this is Lee's choice. All that is certain about "Watchman" is that it is coming this summer, regardless of the hidden details.
"Watchman" transports us to 1950 as an adult Scout Finch returns to Maycomb, Alabama, after having ventured to New York. This novel is presumed to have overlapping themes that still focus on racial injustice and how it remains applicable 20 years later.
If one stops to consider the recent riots in Ferguson, MO., and the protests in Oakland, Calif., and New York City, perhaps "Watchman" is coming to us at the most opportune time.
Our culture is culminating around the concept of human rights activism, stemming from its grandfather, civil rights activism. Just as "Mockingbird" embodied the time of civil rights, "Watchman" is a symbol of human rights.
We left Scout a whimsical 6-year-old girl and she returns to us as an adult when we need her the most. America never outgrew the importance of "Mockingbird" and we have not outgrown the need for a "Watchman."