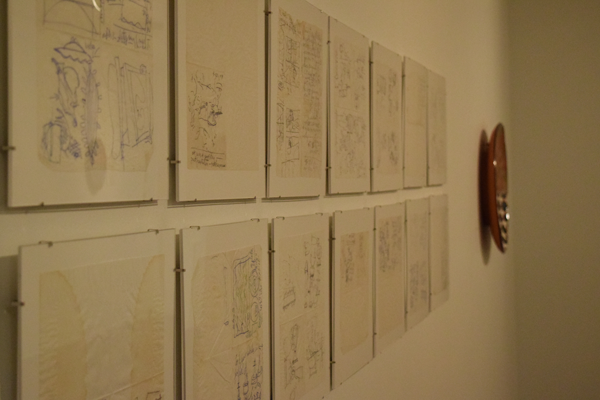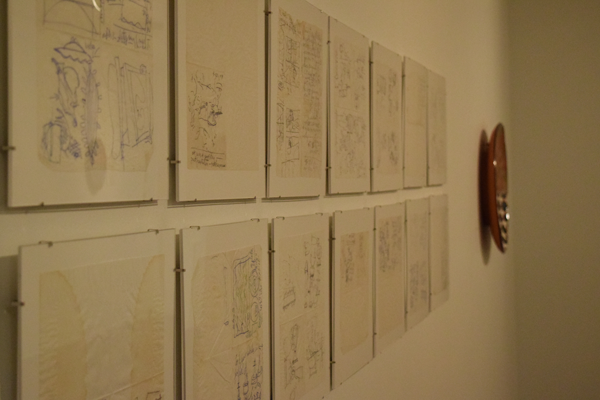 By Andy Carrizales
James Watral worked in clay, creating oversized, signature sculptures and pottery.
"I enjoy watching potters throw on the wheel," his friend Hampton Burwick said. "What I really think James was a master of was creating these really large sculptures."
Although sculptures appear in his first posthumous gallery show, entitled "It's About Today," his two-dimensional artwork steals the spotlight.
The Napkin Series, a collection of sketches on restaurant napkins drawn from 2005 to 2009, captures Watral's creative ideas as well as personal reminders to pay bills, self-portraits, original poems and encouraging messages directed to him
self and his students.
"Almost like coaching himself all the time," friend Rusty Scruby said about the messages, "that's why he keeps overcoming demons."
The exhibit was organized by Eastfield gallery director Iris Bechtol with Burwick and Scruby.
An Ohio native, Watral moved to Texas in 1968. After various teaching positions at Texas Woman's University, the University of Texas at Dallas and Southern Methodist University, among other institutions, Watral arrived at Eastfield in 1999 and taught ceramic classes until 2010.
Watral died of a heart attack on Oct. 5, two days before his 72nd birthday.
Burwick and Scruby said they hope students draw inspiration from the napkins' messages.
"We wanted to put [the napkins] up to help motivate the students here at school to say 'Oh, I can do this too!' " Burwick said.
In his napkin sketch "Mickey — hold back," Watral urges one of his students to slow down and live life to the fullest.
In the artist's words: "The passionate moment of work — do it. It cannot answer the meaning of life for you. It's only a step. Be willing to change."
Fine arts major Katelynn Gayle Crouch admires the series.
"I have a weird affinity for napkin arts," she said. "It reminds me of when I was a kid."
Watral drew inspiration from various sources including garden design, theater, literature and science, Bechtol wrote in her description of the show. He also showed an affinity toward ancient Greek, Egyptian and Etruscan artwork.
Later, his inspiration changed focus when he lived through the AIDS crisis, Burwick said.
"His later work is in memory of and in mourning of many of the people who died of AIDS," Burwick said.
Most of the collection was obtained from the artist's studio, and some of it came from the personal collections of Scruby and Burwick.
"He was very generous," Bechtol said. "If you made a comment about you liking something, he would usually say, 'Here, you just have it.'