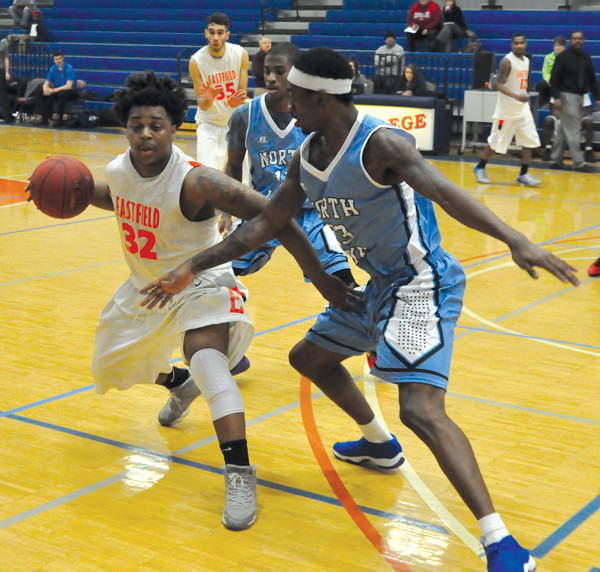 By Juanita Hernandez
IRVING — The Eastfield Harvesters men's basketball team ended its season with a 96-83 loss to Brookhaven on Friday in the opening round of the Region V Tournament at North Lake College.
This will be the first time in three seasons that the Harvesters won't go to New York to play in the national tournament.
Eastfield (19-11), the two-time defending Region V tournament champs, struggled to a 3-7 record in conference play during the regular season and was just the No. 5 seed in the tournament. However, the Harvesters started strong against Brookhaven (21-9), leading by eight points with five minutes left in the opening half.
The Bears got late baskets from Chisom Obineke, Kenny Slocum and Charlie Alexander to close to within one point at the half, then took control of the game in the second half. Eastfield had its chances, but poor free throw shooting doomed the Harvesters.
With five minutes remaining, two slam dunks from Obineke and Aaron Peterson fired up the Bears and pushed their lead to 10 points. The Harvesters were unable to mount a late comeback.
"It's a work in progress," freshman forward Youssef Kaoud said. "We can't always win."
Sophomore guard LaDaniel Marshall led Eastfield with 21 points, followed by Walter Bell with 12, Donald McBride with 11 and Danzel Whitemon with 10.
"We gave it all we had," Marshall said.
Brookhaven got 21 points from Alexander, 17 from Slocum, 12 from Shannon James and 10 from Laquin Turner. The fourth-seeded Bears were scheduled to take on top seed Richland in the tournament semifinals at 6 p.m. Tuesday on the Thunderducks home court.
North Lake 94, Eastfield 91
The Eastfield Harvesters let one slip through their fingers in the final 30 seconds against North Lake on Feb. 4.
Eastfield had a five-point lead with a 1:17 left, but back-to-back 3-pointers from Joseph Mitchell and a slam dunk from Deosic West gave the Blazers the win in Mesquite.
Eastfield had five players in double figures in the loss. Donald McBride came off the bench to lead the team in scoring, hitting seven 3-pointers and finishing with 24 points.
"I got [in] a real rhythm and it felt good, every shot that was coming out of my hand," McBride said. "Any shooter, when you start feeling like that, it's like the basket feels like the ocean. You feel like you just can't miss."
Danzel Whitemon added 18 points, Majycal Howard had 14 despite playing with a high ankle sprain and Walter Bell and LaDaniel Marshall had 11 each. Howard also contributed eight assists.
"It's still swollen, but it's getting better day by day," Howard said about his injured ankle. "I have to play; I have to get my team right."
Despite the loss, Eastfield showed considerable improvement since its 93-61 blowout loss to North Lake on Jan. 17, which Harvesters coach Anthony Fletcher called an embarrassment. Eastfield shot just 29 percent from the field in that first game compared to shooting 54 percent in the rematch.
— Brianna Harmon
Richland 73, Eastfield 65
The Harvesters put up a closely contested fight for the majority of the game against the nation's No. 3-ranked team, but their shots were not falling, especially during the end of the second half, in an eight-point road loss Jan. 31.
After trailing 38-34 at halftime, Eastfield came out strong with a 7-0 run in the second half. However, foul trouble hurt the Harvesters, sending Danzel Whitemon to the bench early and only allowing him to get off three field-goal attempts. Whitemon finished with just two points to go along with 10 rebounds and five assists, while leading scorer LaDaniel Marshall was held to four points on 1-for-7 shooting, but contributed seven rebounds and six assists.
Marshall "did use good strategy throughout the game and contributed by making good defensive plays while getting rebounds and assists," Fletcher said.
The Thunderducks went on a 7-0 run with 10 minutes left in the second half to pull away from Eastfield.
LeTron Manning came off the bench to score a team-high 18 points and grab seven rebounds for the Harvesters. Majycal Howard had 15 points, Walter Bell added 13 and Donald McBride scored 11.
"I knew I had to get in the right mindset in order to get where I was going," Manning said. "I felt motivated and knew that I had to help my team out."
—Duncan Dixon
Eastfield 88, Cedar Valley 85
The Harvesters edged the Suns by three points at home Jan. 28 thanks to a strong offensive night. Eastfield hit 65 percent of its field-goal attempts (30-for-46), including a blistering 72 percent from 3-point territory (13-for-18), and also made 80 percent of its free throw-attempts (12-for-15).
Cedar Valley shot just 40 percent from the field and 64 percent from the free-throw line.
LaDaniel Marshall (19 points, 10 rebounds) and Danzel Whitemon (12 points, 11 rebounds) both had double-doubles for Eastfield. Majycal Howard led all scorers with 21 points and Walter Bell was close behind with 20.
— Brianna Harmon
Eastfield 88, Brookhaven 84
After being down by three points at the half, the Harvesters outscored the Bears 45-38 in the second half to take a four-point road win Jan. 24.
Youssef Kaoud registered 15 points, grabbed 14 rebounds and blocked four shots off the bench for Eastfield. LaDaniel Marshall (16 points), Donald McBride (16) and Letron Manning (11) also scored double digits for Eastfield.
— Brianna Harmon
North Lake 93, Eastfield 61
Eastfield only shot 29 percent from the field and committed 28 turnovers while North Lake shot 53 percent in the Harvesters' road loss Jan. 17.
Eastfield's LaDaniel Marshall was only 5-for-13 from the field, but scored 20 points, almost a third of the Harvesters' scoring output.
— Duncan Dixon
Mountain View 105, Eastfield 95
Eastfield overcame a five-point halftime deficit to force overtime, but Mountain View outscored the Harvesters 16-6 from there in a 10-point home loss Jan. 21.
The Lions crushed the Harvesters on the boards, outrebounding them 49-32.
Danzel Whitemon (22 points and 7 rebounds) and Walter Bell (24 points) led Eastfield's offensive attack.
— Duncan Dixon