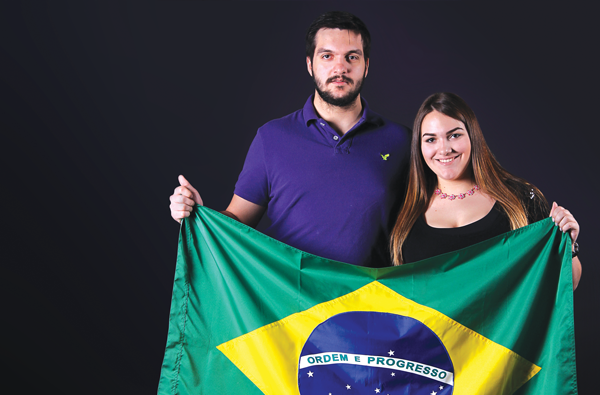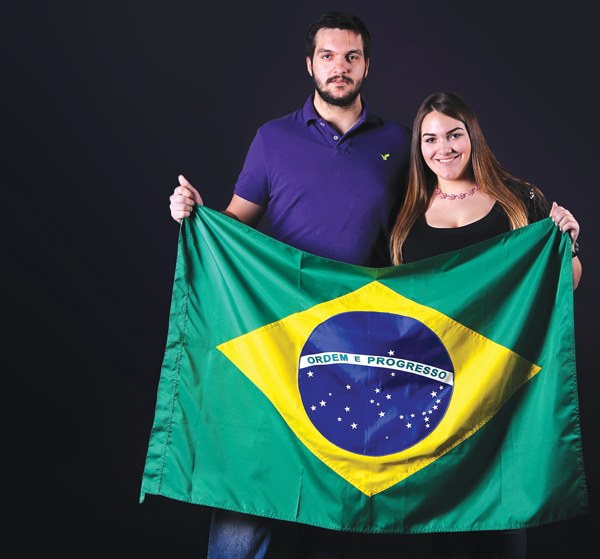 Brother and sister move from one of Brazil's biggest cities to Texas suburbs
By Braulio Tellez
The Sgobbi siblings went from eating their mom's feijoada and watching soccer to eating hamburgers and going bowling.
Bruno, 24, and Isabella, 18, are first-semester international students from Brazil's largest city, Sao Paulo.
Their transition from foreign students to transplanted natives has been fairly smooth. They miss their home country, but say Texas is a great alternative to the busy city life they are use to.
"People are so nice and welcoming here," Bruno said. "They're always asking us, 'Do you need anything? Are you feeling all right? Are you enjoying your time in the United States?' Here, the people really care about you. You're someone different. Sometimes we're the only Brazilian they know, so they want to know everything about you. They want to know more about your culture and they want to introduce you to their culture. I love that."
Isabella attended Sachse High School her junior year in 2012 as part of the school's foreign exchange program. She returned to Brazil to finish high school and travelled to Texas last year after her host family, Lori and Daniel McClain, suggested she continue living with them while attending Eastfield.
"My host dad actually came to Eastfield and said it was a really good school and a good way to save money before going to a university," Isabella said. "I thought it would be a great idea and so did my real parents, so now I'm here and I couldn't be happier."
Bruno graduated from Centro Universitario das Faculdades Metropolitanas Unidas with a bachelor's in law before he began working as a lawyer in Brazil. He saved up enough money to move to Canada, where he lived with friends and practiced his English. After living in Toronto for six months, he returned to Brazil before moving to Texas in 2013.
When Bruno came to visit Isabella in Rowlett in the spring, her host family suggested he stay with them and attend Eastfield with his sister. He registered soon after and began taking classes.
Isabella said she was not too excited about the news when she first heard it but soon warmed up to the idea.
"In the beginning I didn't really want him to come because I didn't want to share my host family with him," Isabella said. "But afterwards it was much better because I didn't get homesick as much as I used to. Our host family is great, but Bruno and I are real family, so we both have someone to go to when we are missing Brazil and it's like we can take each other back for a little bit."
The siblings attend the same learning community classes, a group of courses taught together with a common theme among them to streamline the overall learning experience. Bruno is pursuing an associate's degree in business while Isabella is working on her basics. She plans on attending either Texas A&M or the University of North Texas to become a pharmacist.
They are both enjoying their time here and taking full advantage of the opportunities Eastfield has to offer.
Isabella is president of the International Club, to which Bruno also belongs. They said the club has helped them create new friendships and feel like a part of the college.
"Clubs make college interesting," Isabella said. "We don't have school clubs in Brazil, so it's been really nice for us. We hang out on campus for meetings and while we're here, we meet new people. Our professors always told us that, and we never really listened, but it's true. Participating in this club has helped us make new friends."
Outside of school, they help their host parents rescue abandoned boxers. The hobby has brought them several canine companions.
"We love saving these dogs because it makes us happy knowing we're improving the lives of these animals, and sometimes we find one that we love so much that we just keep him," Isabella said.
Even though they've enjoyed their time in Texas, they still miss Brazil. Bruno said it's harder to keep up with his favorite soccer teams, although he's figured out how to watch them from a computer. Both say they miss food such as feijoada and chicken heart, common dishes back home.
"It's different for us because we used to live in Sao Paulo and we have 22 million people there, so Rowlett is a really small city for us," Bruno said "It's very much like living in the countryside. Sometimes it's way better than Brazil because of security, but a lot of the time we miss our friends and our family. We miss going out too because Sao Paulo is a city where, even if it's 3 a.m., you can still go out and grab a bite to eat."
Isabella misses her parents, but knows they're proud of her and her brother for what they're doing.
"They are really supportive and help us out so much," she said. "They are the ones who suggested I be an exchange student and I am so happy we all agreed on it.
They know it will be better for us in the future because even if we don't stay here, we can go back to Brazil, and with the educations we have, make a better living than if we had just stayed in Brazil."
Amina Kader, their adviser at the English Language Learning Advisement Center, said they are both doing well socially and have adapted wonderfully to the college.
"For it being their first semester here, they've been doing a lot," Kader said. "And every time you see them around the campus, they are always with someone new.
They have flourished and have had no problem fitting in. They know how to make friends wherever they go."
Kader said they play the dynamic of brother and sister well and are very close-knit.
"It's adorable to see their interactions because they pick at each other very often, but it's not a bad picking, it's just very brother-sistery," she said. "Isabella is definitely the more eccentric and outgoing one, and Bruno is the older, more stoic big brother. He's very observant and he'll poke at Isabella when he thinks she's doing something she shouldn't be. They really care about each other and you can tell by the way they treat each other."
Marissa Williams is another academic adviser at the ELLA Center and said Isabella and Bruno are distinctive students.
"They are very outgoing, independent and strong, so they're not just going to flower away in a corner somewhere," she said. "They're making their own way and they're great no matter what they do. They are definitely a breed of their own and stand out in a good way."
Their time at Eastfield has just begun, but the brother-sister duo knows they're in a great place.
"Eastfield tries really hard to bring everyone together by putting on events and having these clubs and having amazing advisers," Isabella said. "It's awesome because they're so involved with the students and it makes us feel like we really belong here."