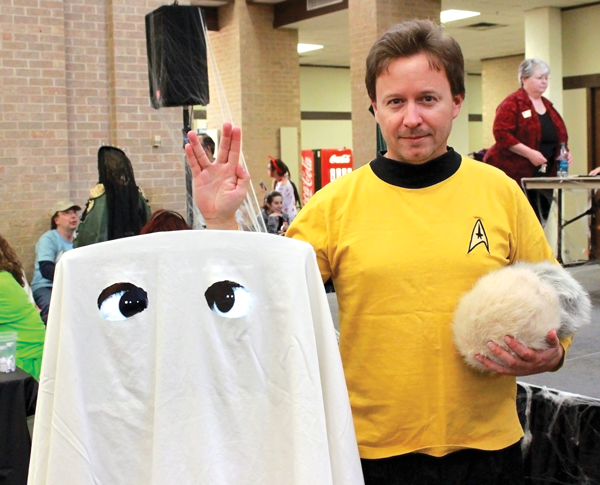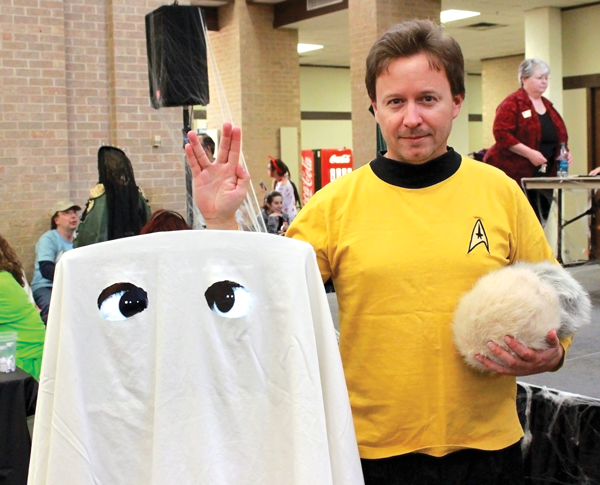 By Braulio Tellez
Luke Skywalker had R2-D2. Joel Robinson had Crow T. Robot. Hogart Hughes had the Iron Giant. Professor David Kirk has the Kirkatron.
Kirk is a computer science professor and creator of the robot many students see roaming the campus.
Essentially, the robot is a portable flat-screen computer monitor held up by a configuration of metal rods, which have been welded together. It is also hookedup to a speaker system. The body rolls around on a set of tracks and is controlled by a remote control.
Kirk calls the robot a virtual presence device and found the inspiration for it on a TV show.
"I was watching the show 'The Big Bang Theory' and one of the characters [Sheldon] had built a device similar to this one," Kirk said. "I thought it was so funny and so I wanted to build one just like it."
The professor takes any opportunity he can to use his robot on campus. This semester, he had it rolling around the lower courtyard at the Club Fair, collecting fliers and signing up for clubs.
On Halloween, he cut holes into a bed sheet, threw it over the Kirkatron and had a fully functional ghost roaming the Pit.
Kirk has always enjoyed creating things and honing the craft has been a life-long endeavor.
"I love building things," he said. "I grew up watching my father build things in our garage, although everything he built was mostly out of wood. I like working with tools and trying to figure out how to build stuff, so for me it just comes naturally."
Kirk has been working with electrical components since his youth.
"I've been building computers and working on electronics since I was able to," Kirk said. "My first computer was a 16 keypad and four LED light computer that was just really basic. It could play some really weird games, but it had no screen."
Kirk also uses the robot in his classes but not in the way most might think.
"My office is right down the hall from the lab where I teach, so sometimes when I'm in my office and need to tell the students something, I'll roll it across the hall and relay a message through the robot," he said.
Kirk uses Skype to display his face in real time on the monitor.
"A couple of times we've been in the lab waiting for class to start, and rather than just stepping into class, the robot will come in there, and everyone will just look at each other," said computer science major Whitney Gillum. "I think it's awesome."
Gillum says Kirk's robot makes him different from other computer science instructors.
"I have never seen anything like it before and it's obviously taken a lot of work to put together, which I think is awesome," she said. "To have a professor who isn't afraid to do funny things like use a robot as his assistant is refreshing and exciting."
Kirk believes having an understanding of computers and a knack for interacting with students puts him in a great position.
"Students want to take a computer science from a professor who actually works on projects that revolve around the subject and knows the field, not just in theory," Kirk said. "It shows them not only that I'm excited about the subject, but that I know what I'm doing."
Gretchen Riehl, dean of science and physical education, sees the Kirkatron as a testament to possibilities of science and technology.
"It shows students the creativity of science and the many things it provides us with," Riehl said.
She's proud to have Kirk as a professor, she said, and feels more professors should try creative things like the Kirkatron.
"I love it when my faculty does something creative and breaks the mold of your everyday science professor," she said. "Anything you can do to wake up students and engage them in a different way is refreshing. If it works, do it. I encourage all my faculty to teach as creatively and as engagingly as Professor Kirk."