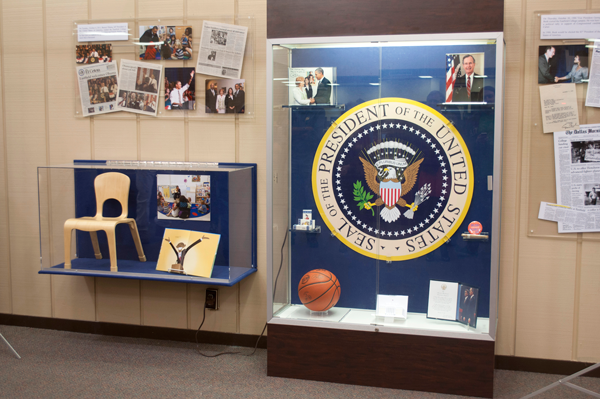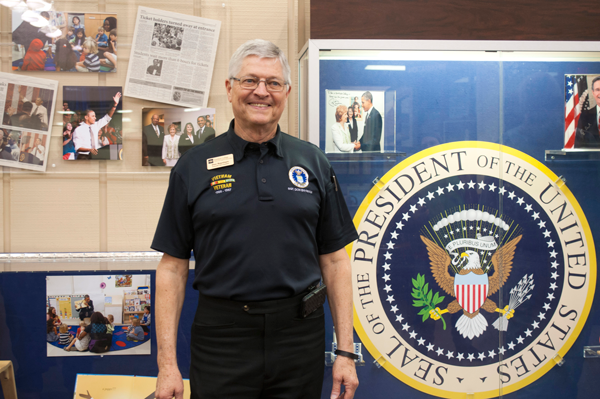 By Robert Burns
President Barack Obama visited Eastfield College in 2011, but was not the first United States president to do so. In 1986, President George H.W. Bush visited the campus while campaigning for the Republican Party.
To commemorate these events, Eastfield President Dr. Jean Conway unveiled the United States Presidential Visits display in the library Nov. 12. The exhibit contains mementos from both visits that were previously held in archives, hidden away from public view.
"I think it is going to be a special place not only for students, but for community members as well," Conway said. "It is just the kind of thing you put into the library where you want to have an archive of the history of the school."
The exhibit includes a basketball signed by President Obama and a personal letter to Sharon Cook, assistant to President Conway, who received President George H.W. Bush at the time. Other items include customized peanut M&M boxes handed out during President Obama's visit and a bubblegum cigar used as a promotional item in Bush's campaign.
Don Baynham, vice president of institutional effectiveness and economic development, procured most of the items via Internet auction. He also found articles from The Dallas Morning News and The Eastfield Et Cetera noting the events, which was not in the Et Cetera online archives.
According to Baynham, it is important that Eastfield recognizes these events.
"There is no other community college who has been visited by two presidents," he said. "It really is amazing."
The exhibit is the first to note important events in Eastfield's history.
"The historical significance makes a difference for the whole campus, but for the library we have a lot of archival objects in storage," Baynham said. "When you have the ability to share that stuff it is really great. We really like to support the whole college community and this just another way to do that."