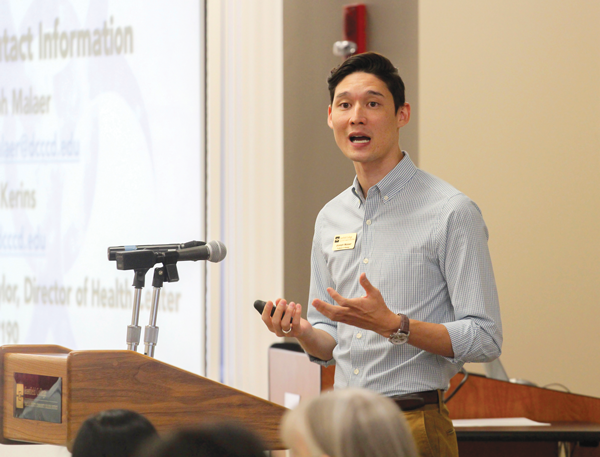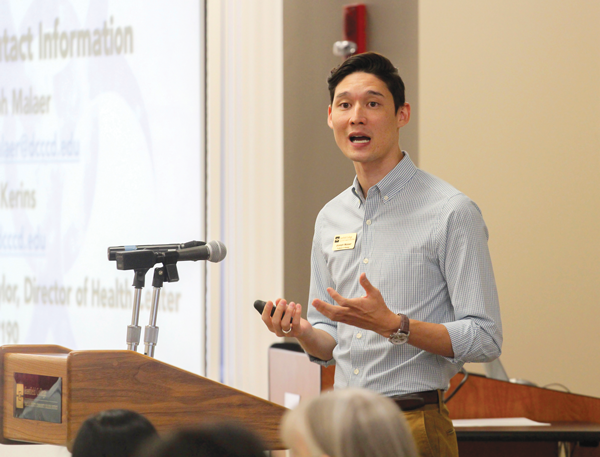 By Sidney Murillo
Nausea, coughs, stomach and chest pains are commonly associated with mild flus and non-life threatening infections. But the same symptoms also indicate Ebola.
This confusion could be the reason behind the widespread panic over Ebola in the United States, biology professor Joseph Malaer said.
"There's been talk from the media that says, 'We don't know anything about Ebola,' " he said. "There is a lot of empty information going around. But we actually know more about Ebola than other diseases."
Public hysteria started with the first Ebola diagnosis in the U.S. Thomas Duncan arrived from Liberia and began displaying symptoms in Dallas in September. He later died.
A college refused students coming from countries with Ebola cases. A woman who visited Dallas was placed on leave from her job. Syracuse University uninvited a Pulitzer Prize-winning photojournalist to a conference because he covered the Ebola crisis in Africa.
Fliers explaining Ebola are posted in Eastfield bathrooms, and Chancellor Joe May recorded an interview with an infectious disease specialist and posted it on the district's website.
Malaer spoke Oct. 20 at the STEM seminar Mythbusters: FAQ on Ebola.
Even though Ebola is not an airborne virus, nurses, doctors and anyone giving aid to Ebola-infected patients should be properly covered.
"Ebola is only spread through bodily fluids," Malaer said.
This includes blood, breast milk, mucus, vomit, fecal matter, sweat and semen.
"You've probably seen some news articles saying: 'Ebola is coming and there is nothing we can do to stop it,' " he said. "That itself is completely false."
There are three main things to do to contain Ebola: isolate, trace and contact all potential patients, and observe the Ebola patient.
Ebola's incubation period lasts 21 days. If a patient does not show symptoms or signs of illness during this period, then he or she is Ebola-free, Malaer said.
Biology professor Jessica Kerins says the chance of Ebola turning airborne is small.
"If it were airborne, if it were to become airborne, we would see that immediately," she said. "Like Thomas Duncan. If it was airborne, his whole family caring for him should have been infected."
Another popular myth is that Ebola causes bleeding from the eyes and ears.
"Unfortunately, that is also some of the images that happen to be dominating the media," Malaer said. "They know that horror sells."
Though bleeding does occur, the symptom only appears in 20 percent of Ebola cases.
According to the World Health Organization, early supportive care with rehydration and symptomatic treatment improves survival.
Proper hand-washing and keeping up a healthy immune system can help prevent non-airborne diseases, Eastfield Director of Health Cynthia Taylor said.
"The chances of anyone contracting Ebola here at Eastfield is minimal," she said. "We have individuals here who take care of themselves. They wash their hands, cover their mouths when they sneeze and get vaccinated."
Mechatronics major Adam Woodall said he wasn't very concerned about Ebola.
"Because the city said that it is under control," he said. "Only 80 people have been exposed to it, and they have been identified."