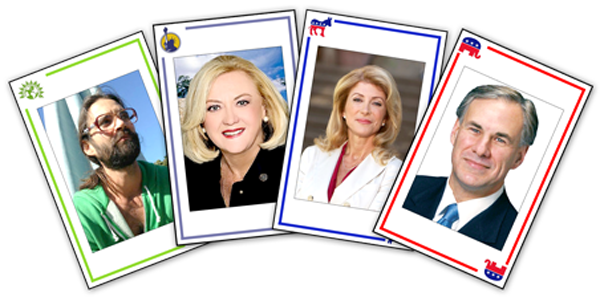 By Andy Carrizales
and Karina Dunn
November's elections will change the leadership of Texas, test the state's controversial voter identification law and possibly shift power in the U.S. Senate.
Eyes are trained on Senate races in Colorado, Iowa, Arkansas and Alaska. If Democrats win one of those toss-up races, analysts say, they might retain control of the Senate. But Republicans have a good chance of earning a majority, which they already hold in the U.S. House. The Texas Senate race is not considered a factor in the power play because the incumbent holds a wide margin in the polls.
But the state's top officials will change. After 14 years as governor, Rick Perry is leaving office, possibly to pursue another run at the presidency, and Lt. Gov. David Dewhurst lost in March's Republican primary.
Keys to governor's race
Republicans need to protect the groundwork laid by Perry in the past 15 years, including a foundation of loyal supporters, if they want to keep Texas red and maintain their majority, said government professor Glynn Newman.
Perry "put the right people in the right place to get what they want done," he said.
Republican Attorney General Greg Abbott has followed Perry's conservative lead, but also championed his own causes. He filed a lawsuit against the Obama administration, arguing that the Affordable Care Act threatens the stability of Texas jobs and imposes unlawful taxes.
Democratic state Sen. Wendy Davis propelled herself to statewide candidacy with her 11-hour filibuster against new regulations for abortion clinics. During her campaign, she has attempted to tutor voters about other issues in her platform, such as reducing standardized testing.
The candidates differ widely when it comes to their ideas for immigration reform. Abbott promises a more secure border by doubling resources for Department of Public Safety surveillance there. Davis proposes better processing for immigrants and assistance programs to ease their transition into American life.
Both candidates support improving the state's education system.
"We are really good as a state in lots of areas," said government professor Cindy Castaneda. "Funding public education is not one of them. Education should be the No. 1 focus in your community."
Abbott seeks to have more transferrable credits from community colleges to universities and proposes a block schedule to reduce the stress of students who work part-time. He is also seeking a better education system for pre-kindergarten to third grade.
Davis helped reduce the number of standardized tests taken by high school students from 15 to five. She places an emphasis on ensuring that high school students are able to gain college credit and making college more affordable.
Also on the ballot is Libertarian Kathie Glass, a civil attorney from Houston, who advocates stronger state control over issues such as immigration. She also wants to eliminate property taxes and end the practice of seizing private property through eminent domain.
The fourth gubernatorial candidate is Brandon Parmer, a member of the Green Party from Dallas. Parmer has no official website and has not posted on his Facebook page since February.
From red to blue?
Political analysts say Texas' changing demographics could shift the state from a Republican stronghold back to its Democratic r
oots. The rising Hispanic population, which tends to vote Democratic, would influence the change.
"I don't think it'll make a big difference in this election," Castaneda said. "We're due for the next Census (estimates) in 2016. By then, Texas will be more Latino than it is now."
The U.S. Census, conducted every 10 years, dictates how the state Legislature draws election districts.
"Those in the majority get to draw the state maps," Castaneda said. "They've drawn the map to favor very strong and Republican seats."
Within the state, there are usually clusters of liberal areas or sprawling conservative areas.
"You have a lot of population and a lot of demographic diversity in your urban core," Newman said. "Outside your big cities, you have a large, white majority who maintain a conservative position."
Growth in the minority population, specifically the growing Hispanic population, provides a base for Democrats to regain their influence in state executive positions. However, a growing population is not enough.
Voter turnout within the community needs to increase, Castaneda said. In any community, citizens' willingness to vote determines which officials are elected. To strengthen the shift toward blue, Democrats need to draw more voters from all urban cities to take the majority in Texas.
"The important thing is to know what your views are and which party most closely represents those views," Castaneda said. "No one is going to be a perfect match politically, but you have to know what you value and set a priority (to know your) values and the policies around them."