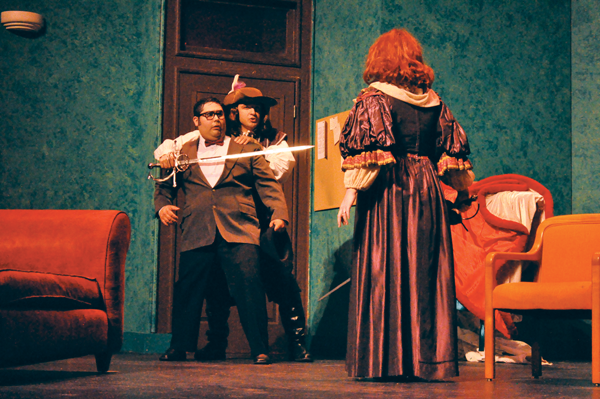 REVIEW
By Braulio Tellez
It's amazing what you can do with such a simple stage design when you have talented actors.
The Harvester Theatre Company performed their rendition of Ken Ludwig's "Moon over Buffalo" from Oct. 16-19.
The play is a farce which takes place in 1950s Buffalo, N.Y. It revolves around an acting couple and their misfortunes in trying to make it from the stage to the big screen.
The set consisted of a few chairs and tables, as well as a handful of walls and doorways. Although the set was minimal, it created the perfect environment for the erratic slapstick and situational humor that persists throughout the show.
It was refreshing to see a play written to make people laugh. So many times we go to school plays and expect to see dramas or musicals that can last longer than desired. "Moon over Buffalo" is quick, witty and absurdly hilarious.
Samuel Galindo and Stephanie Carroll play the leading couple George and Charlotte Hay.
Galindo and Carroll have great chemistry onstage, and do an outstanding job playing out the Hays's dysfunctional relationship.
There is a scene where Charlotte discovers George has had an affair with Eileen, an actor in his theatre company played by Sarah Frame. George begins pleading for forgiveness, to which Charlotte replies by smacking George over the head with a rolled up magazine. Galindo takes the hits like a champ.
Galindo's portrayal of the stage-crazed George Hay is hilarious. The character is constantly under fire and bickering with the supporting cast, which requires some fast-paced acting.
When Charlotte walks out on George for his disloyalty to her, he deals with it by bar-hopping. When he returns to the theatre, he is extremely intoxicated and stumbles around the stage like a drunken buffoon, which Galindo portrays with ease.
Kayla Anderson, who plays the Hays' daughter Rosalind, also had a great performance.
When she and the rest of the family perform the play Private Lives in order to impress a big-time director in the audience, Rosalind tries to keep the show together while her father fumbles his lines and scrambles to change his costumes mid-show.
Anderson has to run around the entire stage chasing after Galindo, which takes plenty of lungpower. She controls the scene with ease and makes it look easy to act out a physically demanding scene.
Due to the simplicity of the play, the lighting and sound played a key role, and the tech crew held it together seamlessly.
Pocket Sandwich Theatre founder Rodney Dobbs, who has been involved in the Dallas theatre community for some time, directed and designed the set for the show.
Dobbs said the cast has acted wonderfully throughout the production of the show.
"I was really impressed with this group," he said. "They have been very mature, professional and hard working. I would have to say they have compared favorably to professional casts that I've worked with. There's some real good talent in this show."