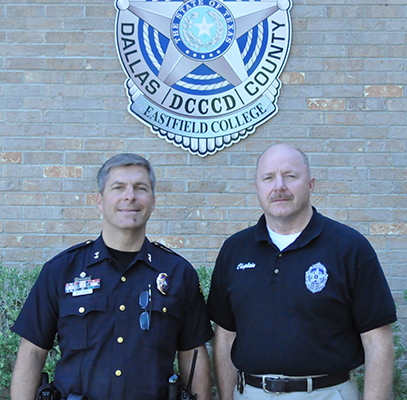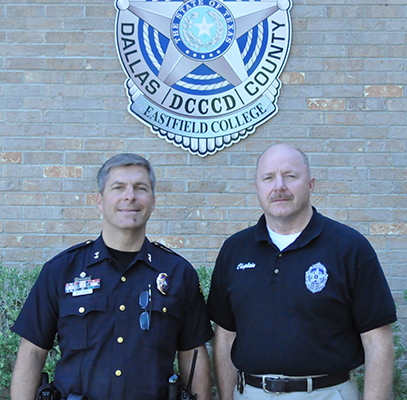 By CYNNAMON ROUNDTREE
Police officers face dangerous and stressful situations in their daily routine. Chaplain William Blain is there to support the officers and the hardships that they may face at work or at home.
Blain was recently sworn in as the first official chaplain at Eastfield College. Blain has also been a chaplain for the Dallas Police Department for three years.
"An officer is an officer," Blain said. "I don't consider a campus officer as any less than an officer driving a squad car. Because of the number of campus shootings, they are in as much danger as any officer in the United States. When you have a shooting, you don't run away from it, you run toward it."
Blain believes his role is different from counselors called to comfort students following shootings.
"The role of the chaplain is non-threatening because I have confidentiality," he said. "They know they can say anything to me in private and I don't have to say anything."
Eastfield Police Chief Michael Horak said Blain is a great fit for the department. The two met on the website Linked In, and Horak invited Blain to the visit Eastfield soon after.
"He is always so positive, and has great integrity," Horak said.
Capt. Timothy Ellington said having Blain is a win-win situation.
"If you ever need someone to talk to, he will always be there," he said.
Blain previously served as senior pastor for 14 years at Fairmeadows Assembly of God Church in Duncanville.
He also served 21 years as a chaplain in the Navy, where he learned religious beliefs, the strengths of others and how to develop working relationships with people who had mental health problems.
Blain said he is always willing to give prayers to whoever needs them. He said he helps people through relationship problems and domestic violence and also offers marriage counseling. Sometimes, he goes to the scene of fatal car accidents to comfort the victims and family.
"We're working on re-working some things," Blain said of his role at Eastfield. "All the officers were very kind and very receptive. Slowly but surely, they will get used to having a chaplain. They know they can call me and I will respond."