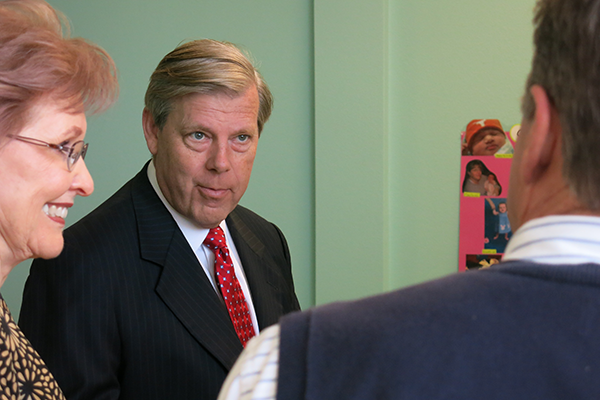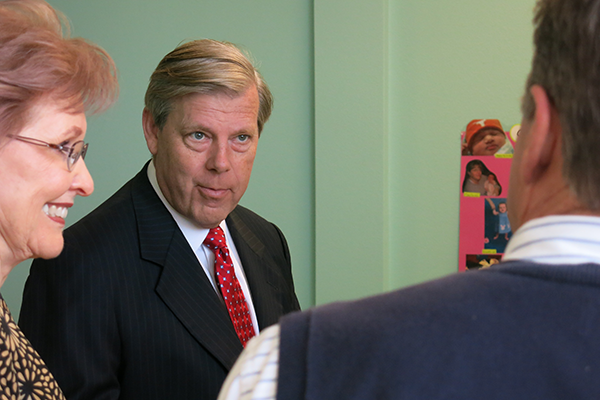 By BILLY DENNIS
An exuberant crowd greeted new DCCCD chancellor Dr. Joe May  with thunderous applause when he visited the campus on April 10.
May made his way through the packed room of faculty, staff and students, shaking the hands of well-wishers on his way to the podium.
The Mount Pleasant native is the seventh Dallas County Community College chancellor in the history of the district. He joined the DCCCD on Feb. 26, replacing outgoing chancellor Dr. Wright Lassiter Jr. May previously served as president of the Louisiana Community and Technical College System.
May actually started his academic career as a student at Cedar Valley. He talked about passing Eastfield as he drove down Interstate 30 on his way to earning his associate degree. May attained his associate, bachelor's, master's and doctoral degrees — all without taking a break.
May's focus now is on building bridges from the academic to the business communities, noting that times have changed since he was a student.
"In those days, you used to be able to get a job with a high school diploma," he said. "That's really not the case anymore. You have to come to one of our colleges, and certainly Eastfield has been a leader for a long time. In this last recession, people thought they had jobs for life but found out they didn't even have skills for life."
May said one of the most effective ways to achieve this is through the implementation of technology. He understands that with the rapid advancements on the technological front, students are demanding that such skills be woven into the academic curriculum.
"[Students] will often equate the use of technology with improving quality," he said.
May will face a number of unique challenges as he prepares for the politics of education in Texas.
"He was able to navigate and survive the alligator-infested waters of Louisiana politics," history professor Matt Hinckley said. "[He] is well versed at navigating very treacherous political waters. … We have alligator-infested waters here, too."
Many say that one of May's strengths is his accessibility and authenticity, something that Texans expect from their leaders.
"We need him to be a strong voice for this district," Eastfield President Dr. Jean Conway said. "He's very pragmatic, very approachable and very authentic. I believe he's a what-you-see-is-what-you-get kind of person. I think that makes him trustworthy. He's very frank and very honest."
Some are hopeful that May will be able to quickly assess areas where improvements can be made and turn the district's focus toward worthwhile initiatives.
"I would like to see district-wide support with the African-American and Latino male initiatives," speech professor Courtney Brazile said.
"It's important that we all come together collectively across the district to help our young men excel."
Brazile said coming from another community college environment where May held a leadership role will allow him to hit the ground running.
"I believe that he's able to bring something new to the DCCCD," Brazile said. "To actually choose someone from a different system allows for new ideas to be brought in to what we're doing."