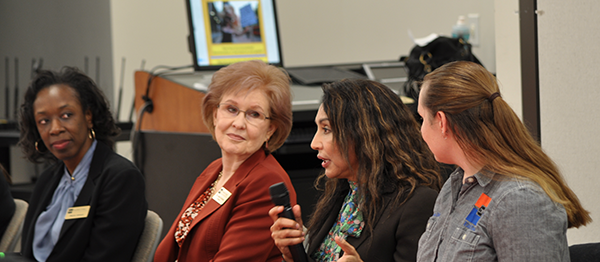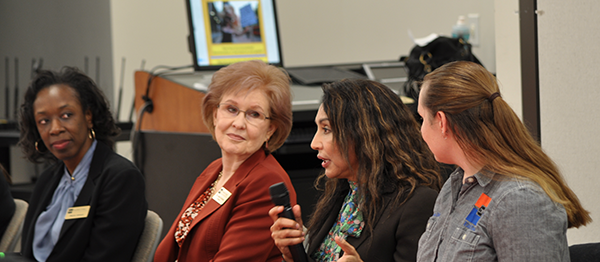 By EMMA HAHN
On average, women only earn about 77 cents to every man's dollar. Women are also far less likely than men to work in corporate leadership positions. These, and many other issues regarding gender discrimination, brought five panelists together March 26 to discuss how women can overcome these gender-based barriers.
The panelists had different backgrounds, but had one thing in common: success. They included Rachel Wolf, dean of Arts, Language and Literature; Sharon Johnson, mathematics professor; Dr.
Jean Conway, college president; Dr. Elizabeth Nava, local dentist; and Stephanie Dibble, auto body professor. The event, which was part of the college's Women's History Month celebration, was moderated by College Readiness Associate Dean Judith Dumont.
The panelists agreed that women have just as much potential as men to do well in life, but society has weighed them down with labels and outdated gender roles.
Conway, quoted the late British Prime Minister Margaret Thatcher — "If you want something said, ask a man. If you want something done, ask a woman" — and noted that it's important for women to find their voice and be more assertive.
"We don't know how to talk without being too soft, and people not really hearing us, or perhaps being too strong and sounding like that B word," she said. "I don't know if you all have had this happen, but you can be in a meeting and make a suggestion or a comment, and five minutes later, a man makes the same comment, and everyone goes 'That's a great idea!' And you go, 'Wait a minute, I said that five minutes ago.' And everybody laughs, but it happens over and over again."
Nava explained that her background could have slowed her down, but she didn't let it.
"As a child growing up in Mexico, I saw my mother working all the time at home, raising us," cooking and cleaning," she said. "I decided at that point that I would never be like my mother. Not because she was a bad person, but because she didn't deserve doing all of what she was doing. I really pursued being an educated woman just for that point."
Dibble and her two siblings grew up with a single mom and struggled with poverty.
"My mom did finish high school, but she had me in her senior year," she said. "She had to work immensely [hard]. She tried to go to college, but determined that it was just too difficult. I remember days as a kid, when I was helping raise my siblings, we would have oatmeal for a week. That was all we had. And she was working so hard."
Johnson's mother was also a single mother raising six children.
"I watched my mom work extremely hard to support her family," she said. "And I didn't want to work that hard, but I wanted to make a difference at the same time. So education was my key to success. Just to have a better life."
Johnson didn't originally want to be a math teacher, but she was inspired by a teacher.
"There were naysayers, but I knew I could do it, because I had that one teacher who said 'Never give up, you can do this,'" she said.
Brianna Bice, an Eastfield student, said she found the panel discussion empowering.
"It gave an actual look at how far we've come and how far we have to go," she said. "To see so many women that have accomplished so much, and have done it with so much on their plate, it makes you think, 'If they can do it, than I can do it, too.' "
Conway said women face challenges when trying to balance their families and careers.
"Most of the time, we can have it all, but we may not be able to do everything at once," Conway said. "Sometimes we put really heavy expectations on ourselves."