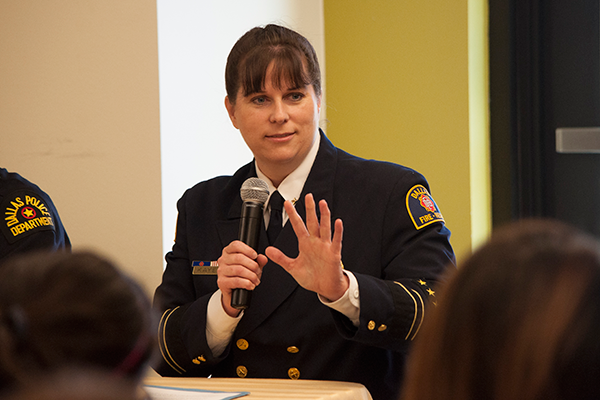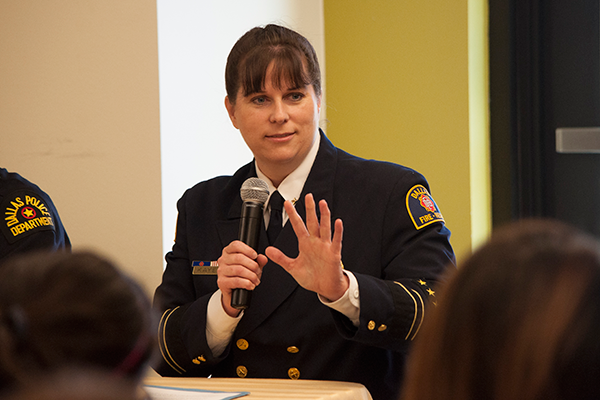 By JUSTIN DAVID TATE
Firefighter Tami Kayea had just put out her first fire. Now, she needed to pull down the ceiling to make sure there were no more flames.
Grabbing a pike pole, a long instrument with a hook at the end, she jabbed at the wooden shiplap ceiling in the dilapidated South Dallas home, but it didn't budge. She continued to try, but her efforts were in vain.
Kayea took off her fire pack and placed it on the fire truck. The young firefighter thought to herself, "Oh my gosh! What have I done? I've gotten into a career I can't do."
Then a short, stout middle-aged man Kayea had never met before approached her.
"Sister, I know what you're thinking," he said. "You're thinking that because you're a female, you can't do this."
She looked at him, wondering how he knew.
"Well, you're wrong. It's because you're short like I am," he said. "You've just got to learn the technique. When you're shorter than a lot of these guys, it just takes the right technique."
The words from Dallas Fire Lt. August Galli inspired Kayea to continue working her way up the ladder of a male-dominated profession.
Today, she is a battalion chief for the Dallas Fire-Rescue Department, only the third woman in the city's history to achieve such a position.
Kayea was one of five women who spoke at Eastfield's "Women of Courage" event on March 18, which was part of the college's celebration of Women's History Month.
The event also featured Eastfield student and U.S. Army Sgt. Krystal Lacey-Fuller, retired FBI agent Lori E. Bailey and two police officers from the TLC reality series, "Police Women of Dallas," Police Sgt. Tracy Jones and police officer Yvette Gonzalez.
Kayea, like the other women on the panel, has successfully navigated a role traditionally filled by a man.  Growing up, her hero was her father, a third-generation firefighter. But she never dreamed she could continue her family's firefighting legacy. The general belief was that firefighters were fireMEN, not women.
Kayea didn't consider continuing the family firefighting tradition until 1993 when, at age 22, she lost her job teaching English at R.L. Turner High School in Carrollton.
Her knowledge of emergency medical services from her time in a paramedic school program that is now a part of Brookhaven College gave her an advantage over the competition. Firefighters are expected to be EMTs as much as they are firefighters.
Academics had always been Kayea's strength. It was the physical part of the job that concerned her at first, but she persevered, helping her crew earn Hothouse of the Year in 1998.
"Our crew fought more fires than any other crew in Dallas, and we're the busiest department in the U.S.," Kayea said. "My dad said I probably fought more fire in that year than he did in his 28-year career."
However, Kayea believes fighting fires doesn't take as much courage as speaking to those who survive the aftermath.
"What really took more courage was learning to be vulnerable because there's a lot of that that's required," she said. "It's going up to that family who just watched their house burn down and trying to do what little you can to help them at that point. It's talking to that husband or wife who just lost their loved one of 40 years and know they're going to spend their golden years alone. You got to make yourself vulnerable. It's looking at those parents and telling them their child's dead and you can't do anything. That's where the courage is. That's hard for a lot of people. It's hard to talk to people in those situations."
With her displays of courage and skills as both an EMT and firefighter, Kayea advanced faster than many of her peers, rising to battalion chief in 13 years. This is a position that can take decades to reach.
"A friend of mine who's been on [as a firefighter] almost 30 years, he just made battalion chief last year," retired firefighter and paramedic Gerald Perry said. "The average would probably be somewhere between 15 and 20 years to obtain that rank, so she's well under the curve on that."
She has her sights set even higher. Two years ago, a newly created assistant chief of EMS position opened. A deputy chief position was also up for grabs.
Kayea was told by her peers and higher ups that she was a lock for one of the positions, but she was passed up for both. A captain who expressed to her that he didn't enjoy EMS work nabbed one of the open slots. His rank was lower than hers and her experience and knowledge in EMS was greater, according to Perry.
"I was amazed that she didn't get that position," Perry said. "She was very qualified, I thought."
Dr. Glynn Newman, a political science professor who attended the panel discussion, said he identified with Kayea's concern about being unable to break through the "glass ceiling" in her occupation.
The glass ceiling is a term coined to describe the barrier many women and minorities face while seeking to rise to prominent positions in their industry.
"[The problem is a] lack of support," Newman said. "You can't get the training. You can't get the skillset that you need because there's nobody there to support you."
Kayea was devastated to be passed up for the positions, but she continues to keep working and believing her time will come. She has a master's degree in management leadership and will finish the National Fire Academy of Maryland, a four-year program run by Homeland Security, in August.
Today, Kayea mentors young firefighters, many of whom come ready to face the fire, but aren't prepared for paramedic work.
"Most of the people, when they first get hired on, are normally more concerned with the paramedic side," Kayea said. "It's much more academically challenging and requires having to really learn and apply a lot of education."
Her advice to female students who may want to follow in her footsteps is to make sure they really want the position, because it is a demanding career.
"It's not like the guys where they say, 'Well I'm going to try it,' because it is physically demanding," Kayea said. "We don't have the natural physical strength. You've got to really want it. You've got to work at it."