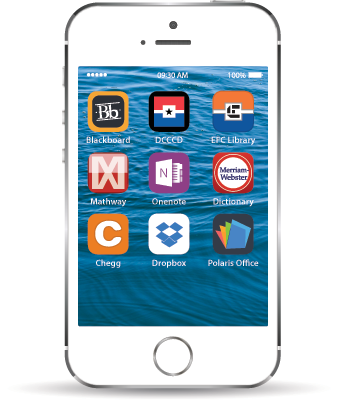 By ROBERT BURNS

Blackboard Mobile Learn
This is a companion app to the eCampus website used by students daily.
Pros: This app has almost all the functionality of the website. You can see assignments and tests that have been posted through Blackboard, and you can access any documents your professor might have uploaded, such as the syllabus. It has push updates, so you get a notification when there is a new assignment or grade to be viewed and when an assignment or test is late. It can also link to your Dropbox account so you can download files from the app to your Dropbox to view later.
Cons: Not everything gets updated. We noticed the latest posts from professors were on the Blackboard website but were missing from the app. This might cause students to miss assignments, so it is still wise to check the website regularly.
User feedback: "It really helps me keep up with my classes and tasks." — Student Patrick Rhodes

Dropbox
This app lets students share files across all devices.
Pros: Dropbox is instant. When you upload a file to your PC, laptop or tablet, it will show up instantly on your phone. You can also use it with the Blackboard Mobile Learn app to upload files to eCampus.
Cons: Students may need third-party programs to open files on their phone if they aren't supported in the app.
User feedback:  "It works really well and is convenient to have." — Student Jeanette Palafox
Polaris Office 5
This app is an Office suite on your phone. Students can create Word documents, spreadsheets and slideshow presentations.
Pros: Polaris has everything you'd expect from an Office suite. The Word documents have spellcheck, and you can change the size and color of the font and format paragraphs. The slideshow option lets students drop photos into presentations and add charts and graphs. There is also a spreadsheet where students can add formulas, create graphs and charts, and keep track of finances.
Cons: Editing can be difficult. Sometimes, you'll click on a box and the one beneath it flips over, and pretty soon your whole document is ruined.
User feedback: "I use it for PowerPoint presentations and for Word documents. It's good for on the go." — Engineering major Kevin Grey

Merrriam-Webster
This app brings the Merriam-Webster dictionary and thesaurus to your mobile phone.
Pros:  It's easy to switch from thesaurus to dictionary mode with just a tap. The app features voice search for phones that support it and the ability to sound words out loud. It can also save favorite words and shows recent words you looked up.
Cons: The voice recognition doesn't always understand what you're saying.
User feedback: "I especially use it for English class." — Student Pamela Pedraza

Mathway
This app provides answers to basic math, pre-algebra, algebra, pre-calculus, calculus, trigonometry and statistics problems.
Pros: After you choose a subject from the main menu, the app brings up a calculator that allows you to input math problems. The virtual keyboard is detailed and gives you everything you need to solve problems relevant to the selected subject. The best thing about Mathway is it gives you example formulas with names and even gives you the option to solve various sections in the formulas.
Cons: The biggest drawback is the app's huge paywall surrounding a key bit of knowledge: How did they arrive at the answer?  If you want to know how to solve a problem, you'll have to fork over $9.99 per week to access  information for just one subject. If you want all the subjects Mathway offers, it will cost you $14.99 a week or $59.99 per year. The free portion is also ad supported, so there is an annoying ad that flashes constantly at the top of the app.
User  feedback: "It's nice having all the formulas right at your fingertips." — Student Patrick Gales

DCCCD
The official app of the Dallas County Community College District basically gathers all of the district-related web services in one place.
Pros: Students can access financial aid information, browse course schedules and log on to eConnect, eCampus and myPortal. They can also browse photos of district events, view YouTube videos of student and faculty testimonials and visit a calendar with district events. Other useful features include a button that calls the campus police dispatcher, which might be handy during an emergency, and a map of all district campuses.
Cons:  Most of the features can be found elsewhere, which makes the app more of a convenience than anything. The news section is also a year out of date.
User feedback:  "Easy access to eCampus, eConnect, myPortal and browsing for courses are some of the top features. Students can also search the college libraries, have easy access to college maps, news and events along with quick access to DCCCD police, student services, financial aid and contact information." — DCCCD website content coordinator Jonathan Blundell

OneNote
This is a simple note-taking app that utilizes the cloud to allow portability across devices.
Pros:  The neat thing is how easy it is to format notes while taking them. Buttons will indent paragraphs and add bullet points next to key facts. It even has a function that puts a check box next to a note, allowing you to check items off your list. You can also take pictures and add them to your notes. If you have a professor who writes long, complicated notes on the board, take a picture and store it in your notes. It uses Microsoft Sky Drive or One Drive to upload to the cloud.
Cons:  The app doesn't do much beyond note taking, and you can't use any other cloud services. You also can't use this app at all if you don't have a Microsoft account.
User feedback: "I don't have any complaints about it. I use it a lot to take notes." — Student Diego Luna

EFC Library
The official app of the Eastfield library allows students to browse the catalog and see what items are available.
Pros: Students can request that a book be put on hold so they can pick it up at their convenience. They can also request to have books transferred from other DCCCD libraries to Eastfield. Another neat feature is the ability to scan the barcode of a book to check its availability in the library. If the book isn't available, the app suggests online retailers where it can be purchased.
Cons: The application is a little buggy. Some sections won't load sometimes. On our test drive, the Common Book section crashed.  Some additional functionality would also be nice, like a citation function within the app.
User feedback: "We also have a touch-to-call feature that calls the reference desk for reference and research help." — Librarian Kwashawn Barnett

Chegg
Chegg lets you buy or rent textbooks and access other student services.
Pros: In addition to buying physical textbooks and e-books, students can get help with their homework. If you have a problem that needs solving, click on the "Find solutions to questions" button to access a user-supplied answer. You are allowed two questions each week for free. If you have more questions you will need to upgrade your account to Chegg Study, which allows you unlimited questions for $14.95 per month or $74.95 per year.
Cons: Two questions a week isn't very many. There is also an annoying banner ad at the top.
User feedback: "I use it for physics because that is really complicated. The step-by-step solutions are really handy."  — Computer engineering major Colt Edwards