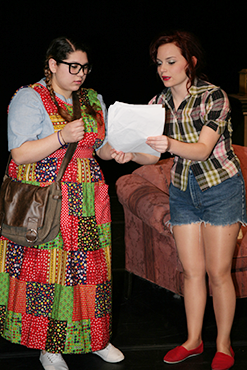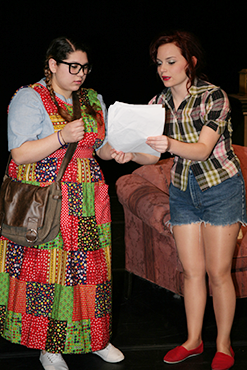 By ROBERT BURNS
Quirky, optimistic and energetic. These are all words that could describe the characters in the play "The Miss Firecracker Contest." They also describe the Eastfield theater students who played them.
But unlike the protagonist in the play, the students won their contest.
On March 1, Eastfield won seven awards for its performance of the play "The Miss Firecracker Contest," including Most Superior Dramatic Production and three Superior Acting awards for Kayla Anderson, who played Carnelle; Colby Calhoun, who played Delmount; and Monica Lira, who played Popeye.
Students working behind the scenes also won awards: Ashley Vessels for Superior Costume, Alana Henry for Superior Set Design and Felicia Wagner for Superior Makeup Design.
"The Miss Firecracker Contest" is a comedy set in Brookhaven, Miss., that tells the story of 24-year-old Carnelle Scott, an orphan who is notorious for sleeping around. After contracting syphilis, she gives it to her sickly, on-again/off-again boyfriend Mac Sam, played by Adam Wright. This earns her the moniker "Miss Hot Tamale" around Brookhaven.
In order to save her reputation, she enters the local "Miss Firecracker" beauty pageant. Her plans are disrupted when her cousin Elain, a former Miss Firecracker herself, arrives after leaving her rich husband and two children. To complicate things further, Elain's brother Delmount, a former mental patient, arrives with the intent to sell the family home and move to New Orleans. With the help of quirky local seamstress Popeye, who is hopelessly in love with Delmount, Carnelle enters the competition. After a wardrobe malfunction, Carnelle loses the competition and fails to restore her tarnished reputation. However, she and the other characters are optimistic about their futures.
Director Dusty Reasons-Thomas said the competition was a first for Eastfield.
"We have never taken a trip like this before, and we are the only Dallas County Community College that has competed like this," she said.
Reasons-Thomas said the college was invited to enter the Texas Play Festival last year but was unable to get everything lined up in time.  This year, Eastfield was ready.
Reasons-Thomas immediately knew the play was a hit at the competition.
"We had a great crowd reaction," she said. "All the students were pumped up and were having a good time, and they really cheered us. They stormed the actors on stage after the show. They were so excited!  I was so proud! When the audience has a good time, the actors just feed off that energy, and it encourages them. That makes the performance ten times better."
Reasons-Thomas said the audience was larger than anticipated — between 200 and 300 people. It was less intimate than the black box theatre the students had prepared for with their on-campus performance the week before. She said the only hitches in the play were a missed lighting cue and a missing costume, which they were able to find a replacement for.
"The Miss Firecracker Contest" wasn't the first play Reasons-Thomas considered for the competition.
"Originally I wanted to do a drama called 'How I Learned to Drive,'" she said. "I wanted to do something that coincides with Women's History Month as well as something we could do for the competition."
She changed her mind after watching the film adaptation of the play.
"I was like, 'We have to do this play, it's great!" she said. "And I started to picture the students who would be interested in the different roles."
Monica Lira was immediately drawn to the role of Popeye.
"She was very quirky, she was very nerdy, and kind of goofy," Lira said. "She is a very odd bird. She kind of reminds me of me a little and that is what attracted me to the role."
This is Lira's fourth play at Eastfield, but her first competition.
"We all became a little family," said Kayla Anderson. "That sounds cheesy, I know. There was no drama. We are all such good friends, and it made it that much easier just hanging out doing what we all love."