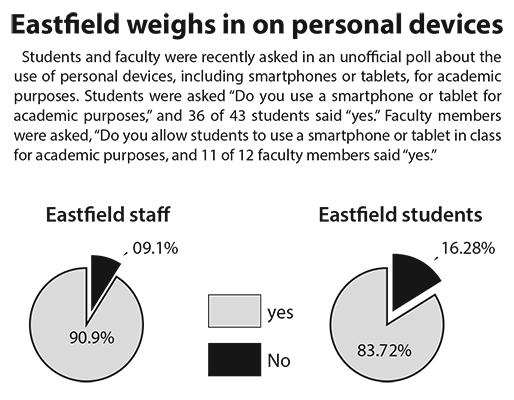 By MORGAN CORLEY
Technology is playing an ever-increasing role in society as people have come to rely on smartphones, tablets and computers.
However, this trend may not be for the best, especially when the personal devices become more of a distraction than a tool.
Faculty and students have varying opinions on whether students should be allowed to use their devices in the classroom.
"I'm fine with it as long as they don't disrupt other students," said professor Jessica Kerins, who teaches anatomy and physiology. "I will say something at the beginning of a semester like, 'If you want to use them and not pay attention, that's your own prerogative.' "
Some argue that being able to use technology as a learning tool in class will translate to a better prepared student when it comes to entering the job market.
Others believe smartphones and tablets will only distract students from their studies.
Dr. Kim Chandler of the psychology department said she discourages students from using their personal devices in her class.
"I find that it's distracting," Chandler said. "Even when it's meant for class stuff, it still serves as a distraction."
Students are divided on whether or not smartphones and tablets should be encouraged in class.
"I did [use them] last semester. This semester, my teachers don't want me to," psychology major Zack Burr said. "The only one who has expressly forbidden them is my chemistry teacher. With the other [classes], they just wouldn't help."
However, there are some students who make use of their devices in class as learning tools.
"With my tablet, I feel like I would be distracted because all I do on my tablet is mess around on Facebook," business major Leslie Demarco said. "But my phone I use as a tool. It's not a distraction."
Other students use their personal devices in class too.
"
I don't use my phone in class," said Francisco Orozco, who is undecided on a major. "I use my laptop for class. It's better for taking notes."
Students aren't the only ones who want to make use of personal technology in the classroom. Some instructors have their students use it for the good of the whole class.
"If we're talking about things in class," Kerins said, "and somebody asks a question and I say 'Oh, I don't know the answer to that. Why don't you look it up?' Then usually they are able to look it up on their phones."
Many institutions have come to embrace personal technology.
A study by the Instructional Technology Council shows many community colleges are implementing a bring-your-own-device policy.  Students are encouraged to bring their personal devices to class and use them as part of the curriculum.
Many colleges, including Eastfield, are also partnering with book publishers, which give students the option to buy the traditional printed textbook or download the ebook version.
Etextbooks offer a new range of options for students.
Students can highlight text as they go, use built-in dictionaries and can complete interactive exercises from the instructors.
Also, the etextbooks are almost always cheaper than the traditional textbooks.
"If it was cheaper, I'd probably get the ebook," said Orozco, laughing. He had just said he prefers the traditional textbook, but the difference in price made him change his mind.
"I like [etextbooks] because it's cheaper for the students," Kerins said. "They also don't have to carry around a big book, especially if they have multiple classes.
"The downside to that is that if they need their book in class, which often they do, if they don't have a way to access that book in class, they can't use it."