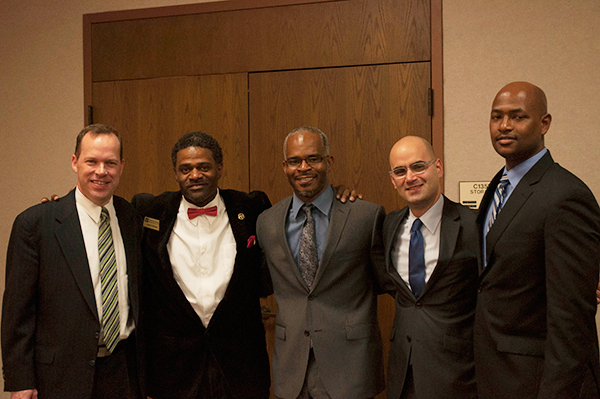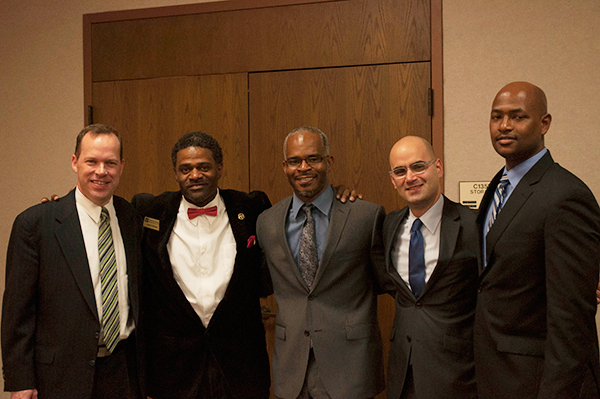 By Emma Hahn
One man was wrongly convicted of murder. Another grew up with bad influences and negative racial profiling. A third said he had to work twice as hard as a white man to get where he is today.
Despite all of these things, they sat at the same table in suits and ties, ready to share their stories at the Choice or Consequences panel discussion on Feb. 19.
The Black History Month event was sponsored by the Men's Empowerment Coalition, under the guidance of speech professor Courtney Brazile.
The panelists discussed the challenges black Americans face today, ranging from their high numbers in the prison population to attempts to become role models in today's society.
Judicial District Judge Andy Chatham posed a question that many male minority students could relate to.
"How many times do you get on an elevator with a 40-something white woman, and the first thing she does is grab her purse?" Chatham asked.
"How does that make you feel?"
Many students in attendance murmured, nodded and even laughed.
Brazile shared a recent statistic showing that blacks represent 44 percent of those in prison, but only make up 13 percent of the entire American population.
Richard Miles, a student and panelist, said his own personal story reflects this statistic. He went to prison at age 19 and was exonerated after 15 years.
He was released in 2009 and started a nonprofit organization called "Miles of Freedom." The organization works to help individuals who are released from prison start new lives.
"[In prison] you get educated, supposedly, and everything is supposed to be provided for you, but it's not happening," Miles said. "If you look at the Constitution, it states that slavery has been abolished, except for crime. So when you commit a crime, you go back to the state of slavery. We all know the history of slavery. The concept has never changed."
The panelists were asked why kids are choosing a life of crime, resulting in jail sentences, rather than success in life.
Attorney Anthony Eiland said a lack of leadership and positive role models are partly to blame.
"The media has portrayed rappers and basketball players as these role models. You have a lot of kids growing up looking to them," Eiland said. "We don't have [role models] for kids that are in leadership positions. Kids aren't being mentored. We need to show kids that there are other options rather than being a rapper."
Brazile offered a different view on illegal juvenile activity.
"Little Johnny might see that his mom is struggling to work three jobs just to make ends meet," he said. "So he might go and sell drugs because he thinks he's doing what he has to do to help his mom. He's not seeing other options."
Dallas County Assistant District Attorney Haim Vasquez pointed out that many minority juveniles get into trouble because they simply see it as their future.
"We have the same chances that other people have, but society sees minorities as guilty before they are even tried," Vasquez said. "It's an issue that just goes in a circle."
On a positive note, the panel was asked to describe a success story they have witnessed.
Jesse Brown, a library assistant, talked about a student that he met in the transition center. Brown helped him with little things and eventually built a strong relationship with him.
"It's just a matter of taking time out to show someone some love and support, and encourage them," Brown said. "It's about going and reaching out to people."
Chatham said minority students aren't being pointed in the right direction to succeed in public schools.
"I've got a 9-year-old little girl, and one of the things I've seen is that if you ask a little kid what they want to be when they grow up, they give you lots of answers. Fun answers," Chatham said. "But you ask a 12-year-old minority kid what they want to be and they say, 'I don't know.' Well, the schools have to start a goal and motivation that says that you can be anything you want to be as long as you stay in school and keep working."
So how does our culture get out of this mindset?
Brazile offered a solution, using the analogy of a fish.
"A fish doesn't know that it's wet," Brazile said. "If you're trying to tell a fish about dry land, it won't understand because the only thing a fish has ever experienced is water. Some of these guys don't even know that they need help. Be in class on time. Know how to present yourself well in an interview. I'm trying to awaken these guys to know that there is even greater opportunity beyond this water on dry land."