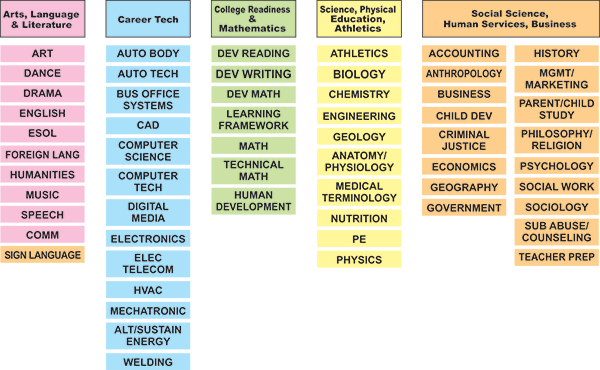 By Justin David Tate
The college's academic divisions will undergo their first makeover in seven years this fall.
Three reorganization options are currently under consideration by Vice President of Academic Affairs and Student Success Michael Gutierrez, who said he hopes to make a decision by the end of this week. Two of the options would require approval by the executive council.
Gutierrez co-hosted a series of discussions with each of the division deans this past fall to gauge opinions from faculty and staff about possible changes. Each division held a forum presenting ideas and allowing instructors to voice their concerns and opinions.
"The conversations, as you can imagine, were actually pretty fun," Gutierrez said. "However, when you actually have to put things on paper, that was a beating, because you have to make some very hard choices."
Gutierrez revealed the three reorganization options at a standing-room-only forum on Feb. 5 in S-101.
Option 1 would leave the college divisions as they are, with the exception of the American Sign Language program, which would move to the Arts, Language and Literature division. This change is consistent in all three options.
If chosen, Option 1 would not require a vote by the executive council. It would retain the current structure of divisions, which includes College Readiness and Mathematics; Career Technologies; Science, Physical Education and Athletics; Social Science, Human Services and Business; and Arts, Language and Literature.
In Option 2 and Option 3, the College Readiness and Mathematics division would be eliminated, and Developmental Reading and Developmental Writing would shift to a new Arts and Communication division. Under Option 2, College Math and Developmental Math would move to a new Mathematics and Business division, and Learning Framework and Human Development would be placed in the Social, Political and Human Services division.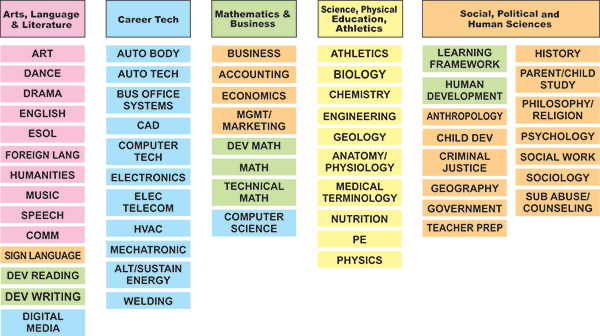 With Option 3, College and Developmental Math would land in a newly formed Science, Engineering, Technology and Mathematics [STEM] division, and Learning Framework and Human Development would go to the Social Sciences division.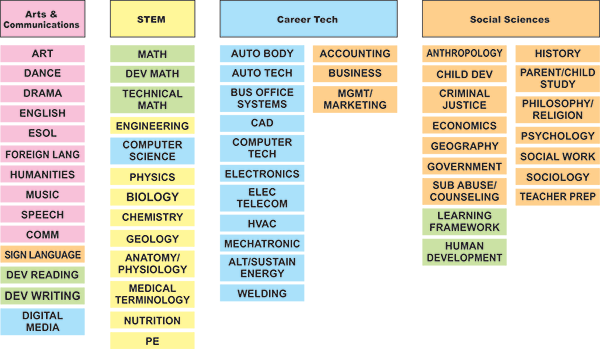 Opinions among the faculty were varied on whether College Readiness should be broken up. Math professor Leticia Escobar is one of a handful of professors who voiced their support for the developmental programs staying together in their own division.
"I have expressed several times to the VP my concerns with taking away College Readiness due to the fact that we have a lot of students coming into college for the first time that need all of the college prep classes," she said. "We can offer those services here in one place so they don't have to actually go digging in Language Arts for one class and STEM for the other."
Rachel Wolf, executive dean of Arts, Language and Literature, has a different view on how developmental students should be handled.
"There's been a lot of distinction between developmental and college-credit-bearing classes, and I'd like to dismantle that. I like integration," Wolf said. "I can understand keeping developmental students separate, but not all developmental students are separate. Just because you're in developmental reading doesn't mean you're a developmental math student."
Wolf believes having developmental writing and reading faculty working with English faculty under one division would help promote student success. However, it would expand what is already one of the college's largest divisions.
Wolf said her division currently contains about 35 full-time faculty members and one associate dean. The faculty number will rise to 46 if Option 2 or 3 are implemented.
"I would advocate having another associate dean," Wolf said. "I came from Richland, and I was an associate dean at Richland for a department that was only English and foreign language. And the dean there was an executive dean, had my title and had three associate deans. So it's not unheard of to me to have more administrative support."
Longtime professors such as developmental reading instructor Jim Swindling, who has seen the college change many times over multiple decades, said reorganization is a natural part of progress.
"I'm in developmental reading whether I'm in a division of developmental education or whether I'm in language and literature," he said. "It's just a house. It's where I pick the mail up."
Mike Walker, dean of Social Sciences, Human Services and Business, said the decision to reorganize is an intriguing one, considering the timing. The college's enrollment has experienced steady growth since creating a College Readiness division.
Walker said most administrators would probably see this as a reason to continue with the same model.
"Our college is working at a really efficient level and our enrollment is growing," he said. "When things are good, do we really want to make a change? I think it's … a little risky, kind of bold of him to suggest that maybe we need to make a change when things are going so well. I applaud him for that."