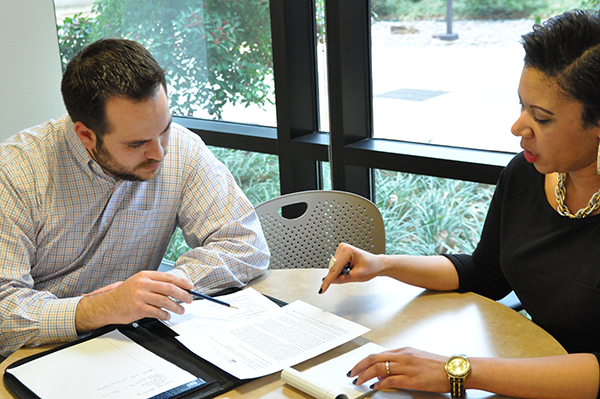 By Karina Dunn
The Office of Student Engagement and Retention, a new office at Eastfield, helps students complete their course work, graduate and transfer to a four-year university.
In January, Courtney Carter-Harbour was appointed the new executive dean of OSER. She previously served as associate dean for Arts, Language and Literature at Eastfield, and was a member of the Core 2009 committee, revising the curriculum to offer a more holistic experience across DCCCD campuses.
"I think it's important for the college officials to hear what students' experiences are in order to better strategize when to and how to offer different things to students based on feedback," said Carter-Harbour, who came to Eastfield in January 2007.
Her years as a grade-school student transformed the way she views education. Born in Austin, she moved with her family to DeSoto, then a predominately white community, as a toddler. Carter-Harbour credits her parents' high expectations for her determination to succeed in her academic and personal life.
"Being a student of color in a predominantly white school system, up till sixth grade, gave me a challenge, a different perspective, when I taught in a predominantly African American-Latino populated middle school," said Carter-Harbour, who taught at O.W. Holmes Middle School in Oak Cliff.
She said honest conversations about personal challenges are key to student success. Students should be able to admit to mistakes or face obstacles and grow from them.
"Many students believed education was a waste of time," she said. "That inspired me as an educator to think of new and inspiring ways to motivate and teach those students. I think those four years at that middle school shaped me and defined my purpose in education."
Carter-Harbour said her experiences reaffirmed the importance of collaboration and innovation. Her focus on perseverance, teamwork and student service resonates with the faculty and students she encounters.
"Courtney is a dynamic individual," said Michael Gutierrez, vice president for Academic Affairs and Student Success. "With her interpersonal skills, she's also one that can start and complete projects. We needed somebody that could create something that didn't exist. She excels in that."
Speech Professor Courtney Brazile described Carter-Harbour as an "out-of-the-box thinker." "In this new position, she will bring creativity to the program and new ways to engage the student body," Brazile said.
Brazile also serves as an adviser with the Men's Coalition Club, which engages minority males socially, culturally and academically. An extension of OSER, the club embraces OSER's mission to inspire self-improvement by inviting successful speakers to share their stories.
"Students see people who are doing great things, but who have not always made the right choices and decisions," he said. "I think it's important for students to know that there will be obstacles in working toward their degrees, but don't let that discourage you."
Aside from its connection to Student Life, OSER offers classes through the Quality Enhancement Plan. The Academic and Cultural Enhancement classes place students in environments where professors and students rely on one another. Instructors and students use the library and other college resources to ensure classroom success.
Andre Williams, who is considering a career in education, said he uses ACE classes to stay on top of his studies. He was referred to the program by QEP Coordinator Kyle Barron.
"The emails I get from all of my teachers and the teamwork of my fellow classmates help," Williams said. "It's an opportunity to get my name out there and be involved in the [community]."
Judith Dumont, associate dean of College Readiness and Mathematics, is one of Williams' instructors. She agrees with Carter-Harbour's approach to investing in college students.
"My favorite part about my job is getting to know students and students' stories," Dumont said. "They bring a rich background in culture and experience. You tap into who they are to better mentor them." Dumont said she is motivated by Carter-Harbour's focus and being a part of a program like OSER.
"Dean Harbour is a powerhouse," she said. "She has high expectations, and her No. 1 ability is her ability to play fair but keep everyone on task and get the job done."
Carter-Harbour said, she wishes, she had taken more community college courses at Cedar Valley and Mountain View prior to her studies at University of North Texas. Additional classes would have better prepared her for life and the work needed to finish her degree.
"I think I would have benefited from more preparation, smaller class sizes, more connections, attention, working with faculty," she said. "For me, it's also about the idea of completion."