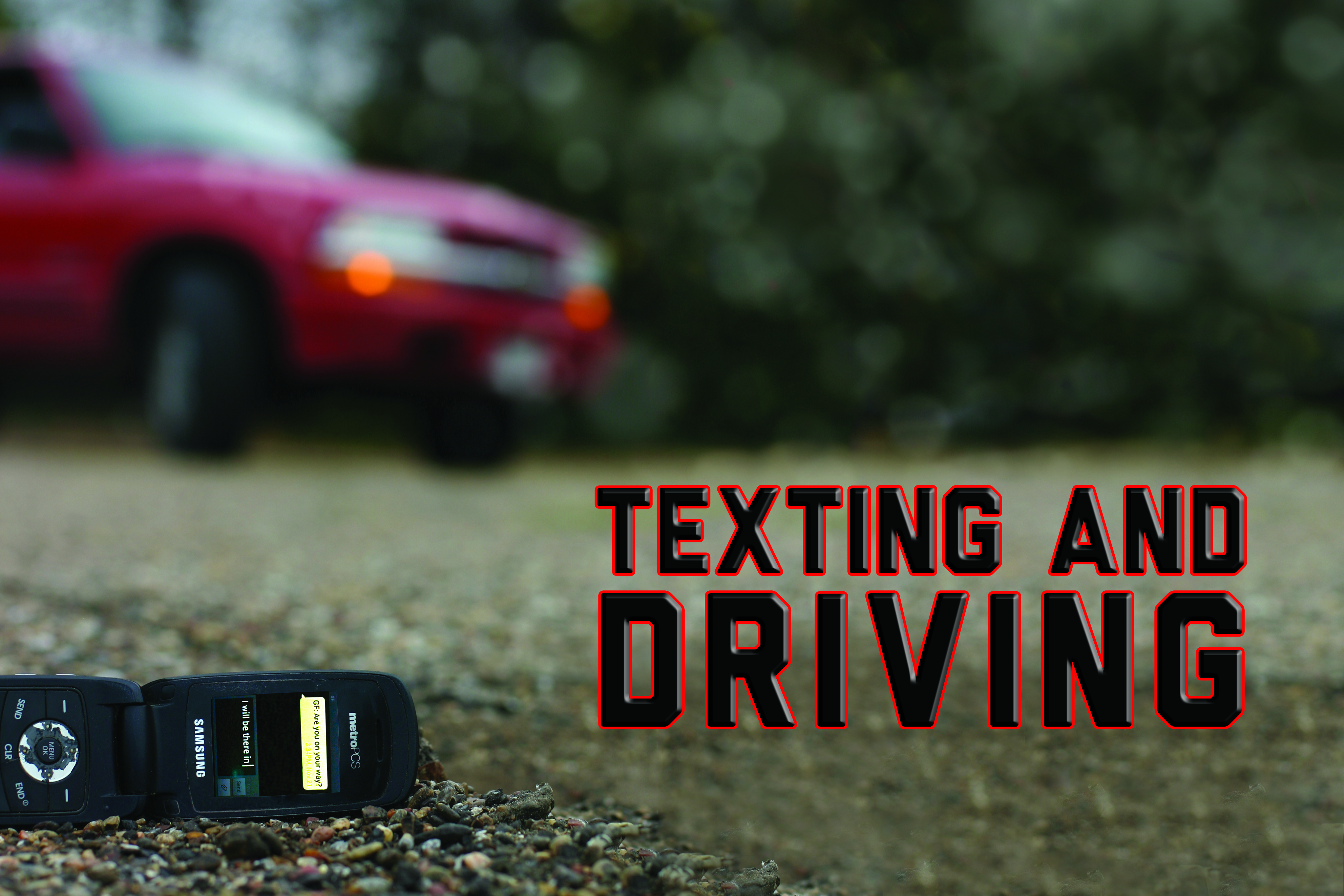 By Gereneicia Foster, Staff Writer
"Sounds good my man, seeya soon, ill tw…" was the last text 22-year-old University of Northern Colorado student Alexander Heit wrote on April 3 before he drifted into oncoming traffic and rolled his car over, killing him.
"I can't discuss this now. Driving and facebooking is not safe! Haha," was 18-year-old honor student Taylor Sauer's final message on Jan. 12, 2012 before she plowed into a tanker at 80 mph in Idaho.
On Nov. 7, tragedy hit closer to home when a 17-year-old Allen girl was killed in what investigators believe was another texting-and-driving incident. Emily Rayyan Stambaugh veered off the road, struck a tree and ended up lodged against a stone wall.
Despite the messages "It can wait" and "Don't text and drive" that can be seen and heard on almost every media outlet, distracted driving continues to happen. Last year distracted driving claimed approximately 3,328 lives, according to the website www.distraction.gov.
Distracted driving is any activity that can divert a person's attention away from the primary task of driving. The website notes that texting is the most alarming type of distraction because it requires visual, cognitive and manual attention from the driver.
Statistics show that drivers under the age of 20 are among the most distracted drivers. In 2011, 21 percent of teens between the ages of 15 and 19 who were involved in a fatal car crash were distracted by cell phones, according to the National Highway Traffic Safety Administration (NHTSA).
Aeronautical engineering major Fon Asagna believes teens are more prone to texting and driving than adults because they want to stay connected.
"Teenagers believe in being involved with every and anything trendy," he said. "It's just how things have been. More often than not they want to be in the loop with current events."
However, a study conducted by the NHTSA, which included 6,000 drivers from all over the United States, showed that 68 percent of drivers ages 35-44 and 62 percent of those ages 45-64 send texts and emails while driving.  Teenagers and young adults between the ages of 18-20 had the highest percentage at 72 percent.
Nursing major Jamelia Boone believes both adults and teens text and drive, but teens have more incidents because they feel invincible and don't understand how severe their actions can be.
"They don't look deep into the outcome [of texting and driving] and how if something did happen how it really could affect you or someone that you're with or even your family and their family," she said.
The annual National Occupant Protection Use Survey, which provides data on electronic device usage by drivers, states that during any daylight moment across the U.S., approximately 660,000 drivers are using cell phones or other electronic devices while driving.
Texas is one of nine states that hasn't enacted a statewide ban against texting and driving. While 23 cities have enacted their own local ordinances prohibiting distracted driving, Dallas and Mesquite are not included on this list.
Currently, the only prohibitions for texting and driving are drivers with learning permits, who aren't allowed to use cell phones within the first six months of driving. Drivers under 18 and all drivers in school zones are not allowed to use handheld devices.
Nursing major Patrick Gales said having a statewide or a localized ban would ensure that drivers were only focused on the road.
"To potentially save lives, make the roads safer and prevent accidents, I think there should be [a law banning texting while driving]," he said.
Sgt. Melissa Jacobs of the Eastfield College Police Department agrees that either a statewide or local ban would be effective, but she said law enforcement officers would also play a big role in solving the problem.
"I'm sure it would stop some people, but there are statewide laws on a lot of things that people continue to do," she said.  "It is more about enforcement then the actual law itself."
Several companies like AT&T and AAA are campaigning to bring awareness to this problem. Phone applications like AT&T Drive mode automatically send preset texts to let senders know you are driving. Textecution is another app that uses GPS to calculate a car's speed. If you are going more than 10 mph it will automatically block texts.
The NHTSA encourage drivers "that out of sight, out of mind is key" when it comes to cell phones. Turning the phones off, silencing them or designating a texter will help stop wrecks.
Gales feels that if you are driving, then that is all you should be doing. There is no excuse for distracted driving.
"You could take someone's life with a simple text like 'OK, I'll be there,'" he said. "You need to focus on the road no matter how good of a driver or multi-tasker you are."