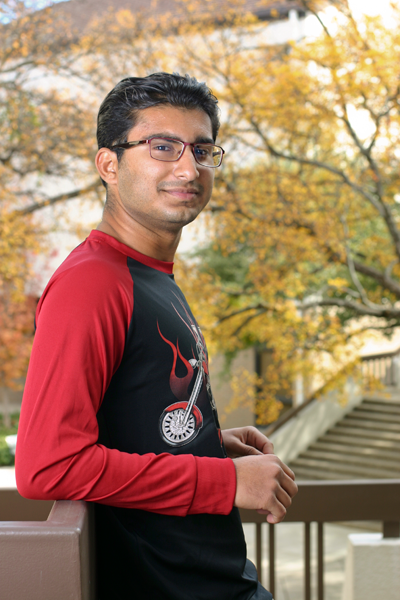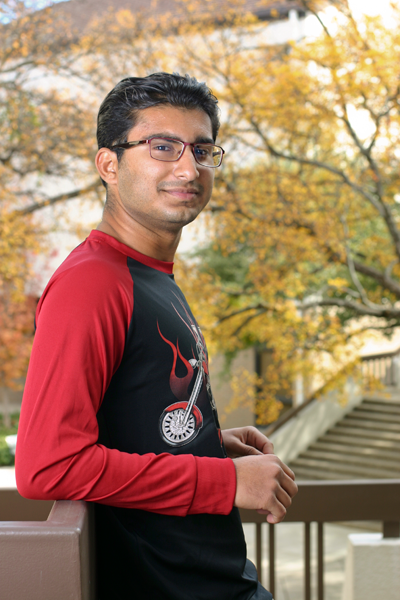 By Justin David Tate, Life & Arts Editor
Prayer, parties and parades filled the day for Rameez Sohail every Aug. 14 in his native Pakistan. That is the day of his country's independence, a nationally recognized holiday complete with no school, extravagant celebrations and food such as biryani, a dish made up of rice, chicken and spices.
But this year, Sohail was far away from home in Mesquite.
"This time I celebrated over here," he said. "It's really hard, but I met different people who belong to my culture, and it's really good to see your people from your country in a different country."
Sohail came to Eastfield from Pakistan earlier this year to study automotive marketing and management.
Prior to moving, he had to go through multiple interviews and show numerous documents to the U.S. consulate, a government representative that facilitates the travel of citizens of other countries to the United States.
Because of the expense of his journey, including a $20,000 sponsorship from his American cousin that he had to show the U.S. consulate as proof of financial responsibility, Sohail has one thing on his mind: his studies.
His cousin, who came to the U.S. at 4 years old, is now a 36-year-old bank manager for the Branch Banking and Trust. He checks in on "Ramz," as he and other family members call Sohail.
"It's really important to focus on your studies," they stress.
"What about your studies? How are your studies going?"
Sohail understands his role and abides by it, even at the cost of tradition. During summer school, during the Muslim holiday of Eid, Sohail prayed for 10 minutes and then went to class.
Academic adviser Duane Evans believes Sohail's dedication is the norm for international students.
"Their main focus is education," Evans said. "A lot of them, even though they may come from deprived backgrounds, their parents still scrimp and save and send them to the best schools, the best private schools in whatever country they're in."
Evans cited a John Hopkins University study from 2009 that found immigrant blacks were nearly 15 percent more likely to attend college than their native black American counterparts and almost 3 percent more likely than white Americans.
Although he did visit an American movie theater to see "The Great Gatsby," Sohail has avoided the distractions he believes the country is filled with, such as clubs and television.
A classmate in his listening and speaking class, Taeko Hasegawa, who is also an international student from Japan, inspires him to continue to do better.
"Sometimes she has difficulties explaining her views and ideas in English, but she never gives up," Sohail said of Hasegawa. "Her grades are actually better than mine. That shows how enthusiastic she is."
ESOL professor Ann Friederich taught Hasegawa a year ago in a writing course and acknowledged how much she's grown.
Friederich shared an example of a sentence Hasegawa wrote in the previous writing class: "First, go to school every day. Don't do late, doing homework, and do preparation and review. Second, make a friend, direction of fun, don't give up."
Hasegawa has improved leaps and bounds since then but still believes she is weak in her hearing and sees her age of 55 as a drawback to her learning.
"I am full-time student; very, very hard for me because I am very old," Hasegawa laughs.
She is the proud grandmother of an American grandson she helps take care of in between submitting writing assignments and getting ready for tests.
Back home in Japan, she was a management nurse in charge of other young nurses. Here in America, she works on improving her English in classes alongside Sohail.
Friederich believes English is difficult for international students because nothing looks as it's supposed to sound.
"They work very hard and English is a very difficult language to learn," Friederich said. "For example, you have the word cough, where you get an 'f' sound out of the 'gh.'"
Sohail was taught English from kindergarten and throughout high school in Karachi, Pakistan. A recipient of an automotive technology degree from St. Patrick's Technical School, he believed his English was top notch until an instructor informed him otherwise when he kept saying "beer" when trying to say "bear."
Now Sohail is nearing the end of his ESOL classes. Should he pass them all, he could start college-level courses such as English and History 1301 in the spring.
Sohail credits his adviser, Sheneika Hathaway, who works in the English Language Learning Advisement office, with guiding him through his academic career thus far.
"Sometimes the process can be overwhelming for students," Hathaway said. "I think that it's a lot of reassuring and just being patient with the student and also kind of encouraging the student to be patient."
Sohail's ultimate goal is to attend Northwood University to get a bachelor's degree in automotive marketing and management after taking some business classes next semester at Eastfield.
Upon finishing his degree, he plans to return to contribute to his home country's economy and make a living while being with his family again.
"My family is over there [Pakistan]," Sohail said. "My mom, my dad, my parents. I go back to my country, and if you are a masters graduate from U.S. universities or institutions, then you can go to any part of the world and you can get a good job."