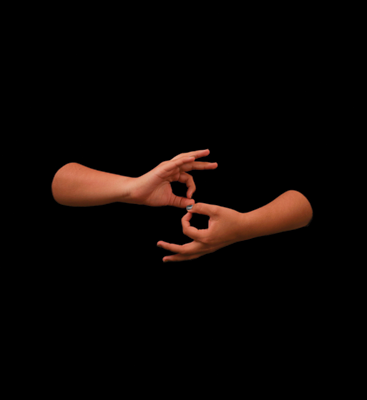 By Kevin Cushingberry Jr., Editor in Chief
Kathy Bayne is a lifelong learner.
She's learned about the basics: science, math, English and history. And she's learned the difficult stuff: biology, psychology, even auto tech.
But Kathy isn't a student, she's an interpreter.
In the process of hearing a message in English, converting it into American Sign Language and signing that message to a deaf student, educational interpreters must adopt an understanding of the classroom's vocabulary.
In fact, the learning process for interpreters starts before the semester begins. Many interpreters read textbooks ahead of time to gain knowledge of the key terms and research signs that will be useful for the class.
"You have to learn whatever you're interpreting before you interpret it," said Bayne, a full-time staff interpreter who began learning ASL 35 years ago has been a professional interpreter for 21 years. "If you don't understand what that person is saying in one [language], you can't put it out in the other [language]. You can finger spell it, but you're not going to be able to sign it."
Bayne, who has worked at Eastfield for 13 years, is familiar with most of the courses taught on campus. When she hears an instructor use a term unique to a certain class, she has usually heard it before and already figured out the signs, spelling and meaning.
Mary McDermott, a part-time interpreter who has worked for the DCCCD since 1979 while also teaching at Samuell High School, said the preparation educational interpreters complete prior to signing for a class is pivotal. However, she said some situations cannot be anticipated.
"I've found that sometimes, especially with science, there aren't signs for certain vocabulary," she said. "You can finger spell, but you're in a place where you're talking about endoplasmic reticulum. He's gone on for a while and I'm still spelling a word."
When this happens, McDermott and other interpreters do their best to spell out the word and catch up later. However, spelling out complicated words continuously for an 80-minute class can be physically and mentally exhausting. So, the interpreters and students get together to find shortcuts.
"After a while, me and a student come up with a sign we're going to use for that particular word in that particular class,"
McDermott said. "For instance, we'll just sign ER for endoplasmic reticulum. I'll ask the deaf student if that's OK with them because they would usually sign ER for emergency room. For some specific classes, you just have to go with something that both of us are comfortable with."
The DCCCD requires interpreters to have state-level certification. Disability Services Office director Bobbi White, who has a background in interpreting, said learning sign language isn't easy.
"It's not like you take a couple classes and you're proficient," White said. "To be a good interpreter, to have really good conversational skills where I can understand you, you can understand me, that's probably a 10-year process. [Interpreting] is a pretty exact science."
Part-time interpreter Leah Weeks only has three years of interpreting experience, but said having to interpret in different environments has given her unique experiences.
"In every classroom that we enter, we encounter so many new cultures," she said. "Each individual has their own culture that impacts everything that you do."
Weeks said the fact that every deaf person and hearing person has his or her own cultures makes for interesting situations.
"Cultures are so imperative to communication between any two people," Weeks said.
Just as there is a hearing culture, deaf culture and interpreting culture, there are also subcultures within the college.  Bayne said some of the students communicate verbally in ways she wouldn't.
"This one deaf kid was calling another kid the 'N' word," Bayne said. "Well, I'm this old white lady. I'm not going to just yell out what he just said. I walked over to the guy, put my arm around him and said, 'Hey, he just called you the 'N' word.' That's the hard stuff to interpret."
Educational interpreting isn't just about communicating professors' messages to students. It's also about interpreting students' messages to their professors. Bayne said when deaf students get mad at instructors, or tell an instructor off, interpreters can be put in a difficult position.
"I'm having to say these things to this other adult," she said. "Yeah, I'm telling them what the deaf student is saying, but it still feels like I'm saying it."
Seandra Smith-Reese, a hearing-impaired student who first enrolled at Eastfield in 1992, said interpreters are much more helpful now than they were 21 years ago.
"Back then it wasn't good," she said. "I flunked my classes. They didn't know what they were supposed to be signing. With the interpreters now, they will let my professors know if I ever have any questions. I like it now because I'm passing all my classes."
Smith-Reese said although she can communicate verbally on her own, she is more comfortable when an interpreter is there to help.
"I do communicate using regular English, but when I have an interpreter, I will use ASL and they will make it sound smarter in English," she said.
The difficulty she had when she first stepped on campus made Smith-Reese appreciative of the many roles interpreters play when she returned to college in 2011.
"One of my interpreters is my former professor," she said. "We'll go around on the weekend and go to church. If I have a hard time with some classes, like government, my interpreter will take her time and work with me longer. I have interpreters that will tutor each subject with me. I love them all."
Bayne said giving students extra help and sometimes going above and beyond her professional responsibilities is only natural after working at the college for so long.
"The hard part is trying to keep my boundaries," she said. "Because I've been here so long and I know so much of how the system works, I have a tendency to do a lot of other things besides interpret for the deaf students, like advise on their classes, become their friend, those kinds of things. When you're just out doing your job, that doesn't happen, but here it's all kind of intertwined."