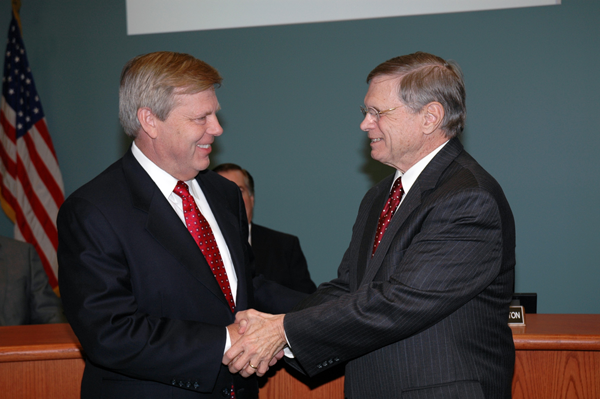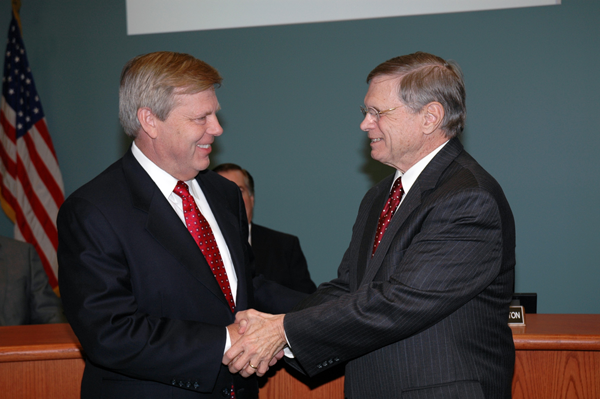 (Dallas) — The Dallas County Community College District's board of trustees unanimously approved the selection of DCCCD's next chancellor, Dr. Joe May,  during its regular monthly meeting today. May's three-year contract specifies his annual salary – which is $300,000 – and solidifies his start date, Feb. 26, 2014. 
The DCCCD board of trustees conducted a national search for a new chancellor this year; its members comprised the executive search committee, and they announced their choice of the sole finalist in October. May is chancellor of the Louisiana Community and Technical College System. 
The district's current chancellor, Dr. Wright Lassiter Jr., announced his retirement earlier this year, which prompted the national search. Board members also unanimously named Lassiter chancellor emeritus during the meeting; he will assume that title once May begins his tenure at DCCCD. As chancellor emeritus, Lassiter will serve as a consultant and assist the new chancellor when May transitions into the district and the Dallas community. 
Following the vote, May expressed his thanks to the trustees, praised the outstanding leadership that Lassiter provided for many years and discussed how important community colleges are to higher education, students and the workforce.
May said, "I am honored and deeply humbled to be selected as the next chancellor of the Dallas County Community College District. As several of our students said earlier tonight, we provide hope to the hopeless, offer a pathway to clarity and find ways to remove barriers so that people can obtain the education they need to pursue careers and succeed."
May added, "When students walk through the threshold into our buildings and our classrooms, we want to help them leave with the credentials they need to build new lives. I am proud to be part of the long tradition of education and student success at DCCCD." 
Jerry Prater, chair of the DCCCD board of trustees, said, "We are pleased to complete this process with the approval of Dr. May's contract, and we look forward to welcoming him as the new chancellor when he starts his administration next February. We also are proud to honor Dr. Wright Lassiter Jr. for his service and dedication to the Dallas County Community College District by naming him chancellor emeritus. Today is a special day for the trustees and for DCCCD's students and employees as we look forward to building on our success."
For more information, contact Ann Hatch in the DCCCD office of public and governmental affairs by phone at (214) 378-1819 or by e-mail at ahatch@dcccd.edu.