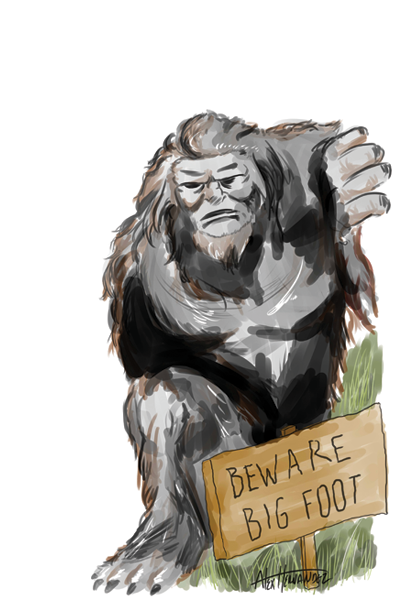 By Karina Dunn, Staff Writer
Does Bigfoot live among us?
Ask a cryptozoologist, a person who specializes in the study of hidden animals, and he will say yes.
Legend has it that Texas is home to famous creatures such as the Chupacabra and Bigfoot himself. Their stories have spawned a network called the Cryptozoology of Texas. Its researchers attempt to identify cryptids or animals that have not been scientifically proven to exist.
Cryptozoologists are passionate about exposing these obscure creatures to the public and do not limit themselves to the scientific method, or even to reality.
On Oct. 31, Dr. John Emery and biology professor Murry Gans highlighted some of the findings and operation of cryptozoology. Their explanations and analysis led to a discussion on mythological creatures and the obsession surrounding them.
Emery stressed the importance of looking for facts among the myths.
"You have to look and say, do [cryptozoologists] have a vested interest, or are they looking for the truth?" he said.
Emery asked the audience to consider the reasons a researcher may have for believing in one of the cryptids, such as funding for projects, and to not be fooled by what appears to be good research.
Gans followed Emery's presentation with an unexpected announcement.
"I am going to show you irrefutable evidence that I discovered Bigfoot," he said.
Prior to his research, Gans considered himself a skeptic of cryptozoology. However, he said he went to great lengths to prove the existence of creatures like Bigfoot, conducting interviews and in-depth research on the subject.
Gans claimed to have found Bigfoot's house and his car. He showed a video documenting the experience.
"At this point, I had a slight setback in my research," Gans said, setting up his joke. "Mr. Foot actually filed a restraining order against me."
Emery said the scientific community has consistently denied that such animals exist.
"It is important to remember that no animal ever anticipated by a cryptozoologist has ever been found to exist," Emery said. "Not one."
Citing the National Center for Biotechnology Information, an official scientific database, Gans showed the audience the genetic make-up of a man, a woman and Bigfoot, whom Gans discovered to have an extra chromosome.
There was only one problem: The database used to document Bigfoot's genetic information was created using Photoshop.
Near the end of his presentation, Gans asked the audience what makes a good lie believable.
"An old guy, with a white beard and a lab coat," Gans said. "Credential tag, and a pocket full of pens," he added, describing his own attire that day.
Gans encouraged viewers to look beyond the surface of most cryptozoology and see it for what it is: "bad science."
Seadra Reese, a student who attended the presentation, said she was reminded to be more discerning.
"Don't believe everything you hear," Reese said.
Another student, Quincy Mance, said he learned more about myths and the importance of credible sources.
"Make sure to verify information and use an accredited site," Mance said.
Gans and Emery both said the point of the presentation was to demonstrate the lengths cryptozoologists take to prove their own conclusions.
"[Cryptozoologists] work backwards," Emery said. "They start with the answer to their conclusion, [this animal exists], and manipulate research to prove it."