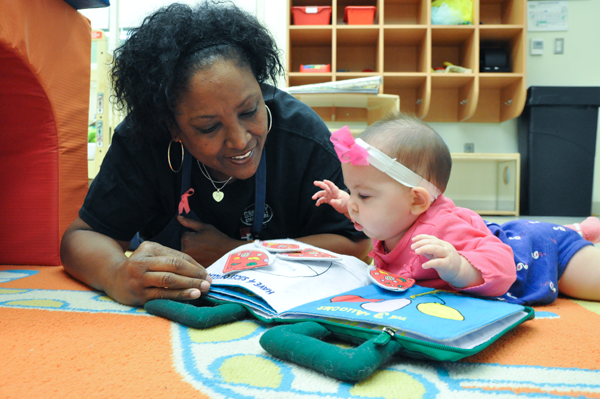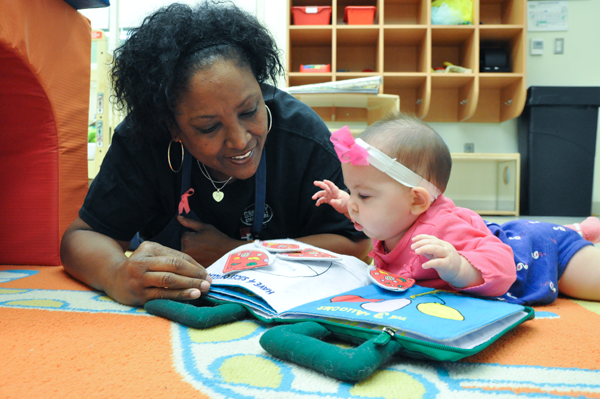 By Karina Dunn, Staff Writer
When he was 10 months old, Will Crawford was splashing around in his bath when he suddenly stopped, looked up at his mother and signed the word "done."
Dee Crawford, an employee in the college's Business Office, was shocked. Soon, she discovered that her son was learning other things at the Child Laboratory School in the K Building.
"He was saying 'eat,' 'more,' 'done' and 'please' with his hands, prior to being verbal," she said. "They taught him that."
Crawford has entrusted the care of both of her children to the instructors at the Child Laboratory School, which works with infants, toddlers and older children.
Accredited through the National Association for the Education of Young Children, the program uses tools such as the Creative Curriculum to better serve and nurture students.
Misty Lavigne, coordinator of the Center for Child and Family Studies, believes open, transparent relationships with parents allow them to connect with their young students.
"We get them to come in at 3 months and leave at 5 [years] …" Lavigne said. "It's pretty rewarding to see them grow up."
Eastfield's Child Laboratory School, which is open to the public but used extensively by employees and students, is the only nationally accredited center within a 25- to 30-mile radius of Mesquite.
Crawford said the program's accreditation holds the school to a higher standard, but she also appreciates the instructors because they honor her values as a parent.
If she is uncomfortable with her daughter 6-month-old daughter Jesse eating a certain food or moving on to the next stage in the curriculum, the instructors give honest opinions on the next course of action.
"I think they do phenomenal work," Crawford said. "It makes me proud to know this center is on our campus."
Shelia Whipple, an instructor in the infant room for 13 years, said listening to parents is a learning experience.
"Although I have experience, I [recognize the need] to trust and listen to parents and how they parent," she said.
Crawford said the instructors' willingness to listen creates trust. She considers them as much a part of her children's upbringing as she and her husband.
"They come to birthday parties," Crawford said. "They're like family. Lisa and Shelia should have partial custody of our kids."
Whipple said relationships with parents form as a natural consequence of caring for their children.
"We develop closer relationships with parents because it's often their first baby," Whipple said. "They're bringing us all they have."
Important moments from the infants' time at the center are captured in memory books. When a child graduates from the toddler room, each family receives a book filled with pictures of the student with friends and instructors.
Marla Ponce, the school's lead toddler teacher, takes pictures with students during activities and sends them to parents.
"It's instant and breaks the ice, so you're comfortable," she said.
She said these events are one of the reasons she enjoys her job.
"They say their first word or say something funny or hug you, just little milestones, stuff that makes you laugh," she said.
The instructors said they learn something new with every child.
"The infants taught me the joy of introducing them to first things," Whipple said. "I feel like I'm an important person in their life."