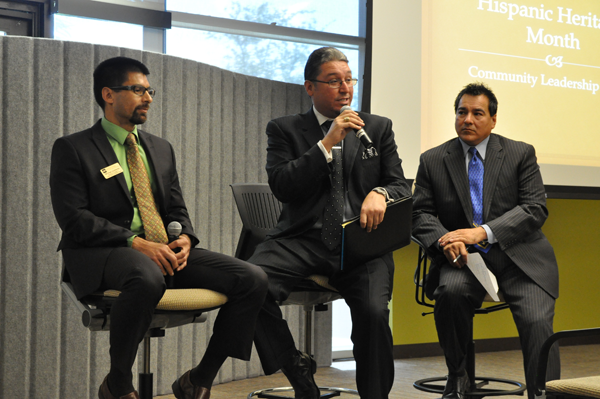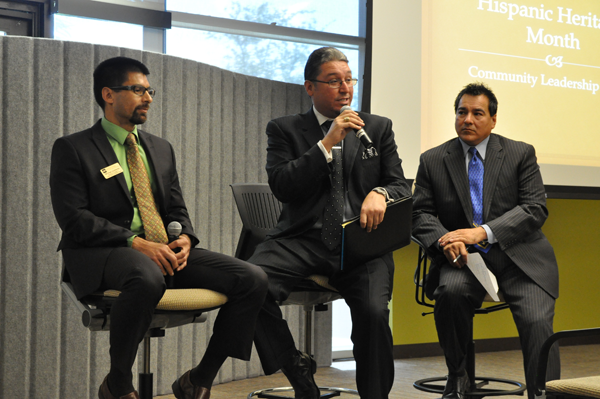 By María Yolisma García, Staff Writer
During a Latino leadership panel discussion meant to encourage success, former attorney Roy Dean opened up about failure.
"I failed first grade, how pathetic is that?" Dean said.
A long pause filled the room.
Dean's early failure was due to a language barrier. However, that failure motivated him to press on.
"Failure taught me what I know today. Every day I thought about first grade," Dean said. "It's OK to fail. I encourage failure, because that means you're trying. And if you're not trying, that means you're not doing a damn thing."
Today, Dean is chairman of the Southeast Dallas Chamber of Commerce. He, along with Eastfield  Vice President of Teaching and Learning Michael Gutierrez and Chairman of the Greater Dallas Chamber of Commerce Jeronimo Valdez spoke about Latino leadership in the community during a panel discussion hosted by the Men's Empowerment Coalition. The panelists discussed their personal struggles to achieve success.
Aaron Fields, president of the MEC, opened the discussion by talking about the event's theme:  leadership in the community.
"We have the ability to make significant changes in the lives of people with whom we live with and work," he said.
Gutierrez, who grew up in south San Antonio, remembers the values his father instilled in him as a young boy. He said his father taught him to always do three things.
"Be proud of who you are, work and only take what you deserve," Gutierrez said.
He always wanted to make an impact and help out as best as he could.
Gutierrez found the community college environment to be the best place to do that.
Valdez told students not to let a negative environment define what they are capable of doing.
Growing up in Pleasant Grove with a single mother, he never thought he would be where he is today.
On his journey toward many distinctions in his legal career, Valdez faced much adversity, including a lack of preparation for college.
"If I had to do it over again, I would have gone to Eastfield or a community college [first]," he said.
During his freshman year at the University of Texas-Arlington, he had a 1.93 GPA.
"'What am I doing here?' I thought," Valdez said.
Valdez worked harder in the classroom and later received a full ride to Southern Methodist University's Dedman School of Law. Now he is advocating for education in the young Latino community.
"The more money I make, the more I can help my community," said Valdez, who donated $5,000 to students who wish to further their education.
Dean was first in his family of seven siblings to graduate from college. His academic success began a trend in his family. He hopes other first-generation college students will do the same.
"Education should be a part of your life," Dean said. "It should never be a choice."