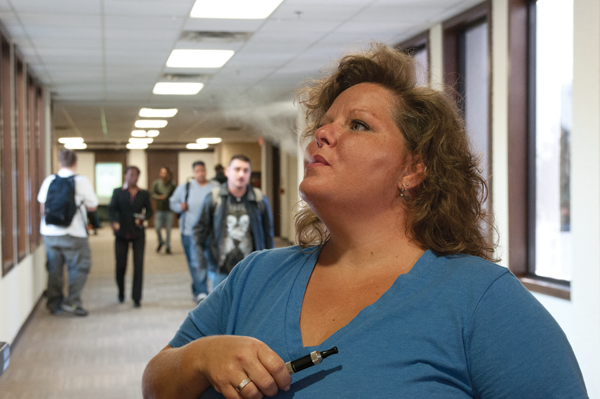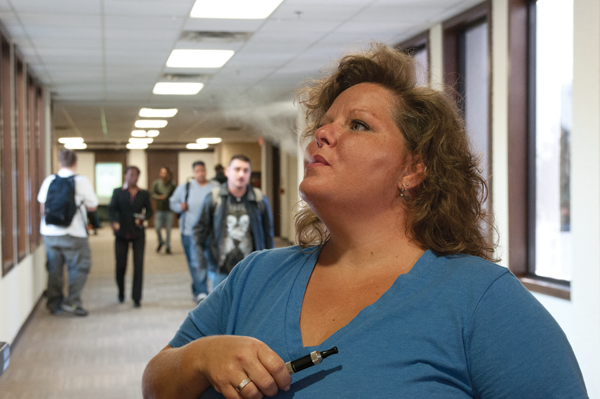 By Justin David Tate, Life & Arts Editor
Students wait impatiently in line at the college Subway during the afternoon lunch rush. A middle-aged male calmly puts a cigarette to his lips, inhales and holds. A string of vapor escapes from his nostrils.
None of the other students in line are choking, coughing or asking him to put out his cigarette. The Subway employees don't ask him to smoke elsewhere. That's because business major Stefan Sansone is not a traditional tobacco smoker.
He smokes electronic cigarettes, more commonly known as e-cigs. While the e-cigs have been tolerated in the Pit, library, hallways and classrooms, a new policy change is banning them on campus. Smoking e-cigs, like traditional cigarettes, will only be allowed in vehicles.
The administration's decision irritated Sansone, who believes e-cigarettes don't harm anyone. He was a tobacco smoker for years until he found out he could smoke an e-cigarette almost anywhere.
He calculated that without the 10 or more five-minute smoke breaks he took, he would have an extra hour a day to study for classes.
"Bars let you do it. Airports let you do it. Any state building [allows] it. So why does a state-funded college have to ban it?" Sansone asked. "State schools should follow federal laws, and if federal laws say you can smoke e-cigarettes in federal buildings, then you shouldn't be penalized in your school."
E-cigarettes have become increasingly popular with students. They use an internal heating element powered by batteries, not lighters. The contents are a combination of water, vegetable glycerin, propylene glycol and nicotine.
Traditional cigarettes can contain carbon monoxide, cyanide and arsenic — in other words, things that kill rats, bugs and people.
Instead of the cloud of smoke from traditional cigarettes, e-cigs produce a water vapor that disappears. Sansone believes the vapors help nonsmokers around him feel more comfortable.
"I keep it pretty low key," he said. "I hold in my inhale so that when I exhale, there's not much water vapor that shows, and I'll usually exhale it down in a way and not up in front of everybody. The longer you hold the inhale you take, the less you exhale."
Science major Ladonna York takes a different approach. She exhales into the air. She said she has done research and found evidence that the vapor doesn't release any toxins into the environment.
York said e-cigs helped her quit smoking regular cigarettes on Feb. 23.
She used to smoke three packs a day, a rate that she believes would eventually have caused irreversible damage to her body.
Since she started smoking e-cigs, she said she feels healthier. She no longer shows symptoms of the chronic bronchitis she was diagnosed with.
No wheezing. No coughing. No shortness of breath.
But she still wants her nicotine. She finds it distracting to sit through class without being able to smoke. Going to her car would take up too much class time if she took a break every time she thought about smoking.
"It's an addiction," she said. "You're taking away something from somebody that their mind is going to be thinking about while they're in class. I have an hour and 20 minute class, and I will think of it no less than 100 times."
Larry Wilson, the college's interim vice president for organizational development, helped hone the language of the smoking ban to include e-cigarettes in response to concerns raised by students and faculty.
Music major Luz Elena Castillo pointed out that e-cigs are not regulated by the FDA because little information about them has been confirmed.
Castillo believes the information could change after decades of tests reveal more about the technology behind e-cigs.
"Even though it's not [considered] harmful, it's still out there and we're breathing it in," Castillo said.
Wilson believes getting into a battle over the long-term toxicity of secondhand vapors from e-cigarettes isn't worth debating due to a lack of confirmed information.
"We're not going to engage in an argument over whether it is or whether it's not," Wilson said. "Nonusers, have expressed a concern about the secondhand nature of the vapors. It's not smoke, but other people can smell it. They feel like they're breathing it. So in the spirit of trying to be a tobacco-free, pollution-free, irritant-free campus, we thought the simplest thing to do was say, 'Don't use electronic cigarettes on our campus.'"
Modern e-cigs were invented by Chinese pharmacist Hon Lik in 2003. The e-cigs went on the market in China in 2004 and entered the international market by 2007.
Today, there are flavored variations of the e-cigarette, such as cherry and bubblegum. Consumers can even pick up versions that don't contain nicotine while still maintaining the flavor.
E-cigs, with or without nicotine, are identical. Some nonsmoking faculty and students find it difficult to immediately differentiate them from traditional cigarettes.
Even some students who smoke, such as substance abuse major Randall Woodsman, agree and say they don't wish to irritate others.
"I am a vapor smoker, but I don't think I should smoke around other people," he said. "What I do with my own vices is my own vices. I shouldn't subject anyone else to them."