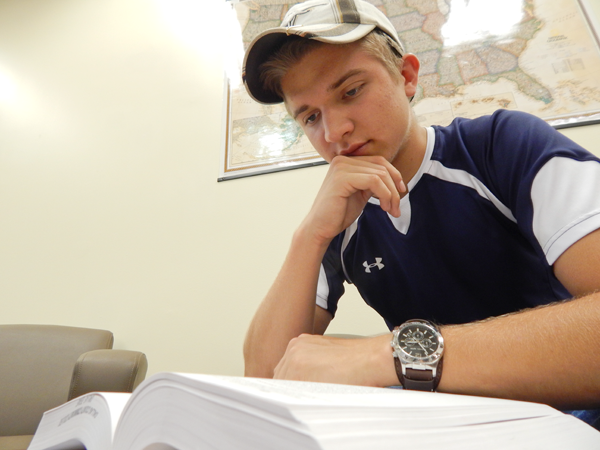 By Gereneicia Foster, staff writer
The time had come again for Cody Dziak to compete in the state championship race at the Metroplex BMX track in DeSoto.  It was a familiar yet frustrating venue.
He had won many races in his young career, but never this one. Now it was his time to win.
Dziak loved the sport. He was a natural. He had been racing since he was 8 years old.  He was ranked third in the nation in his age group and graced the cover of "The BMXer" magazine. He even beat Kyle Bennett, a professional rider and member of the United States' first Olympic BMX team, to the first turn in a pro-am practice race.
However, a win at the state championships is what he really wanted.
He felt confident waiting at the start line. Some of the best BMX riders in the state were here, including his arch rival, the same kid who introduced him to racing.
"He was a superstar when I was a nobody, and now I was up to his level if not past his level," Dziak said. "It was a big thing for him, and it was a big thing for me to beat him."
Dziak had come in second place at the state championships several times. He was within half a wheel from winning once. He needed to win this race. It would be his defining moment.
Dziak was completely focused as he waited for the race to start. Then, in an instant, the light flashed from red to green. He raced toward the first straightaway, rode smoothly over the first jumps and approached the turn.
The crowd was roaring. Dziak was in the lead with his archrival following closely behind. He zoomed down the last straight away and approached the last corner.
Then it happened. His arch rival cut him off at the turn, and Dziak fell to the ground. Other riders zoomed past him, and his rival raced to another victory.
"I could taste the dirt," he said. "I got the wind knocked out of me from falling so hard. I was cut up and scarred."
Dziak didn't quit. He got back on his bike as the crowd stood and applauded. He finished last. The state championship had slipped from his grasp once again.
What Dziak didn't know was that this would be his last race. Three slipped disks in his back from excessive practicing forced him to give up the sport. His accident at the state championship was "the tip of the iceberg."
"It was a real shame to go out right when I was starting to [excel]," he said. "I had always been fast, but I was really starting to turn the turbos on there. But stuff happens."
Dziak didn't let his injury hinder him. He never let anything discourage him.
"You might get me down, but it doesn't mean you are going to stop me from what I'm going to do," he said.
Dziak is a first-semester student at Eastfield studying biology and kinesiology.  He graduated from Poteet High School last year with a 4.0 grade-point average.
He made the academic excellence honor roll in 2010-11 and was voted Mr. Poteet for 2012-13. He received a host of other academic awards.
This year, Dziak was one of eight recipients of the LeCroy Scholarship. The scholars program was created in 1988 by DCCCD board member Mike A. Myers to honor former chancellor Dr. R. Jan LeCroy for his leadership in the community and education.
To receive this scholarship, recipients must have a 3.0 grade-point average, letters of recommendation and strong leadership qualities in school and in the community.
But his academic success didn't come easy. Dziak has battled dyslexia his entire life.
Because of his struggles, he never enjoyed reading, especially if the subject didn't interest him. He had to read text repeatedly to reach a full understanding of the material.  Spelling was also a battle.
"It was just hard for me. With some words I'd get stumped," Dziak said.  "I'd catch myself sometimes putting an e on 'had.'"
Dziak was determined to succeed, no matter how long it took to master a subject. Taking the TAKS test was one of his biggest hurdles. One time he began a testing session at 9 a.m. and finished at 9 p.m.
"I knew it was just what I had to do to get the grade I wanted to get," Dziak said.
Yet Dziak never used dyslexia as an excuse.
"I don't have a quitting attitude," he said. "It may take me a little bit longer to do something, but I won't quit at it."
Dziak's mother Stephanie said his struggles weren't because he didn't know how to do the work. He just worked at a different pace.
"Cody knows that some kids might do things in 10 minutes while it may take him an hour," she said. "But he never let that deter him."
He still struggles with dyslexia but he has developed his own strategies, especially with writing. He approaches all of his subjects methodically.
"I'm old-fashioned," Dziak said. "I like to use paper for everything, whether it is science, English, math or history. I like to map it all out."
Biking and schoolwork aren't the only places where Dziak excels. He takes pride in being a leader. He was captain of his cross-country team during his junior and senior years in high school and is one of the youngest ushers at his church. His sister Lindsay has Down syndrome, and last year he was the assistant coach of her Special Olympics basketball team.
"When you're a leader, you take control over what's happening," he said.  "You can control your own destiny."
Dziak also received the Knights of Columbus scholarship from the ushers at his church, and he was awarded the Justin Lynch Memorial scholarship at Poteet High School.
"All of his hard work from high school, it's like it paid off," Stephanie Dziak said. "It definitely makes you feel good."
Peggy Courtney, a family friend, said Dziak should serve as an inspiration to other students suffering from dyslexia.
"They could really look up to him and say, 'Wow, look at this guy. Look at how far he has gotten,'" she said.
Dziak plans to pursue a career in the medical field after college, possibly nursing or sports chiropractic medicine. He said he chose this career path so he could spread awareness to other athletes about the importance of not just practicing but letting their bodies rest. He was injured after years of playing sports and not getting adequate rest.
"I saw this happen to me and I don't want it to have to happen to anyone else," Dziak said.
Dziak also encourages other students with dyslexia to set their goals high. He said learning disabilities can be a barrier, but there are ways around them.
"Just always strive towards success, however you define success," he said. "Don't let it hold you back."