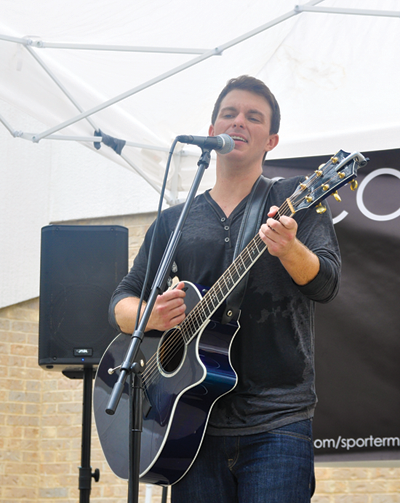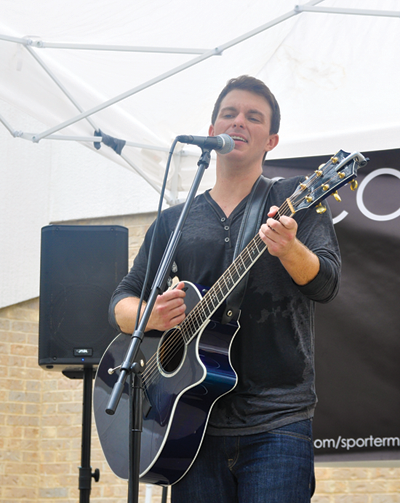 BY KRISTEN DIXON, REPORTER
Scott Porter isn't the biggest name in the music industry. He isn't on billboards and hasn't been signed to a major record label. But he's just started.
The 26-year-old singer-songwriter performs at college campuses all over the U.S. and is finishing a 4,000-mile tour.
On Sept. 19, Porter brought his unique sound to Eastfield's courtyard. Dozens of students and staff members showed up to the campus courtyard to hear a 90-minute concert.
"He's talented, and we'd really like to get him back sometime if possible," said graphic design major Miguel Gaitan, a member of the Campus Activities Board.
Porter said not having a label is working for him right now. He has sold music to people from all over the world with the assistance of iTunes and YouTube.
This is a time when musicians can get their name out without having a recording contract. Of course, Porter said he is not opposed to signing a deal if the situation is right.
"It's kind of the age of the unsigned artists because of the Internet and iTunes," Porter said. "I've sold records in 20 different countries, so you don't necessarily need [a label]."
Porter has only been playing and writing music for nine years. He started when he was 17, the summer after his junior year in high school, when he picked up his dad's old guitar.
After hearing "Good Riddance" by Green Day, Porter said he was inspired to learn how to play the song. He took his first steps toward becoming a musician and taught himself how to play the guitar.
A few months later, he wrote his first song, "Pain," which was about a failed relationship with a girl.  Shortly after, Porter started putting song covers on YouTube to get noticed.
Porter's music began attracting  attention, and he began booking gigs. Now he tours all over the country playing his music in front of crowds big and small.
"It was awesome," Porter said. "I get an adrenaline rush getting up in front of people. It's hard to explain, but it's cool to have everybody show up to a place and want to support and listen to something that you've been working hard on for a large part of your life."
With all that adrenaline coursing through him, he got up on stage and watched as everyone sang along to the music. Porter said the crowd's reaction made him feel like he was connecting with the audience.
"You feel like you're on a pedestal, to some extent," Porter said. "To watch people's faces as they react to something you've worked hard on in a good way gives you an indescribable feeling."
When Porter played on Eastfield's small outdoor stage, he felt a good vibe from the crowd. One of the students who attended the show made a connection with Porter's music.
"He's really great," student De Leon Salvador said after the concert.  "I actually play the guitar as well, so I can tell when someone is good. I would like to be able to play with someone like him."
Porter said being a musician is a full-time job. He travels to all his venues on his own. There is no tour bus or private jet, just his car.
Porter travels constantly. His tours cover 1,800 miles to 4,000 miles from his home in Chicago.
"I get paid to travel around and play my guitar, and I'm so grateful I get to call music my job," Porter said.
When he was younger, Porter said he thought he would be a basketball coach.
His father and sister are both basketball coaches, and Porter played high school and college ball.
But for now, Porter said he wants to play his music, write songs and let people hear what he has to say.
He records his music with Andrew Kremer in St. Louis, Porter's hometown.
He pays out of pocket for everything he does, including travel and production expenses. Making music and touring is his livelihood.
"[That] is why it's really important for people to buy my CDs and buy my songs on iTunes," he said. "Word of mouth is key because that helps me out so much.
I don't have a record label that can pay for marketing."
Porter's music is mostly pop-rock, but he does work in other genres.
During his Eastfield performance he played covers of several songs, some of his originals, and even rapped to Usher's song "Yeah." His sound ranges from country to pop-rock and even rap.
His latest single is "Marry That Girl," which he wrote to surprise his sister at her wedding with a special performance. In it, he tells his brother-in-law to take care of his sister. The song was a hit with several students in the crowd.
"He's really talented," Gaitan said. "['Marry That Girl'] was my favorite."
Some in the crowd preferred his rapping skills to his country vibe, but most students seemed to find something in his music they could relate to.
Porter said he enjoyed performing at Eastfield and would like to come back.
"This has been the best show of the tour," he said. "The whole production crew, the camera people, the turnout, even the scenery was awesome. I couldn't have asked for a better show today."