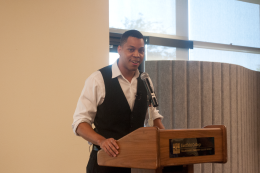 By Justin David Tate, Life and Arts Editor
Earl K. Sneed was nearing the finish line of his college career at the University of Oklahoma when life threw every hurdle imaginable in front of him: troubled finances, a major breakup and the death of one of his closest friends.
However, those setbacks did not keep him from crossing the stage at graduation.
Today, Sneed is a Dallas Mavericks beat reporter, covering the team and managing content for its official website, Mavs.com. On Sept. 4, he spoke to students as part of the Men's Empowerment Coalition's series of speakers encouraging minority males to fight the temptation to drop out of college.
"There's always financial stress on you to drop out," Sneedsaid. "It's going to come from your family. It's going to come from yourself, but it's something you've got to finish on your own."
Sneed's initial vision for college during his senior year at Arlington Bowie High School was to become a star wide receiver for Southern Methodist University and one of the best track athletes of all time. Then he pulled his left hamstring. He shook it off, came back and pulled his other hamstring. Then he tore his left hamstring.
He ended his senior year in high school with no athletic scholarships and a major question about his path to a college degree.
After submitting his application to the University of Oklahoma only a day before the deadline, Sneed was accepted. Then he needed to find something he could study that related to the field he loved: sports.
He initially chose physical therapy, but the science courses proved to be a foreign language he could not begin to comprehend.
Since Sneed enjoyed talking sports, he decided to follow in the footsteps of the reporters he grew up watching on ESPN. So he chose journalism.
Sneed went through a litany of occupations to support his education, acquiring many skills.
"I worked about 20 different jobs during my four and half years at the University of Oklahoma, so I can tell you how to do a lot of things," Sneed said. "I can tell you the quality of a fine suit, because I sold suits. I can tell you how to make a nice omelet, because I worked in the cafeteria."
Sneed's final year of school, 2006, was one of the hardest years of his life. His girlfriend, whom he considered the love of his life, dumped him.
Then his 21-year-old best friend, Paul Shanor, was shot dead at an invite-only Alpha Phi Alpha fraternity party at a local motel.
Sneed struggled to finish school, especially during the month of May when Shanor's birthday passed. In August, the beginning of his final semester, Sneed renewed his motivation to finish.
He calls it "the last 20 meters of the 100-meter dash." When he crossed the finish line, Sneed dedicated the moment to his mother as well as his best friend's mother, who encouraged him to finish school in memory of her son.
But the real work was just beginning. Sneed returned home to Dallas, a top-five media market, to get a job and be with his family.
Unfortunately not many major media outlets were hiring during the recession, but he kept applying anyway.
Eventually, ESPN Radio offered him a post-graduate internship. Sneed accepted and worked himself into a job working overnight at 103.3 in Dallas, but there was a new problem.
"Everyone that was working there was not going anywhere," Sneed said. "You want to have your own column at the Fort Worth Star-Telegram and have your own radio show? You're going to have to be there for the next 25 to 30 years because no one knows who you are."
So Sneed returned to Oklahoma to cover basketball and football. Eventually he decided to email Mark Cuban, billionaire owner of the Dallas Mavericks. He figured it was worth a shot.
"What people don't realize is Mark Cuban checks his email like crazy," Sneed said. "If he doesn't have his phone on him, he doesn't know what to do with the rest of his life. So he's checking emails. He might not respond to you, but if you send him an email with a sappy story, he's going to delete it. If you send an email telling what you're going to do for him, he's intrigued."
Sneed landed a job with the Mavericks, following them on the road wherever they go, even on the team plane. He is the only beat reporter for an official team site who flies with the team.
Sneed covered the Mavericks when they won the 2011 NBA Championship, beating the Miami Heat. He was given a championship ring, but didn't keep it. He gave the ring to his mother.
Che Bunch, adjunct faculty member and co-adviser for the Men's Empowerment Coalition, thinks that even though Sneed spoke to a crowd of young men, his message can benefit anyone.
"His message was relevant for the human race, because everybody should, if they don't, should have a dream," Bunch said. "Everyone's going to have obstacles and trials, and we have to know how to overcome those trials."
Sneed is the first of three speakers the Men's Empowerment Coalition plans to bring to the college this semester. Co-advisor Jesse Brown said he is elated to see the club's efforts after feeling alone during his own struggles in college.
"I didn't have what they have when I was their age," Brown said. "That's why I'm so passionate about the Men's Empowerment Coalition."