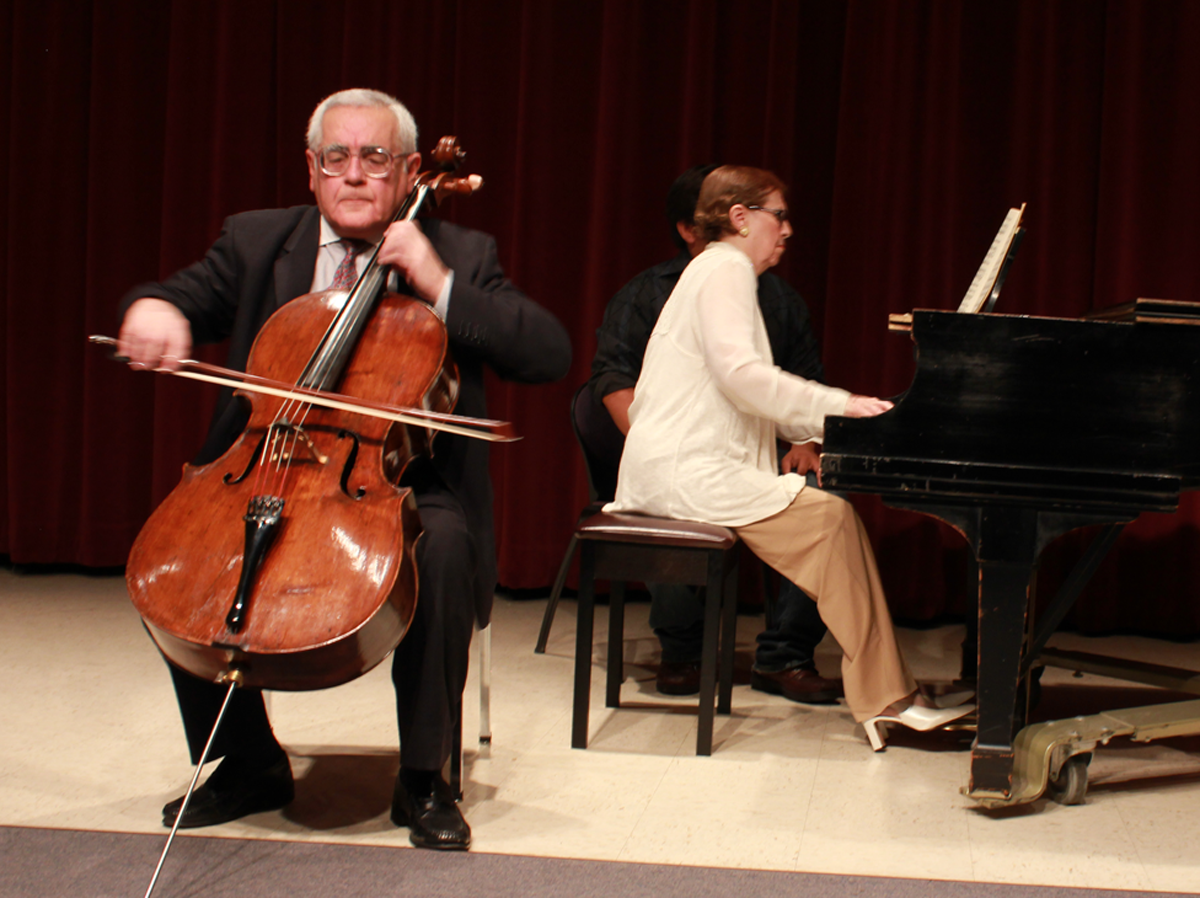 By Sidney Murillo
The conversation between Dallas Symphony Orchestra cellist Yuri
Anshelevitch and his piano accompanist, professor Pierrette Mouledous, was on par with a lovers quarrel. They communicated through their instruments.
The focus Anshelevitch displayed in his breathing was as if the strings were his vocal chords and the body of the cello were his lungs. Meanwhile, Mouledous' nimble fingers played the keys like water on a hot stove.
The seats in F-117 were filled for the April 17 performance by the critically acclaimed cello player.
"It really is an honor to have the associate principal of the cello department from the Dallas Symphony Orchestra come here and play for us," Mouledous said.
The Russian-born cellist started the intimate concert by playing "Elegie Op 24" by Gabriel Faure. Anshelevitch's heavy eyes showed his concentration as he played.
"I am very fond of the cello," Anshelevitch said. "It's probably because the cello is the instrument that most resembles the human voice."
The audience appeared to be moved by the music, tapping their feet to the rhythm.
The next piece was "Suite No. 1 in G Major" by Johann Sebastian Bach.
"'Suite No. 1' is a piece composed especially for a cello," Anshelevitch said. "The range of the notes reaches highs and lows that only a cello can make. At that time, the cello was seen as an instrument for teenage ears only. No one really knew what to do with it."
Physics major Jorge Morales said he felt very connected to the music because he picked up on the passion Anshelevitch was feeling.
"[The music] was very strong," Morales said. "Overwhelming, even."
Anshelevitch said his parents also play cello along with piano, strings and other instruments. When one grows up with music, it's hard not to give in to that calling, he said.
"When it comes to music," Anshelevitch said. "It's all about love."