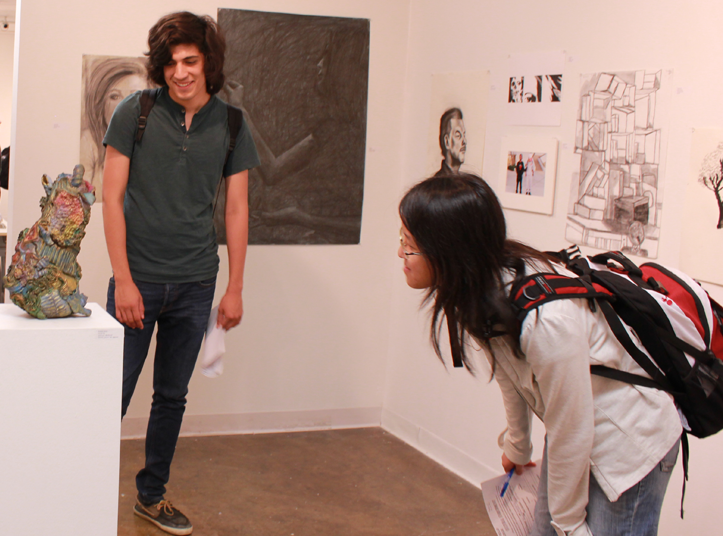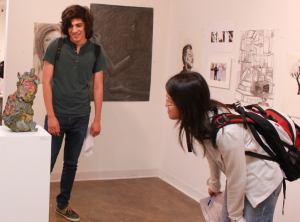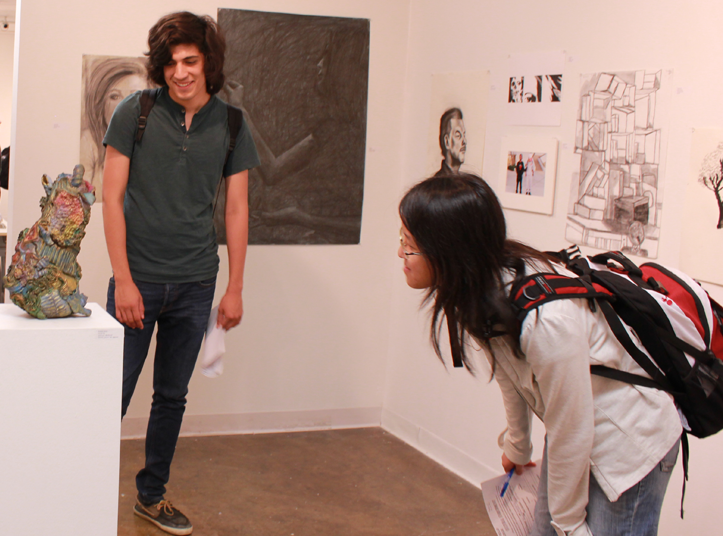 BY KEVIN CUSHINGBERRY JR., EDITOR IN CHIEF
Each spring, more than 100 studio art students get the opportunity to have one of their pieces displayed in the So Fresh juried student art exhibition.
Art program coordinator David Willburn developed the name So Fresh — short for sophomore-freshman — for the exhibition. Willburn said he gave it that name because the college's art program sets students up to transfer to a four-year university.
"It does stand for sophomore-freshman, but it also has that connotation of things being fresh and new, which it is," Willburn said.
This year's exhibition opened on April 15, the first day of the Literary and Fine Arts Festival, and will run through May 3. A reception for the participating artists, other students and faculty was held on April 17 in Gallery 219.
Amy He earned a juror award for her charcoal piece "Paradox." Other juror awards were presented to Keshun Brown for her portrait "Reflections" and Pamela Flores for her piece "Honey Pot." Ali Gilbreath, Charlton Houston and Joe Gutierrez earned honorable mention recognition.
"Each year I'm really surprised by the different techniques that students are using and learning," Gallery Director Iris Bechtol said. "They're more diverse in the style that they're developing on their own rather than the specific techniques."
Several studio art students attended the reception and spoke about how they produced their pieces.
"I'm in 3-D Design and I'm also in Drawing 2 with Ms. Windrow," art major Elizabeth Cruz said. "Ms. Windrow's class is more of an experimental class. Instead of just concentrating on drawing, we're concentrating on finding ourselves as artists. We're getting to explore different medias, not just drawing but painting and installation. From all of my classmates' artwork you see here, they're all completely different although they're all still the same assignment."
Cruz said students are learning about their individual talents as they create their works. They are able to collaborate with their teachers and fellow studio art students.
"It's important because it helps us see ourselves possibly doing art in the future," she said. "Having our art in this gallery encourages us to do better and also helps us see what everyone else is doing around here."
Bechtol said the more classes students take in the art program, the more they tend to grow on their own as artists.
"Often times, a student's work will kind of go in a different direction than you would normally see because they become more self-directed when they take those advanced classes," she said. "They make their own work, and they sort of are guiding themselves, along with their instructors giving them insight along the way."
Bechtol said having their work displayed in the So Fresh exhibition is a significant step in the process.
"For a lot of them, it's the first time they have had their art displayed in a professional exhibition," she said. "For those that are wanting to pursue that goal of having an art career, it's really important to take that first step to showing your work and having the confidence to show it."
Studio art student Sarah Yanes said taking the art classes, having the opportunity to grow as artists and having their work displayed in an exhibition shows that there are endless possibilities for aspiring artists.
"It just shows the beauty of what your mind can create," Yanes said. "It's like an escape to show what everyone thinks about. Anyone can be an artist. We all have unique visions."
Willburn said the exhibit is a way to celebrate what the students have accomplished.
"They work really hard," he said. "We think it's really important to lift them up onto a pedestal and say, 'Look at what you did.' We want to show the larger art community, 'Look what is possible in the Department of Visual Arts at Eastfield College.'
Juror Harmony Padgett wrote a note praising the artists in the exhibition for their strong desire to continue the discovery of art-making processes.
She finished her note with this comment: "As students, you are in an excellent position to take risks with your artistic ideas and processes. Your faculty are a great resource — use them wisely! Continue looking at art in the community — know what's out there! … Just do it — nothing can happen if you don't attempt to make anything."