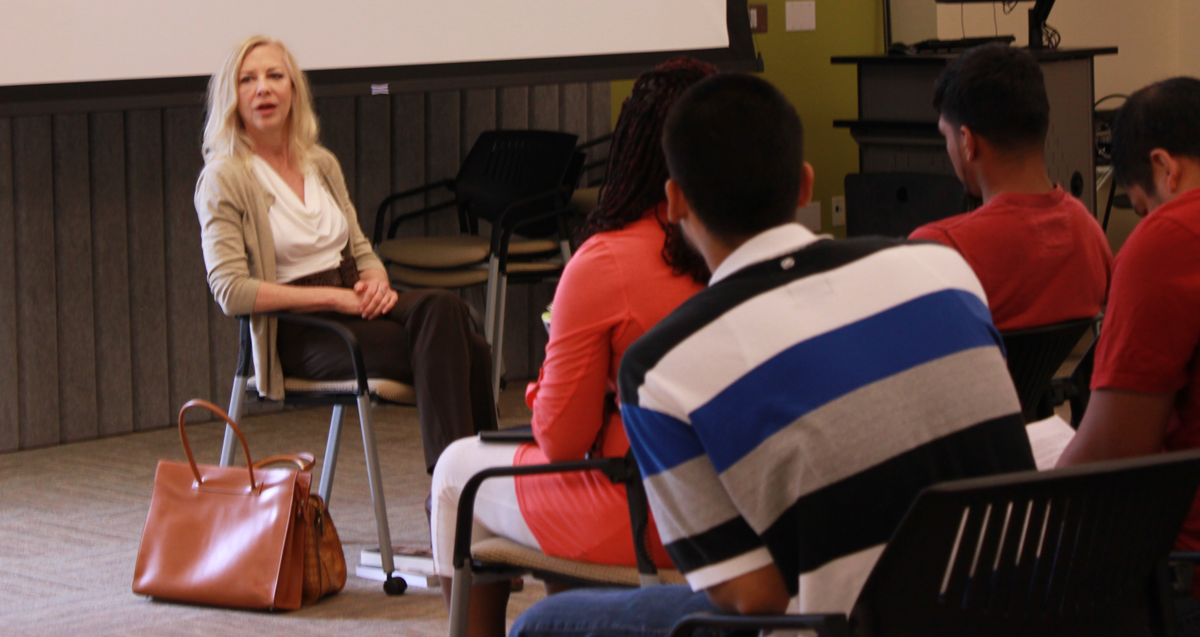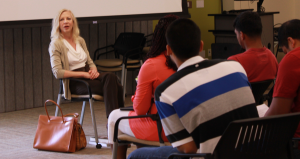 By Gerenecia Taylor
Tireless mysteries, weird fantasies and strange tales about witches have been passed down through the generations.
When author Kathleen Kent was a child, she learned that she had a personal connection to a real witch's tale. A distant relative was tried, convicted and killed for being a witch during the Salem Witch Trials.
The stories Kent heard fueled her passion to write her family story, resulting in the best-selling novel "The Heretic's Daughter."
Kent kicked off the college's Literary and Fine Arts Festival on April 15 by sharing her family's stories, her literary works and her love of history with students.
She started her talk with a question: "How many of you know about your ancestry back two, three or even four generations?"
The majority of the audience didn't raise their hands.
Kent explained that most college students aren't concerned with the past as much as the here and now.
"In college, we are trying to define who we are," she said. "So we are looking outside of our families for the first time. We are looking to connect with people that we identify with that can help us discover who we are. But as we age and begin to lose loved ones, we realize the people who came before us matter."
Kent said ancestors can help people learn more about their family experiences as well as themselves.
"Who you are is what they were," she said. "We stand on their shoulders."
Kent was very young when she traveled with her mother to visit her grandmother in Pennsylvania for the first time. She recalled sitting at her grandmother's table listening listlessly to talk about distant relatives.
"I am 8 years old; I could care less about what they have to say until my grandmother says something about an ancestor who was hanged as a witch," she said. "Suddenly it became very important to hear what she had to say."
Kent began asking her grandmother more questions about her ancestry. Her grandmother told her stories about her relative and her connection to the Salem Witch Trials of 1692.
"The Heretic's Daughter" is the story of Martha Carrier as told by Sarah Carrier, one of Martha's daughters. The book has been sold in over 15 countries. Kent believes the book has been so successful because people want to hear stories about generations and personal sacrifice.
During her discussion with students, Kent painted a vivid picture of the Salem Witch Trials and Martha Carrier.
Close to 200 people were accused of being witches. Of those, 19 were killed, including Martha.
Kent was curious whether the accusations were true, so she asked her grandmother.
"She said, 'Sweetheart, there are no such things as witches, only ferocious women,'" Kent said.
Kent believes Martha was indeed a "ferocious woman."
"She was perhaps the only woman of all of these 200 people that were brought in front of their judges who stood up, put her finger in the face of her judges and said, 'Shame on you for listening to a group of hysterical girls,"' Kent said.
Many of the people accused of these crimes were women who didn't fit into the traditional molds of what people thought they should be. The fear of "the other," or the unknown, was ultimately to blame.
Martha was different. She continued to practice midwifery even after women were forbidden to do so and she refused to admit to practicing witchcraft. She continued to protest her innocence even after four of her five children were arrested.  Her two oldest sons were tortured until they testified that their mother was a witch. She held steadfast to her truth and was hanged still holding onto it.
Kent encouraged students to talk to their parents and grandparents and ask them what was life like in the "before times." She encouraged them to call, email or even tape-record them in secret to get their stories.
"Someday it will be the greatest riches you will ever have," she said. "Once the storyteller is gone, often the story is gone irrevocably."
The tales of Kent's family history inspired some students.
"She was able to use her family's past to tell an amazing story in the present," kinesiology major Ryan Vaz said. "It makes me want to check out my own family tree."
Kent also discussed her second book, "The Traitor's Wife," which tells the story of Thomas Carrier, Martha's husband. According to family legends, he stood 7-feet tall, lived to be 109 and was one of the executioners of King Charles I of England. Kent was able to verify his size and age.
Kent is releasing her third book "The Outcasts" in October. It is set in the 1870s in Texas.
She is now working on her fourth book, which is set in the 1900s and will focus on children in the mining industry. The tentative title is "Cries in the Dark."
Kent said she knew she wanted to be a writer in the fifth grade. However, she didn't want to be a "starving artist," so she worked in finance for 20 years after college. Writing was still her passion.
It took her five years to write her first novel. She was 50 when she finished it, and she endured more than 60 rejections before landing an agent.
"The distance between no and yes is the distance that you're going to travel through in your lifetime anyway, so you might as well keep going until somebody says yes," she said.
Kent's ancestral journey and enthusiasm about her story touched student Rita Jones.
"Her journey through finding out her ancestors' history fascinated me because it was something she experienced," she said. "Because she could explain that and write it for other readers to understand made me want to get the book and go through that journey with her."
Kent said everyone has their own story to tell, whether they're a musician, a painter or a writer. It's important to share it with others.
"Your story is unique," she said. "So tell it."