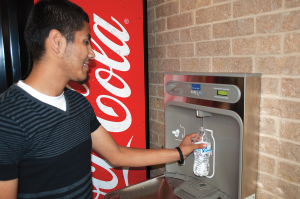 By Ginny Morris
Going green on a college campus takes more than planting a tree or tossing a water bottle in a recycling bin. A commitment to sustainability takes true dedication.
"It's how we perform," said Michael Brantley, the college's assistant director of facilities. "It's how we live."
Besides the obvious benefit to the environment, going green has other advantages, according to Eastfield President Dr. Jean Conway. Some of her green initiatives include creating a green team, issuing an official climate control protocol, installing window tinting on the Pleasant Grove campus and conserving water by keeping the pool empty for three months out of the year.
"It's important economically because when we can reuse, recycle and save money with electricity, then it's good for our bottom line," Conway said. "It's good socially for us all to work together to try to conserve resources. There's a lot of positive reasons and very few negative ones for our college going green."
Eastfield has a wide variety of green initiatives.  The school's efforts include the use of solar panels, participation in Dallas' Cease the Grease program, the installation of water bottle refill stations and plans to become a designated tree campus.
SOLAR PANELS
On Sept. 2, 2009, Eastfield became the first campus in the Dallas County Community College District to start using solar power when two solar arrays were donated to the college by Green Mountain Energy. The panels, located next to the pool prevent the production of 10,400 pounds of carbon dioxide every year. With a projected lifetime of approximately 30 years, they are expected to save the college about $100,000 in energy bills.
Last month, a sign explaining the function of the panels was installed next to them. The sign transforms the panels from simply a method of saving energy into a learning opportunity for students, said Sustainability Coordinator Dr. Terrance Wickman, who heads up the college's Green Team.
"We approach it from an educational viewpoint so that people can see what it really does," Wickman said. "Our goal is to make it so people will try to take it to the next level themselves and be more energy efficient."
CEASE THE GREASE
Not all of the college's green programs are confined to the campus. Cease the Grease is a program involving the entire city of Dallas that recycles used oil.
When too much grease is flushed down drains, it collects in lumps in the sewers, blocking the pipes. The city created Cease the Grease to provide alternative drop points where grease could be safely collected.
In 2011, Eastfield became a designated grease collection station for the community. Instead of dumping their used grease down the drains, residents can bring it to the collection station to avoid clogging their pipes. The drop point is located by the parking lot on the side of the L building. Brantley said the program was a success from the start.
"We had just put it in, and a couple of days later, we had 55 gallons of reusable oil," Brantley said. "And it's been that way ever since. It's just phenomenal. That is one of the best things that we ever promoted."
The oil is collected and then turned into bio-fuel, which helps power county school buses, benefitting children across the Metroplex.
WATER BOTTLE
REFILL STATIONS
In March, a water fountain designed for refilling water bottles was installed in the upstairs hallway of the C building. This saves plastic bottles from being wasted when people throw them out, and also makes it easier for people to regularly drink from re-useable bottles.
The fountain contains an educational component as well. A digital display on the fountain displays the number of bottles saved. A measuring device weighs how much water is dispensed in each bottle.
"We could easily have installed just the water fountain, but we want people to see what it does," Wickman said. "When you look up there and see that number, you say 'That's a lot of bottles!' So our goal is not only to do something serviceable. We try to think beyond the box."
As of April 22, the fountain had saved more than 1,440 plastic bottles. There are plans to install seven more water fountains around the campus.
RECYCLING
Recycling is a huge part of the school's green initiative.
"When we do renovations, [we always use] recycled materials," Brantley said. "When we do carpet replacement, it has to be recycled material, and the carpet you're taking out has to be recycled."
The college also recycles light bulbs, scrap metal, ink cartridges, cardboard and paper. Recycling bins are placed next to trash baskets and in offices to make it easier for students, staff and faculty to recycle every day.
On Tuesdays and Thursdays, recycling bins around the campus are emptied.
"We actually use at least half our manpower just to recycle [on those days]," Brantley said. "They'll have their [Eastfield] shirts on, and go around campus picking up recycling.  We want students, faculty and staff to be encouraged on those days to make sure you put your recycling in your recycle bins and put your bins outside your offices."
TREE CAMPUS
A disease called oak wilt which killed many of Eastfield's oak trees a couple of years ago prompted the college's decision to become a designated tree campus.
"I would say we have 50 percent less trees than we did have," Conway said. "And the disease took out big, big trees — trees that have been here 40 years. We've got to have a real concerted effort to replant in order to get this college campus to look like it did before the disease hit our oak trees."
Becoming a designated tree campus involves a large amount of work, Wickman said.
"It is a huge undertaking for us," he said. "We have to count every tree. We have to involve students to [record the GPS coordinates of] every tree. We have to have a plan to replace them if they should die, and get students and the public involved in terms of our future with trees."
Renae Elder is a work-study student who works to record the coordinates of trees around campus.
"We have a little GPS, and we walk to up a tree and press 'map' and it gives us the GPS coordinates of the tree," Elder said. "We have to get two people to go out there: one to record [the coordinates] and one to get the coordinates."
Wickman is hopeful that the requirements for becoming a tree campus can be met by December.
After the original paperwork is submitted, the college will be placed on probation for a year to ensure that it is following the plans prescribed in its own paperwork. If a one-year report confirms the college is complying with the regulations, it will officially become a designated tree campus of Tree Campus USA.
Other ways the campus is conserving energy and water include using a wind turbine adjacent to the T building to generate clean energy, installing automatic lights in classrooms and offices and automatic faucets in the restrooms, turning off the air conditioning units at night and on Sundays, and putting up bike racks to encourage students to ride to school instead of driving.
The college also collects rainfall, which is later used by the landscaping company to water the plants.
Plans for the future include installing reverse vending machines, which will give students credit for recycling cans, and planting a community garden.
The college's Green Team meets once a month to discuss these plans as well as other environmental concerns at the college and in the community.
Encouraging participation in green initiatives isn't always easy, Wickman said.
"It is a fight, because a significant number of people will just take their trash and throw it on the ground," he said. "[They] take their bottles and throw them in the lake. Once you have a person that is ingrained in a habit of doing something that is not positive for our environment, it's hard to break that."
However, he said that under Conway's leadership, the college has made significant progress in reducing its carbon footprint and making the campus more environmentally friendly.
"Dr. Conway has been the most significant impetus to making this happen," Wickman said. "She is the lynch pin, the cornerstone for all of this. If it wasn't for her, it would be much more difficult to do what we're doing. [The difference between] today and where we were four or five years ago is like night and day."