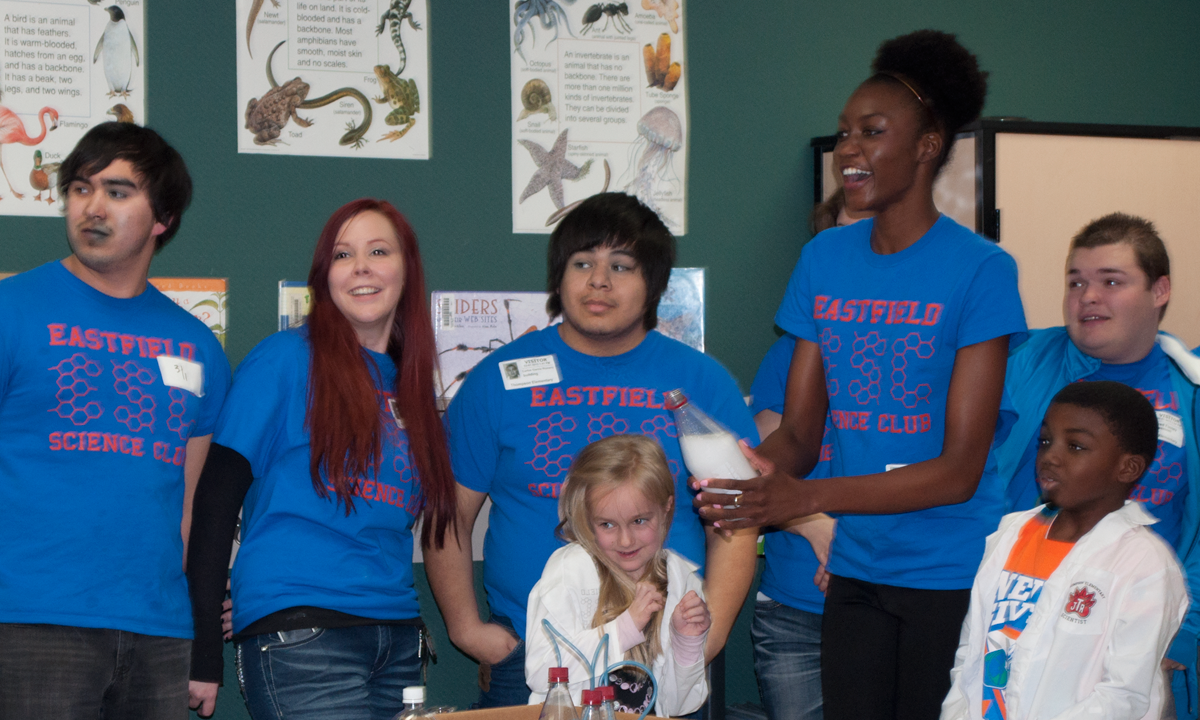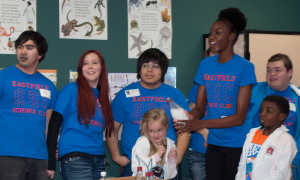 By Sidney Murillo
The bitter stench of vinegar and baking soda fill the first-grade halls of Thompson Elementary.
Children murmur and squeal as the Eastfield Science Club members carry in boxes of beakers, liquids and vinegar. The club makes regular visits to the school to lead simple experiments that get young students excited about science.
On this visit, the club also donated child-sized lab coats to 84 first-graders with the hope of inspiring the young children to pursue a career  in science when they become older.
Science professor Dr. Carl Knight, who is also the Science Club adviser, believes all students can benefit from being exposed to the wonders of science.
"What we found out with the National Science Foundation is that girls are becoming less interested in science," he said. "So the goal of this event was to show that it is a possibility for everyone to become a scientist."
The lab coats were purchased by Knight and the logos were sewn on by Mark Mark's, a logo stitching company that is owned by the cousin of Science Club member and biology major Yvette Gonzalez.
The total cost of the coats plus the logos rounded up to be $184.
"[The Science Club] has been working on this project since the summer," Gonzalez said. "The amount of work is crazy, but it was worth it in the end."
It was important for everyone to contribute a small part to this project, Knight said.
Teachers at Thompson Elementary have been talking to their students about all things science for months. The children were excited about the Science Club coming to visit them and conducting experiments with them.
The first experiment was a volcano experiment. A few nervous children came up  to volunteer.
The Science Club members helped the first-graders produce each volcano.
The result of all this was a new appreciation for science.
"I really like science," first grader  Chinadu Odum said. "I want to be a scientist because I want to explode things."
The elementary school teachers who helped  organize the event agree that the event had a positive effect on the students.
"When we do experiments here, we will get the lab coats out, and the kids will be so excited and yell, 'He's a scientist," first-grade teacher Shannon Woodington said. "It lets them know that they can be scientists. It lets them open their minds to be anything they want to be."