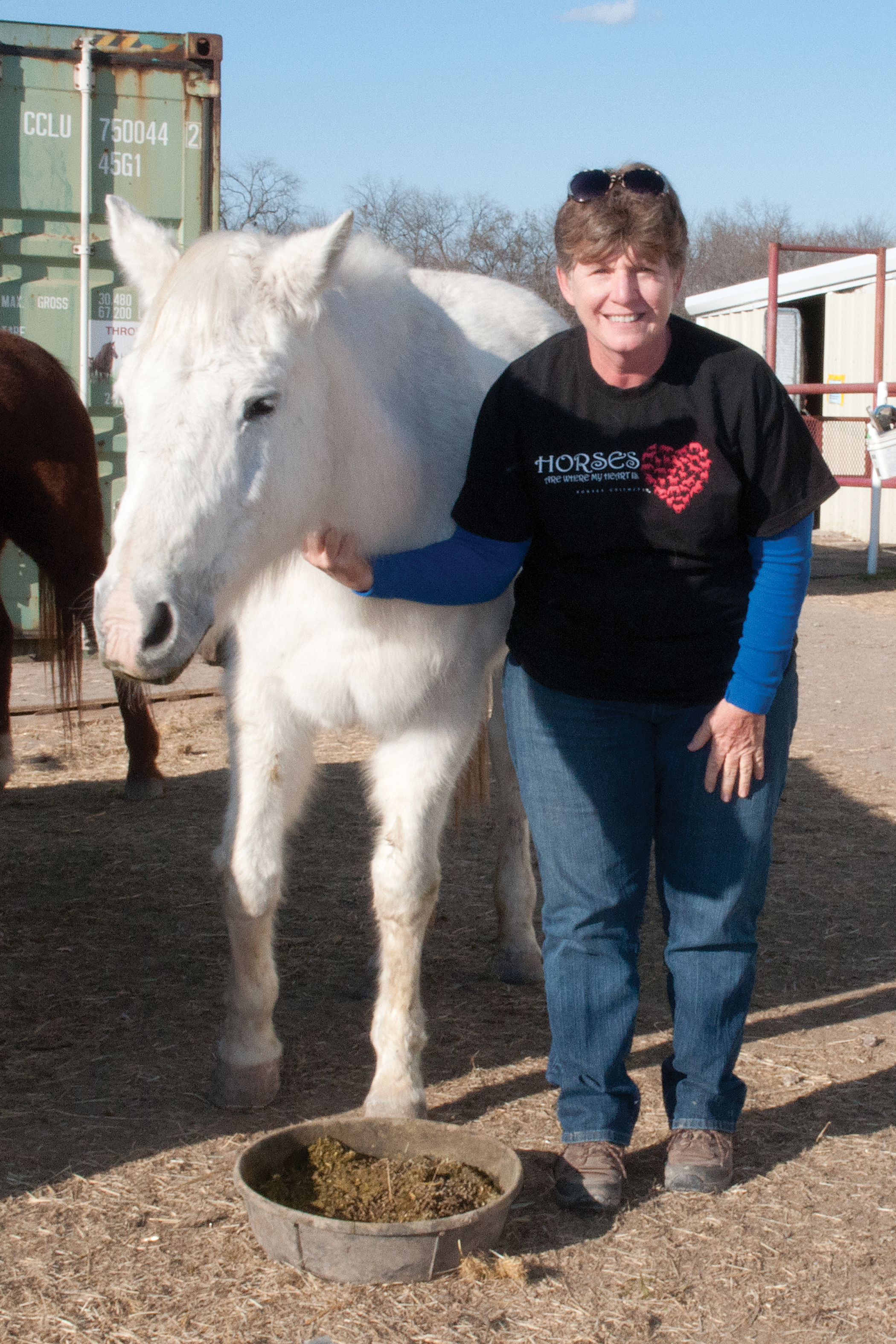 By Ginny Morris
Death was written all over the skinny horse. Every bone stood out on her emaciated body. Her ragged yellow coat was covered with grime and dust. Her hair was thin — a scanty defense against the harsh chill of the December wind. Her matted white mane hung dully over her neck. Her tail drooped sadly.
The mare was named Marigold.  Starved, and ultimately abandoned by uncaring owners, she was finally taken to a place where she would be loved: Throwaway Ponies.
Throwaway Ponies is a non-profit organization in Rockwall that rehabilitates abused horses and offers therapeutic riding classes for children who have also been abused or have mental disabilities.
TaPs was started by Karen Bander in 2004 when the horses she was fostering for a rescue organization were not adopted and needed a home.  Originally, she thought she would provide a sanctuary for a few old horses. It soon developed into much more. In 2007, TaPs became a non-profit because the number of horses had become too large for Bander and her family to support on their own.
By 2010, Bander's 12-acre backyard was too crowded. She purchased 27 acres in Farmersville and moved some of the horses there.
Today, TaPs cares for nearly 70 horses in two locations with no paid staff. A dedicated group of about 80 volunteers put in 4,000 hours of work last year to care for the animals.
"[Our goal is] to offer a place where people and animals can come and feel accepted for who they are, where they are, but grow, change and realize a dream that they have," said equine coordinator Kiki Teague. "The [volunteers] who end up staying are part of a family. We're all drawn by these animals, but when it comes down to it, this group is really about the people."
Horses, mules and donkeys come to TaPs in many ways: They are brought in by the sheriff's department, donated by owners who can no longer take care of them or rescued after being abandoned. In some cases, owners who can't afford to feed their horses ask TaPs to take them in.
"If the sheriff finds them, he has three options," Bander said. "Euthanize them; sell them at auction, which usually means they go to slaughter; or give them to a non-profit. The Rockwall County sheriff gives them to us. We try to stay within Rockwall and Hunt County because most of the places around here have an animal shelter that will take them in, but Rockwall and Hunt counties don't."
Frequently, horses arrive underweight and scared of people. Some, like one little mare named Jinger, have horrifying injuries.
"She was attacked by dogs," Teague said. "She was strung up on a barbed wire fence and being eaten alive by dogs when she was rescued. She had a patch on her side where all the muscle was gone between the skin and bone."
After Jinger's physical injuries were healed, Teague began the process of healing her heart. She tied Jinger in the arena during the weekly Kids' Club to help her relax around humans and other horses. Terrified at first, she slowly formed a relationship with one of the girls in the club.
"By the time we were done with Kids' Club, we had a girl on that horse riding her," Teague said. "She was only 8 or 9 years old, but she bonded with that horse, and that horse trusted her and liked her. It was because of that bond that Jinger started relaxing."
Last summer, a loving family that wanted a horse for barrel racing adopted Jinger. In the last three years, TaPs has rescued 71 horses and found permanent homes for more than 50.  Since its beginning, TaPs has saved more than 250 horses.
Funding is sometimes a challenge for TaPs. With nearly 70 horses in its care, some of whom require special medical care or training, the organization needs more than $7,000 a month to function.
"We spent over $90,000 last year, and nobody gets a salary out of that," Bander said. "That was for things like training, but most of it goes to taking care of the horses. If the horse is not sick, it costs $100 a month [per horse] to take care of them."
TaPs meets its financial needs by getting sponsorships from local businesses, holding fundraisers at local restaurants and hosting an annual golf tournament in May. They have also applied for grants.
The five-year goal of the organization is to purchase between 50 and 100 acres in Rockwall County and build a permanent facility that will include paid therapists and workers to take care of the horses.
In the past, TaPs has worked with several shelters for abused women and children to help them rebuild their confidence through therapeutic riding. Currently, they offer classes for children with mental disabilities.
"We have a few kids with autism, and one with Down syndrome," Bander said. "Our kids have to be able to stay on the horses they ride without us holding them on. If they can't, they have to go to another facility. We also have a professional counselor that brings kids out here and does equine-assisted psychotherapy."
At TaPs, learning new skills and growing in a positive, safe and supportive environment is a priority for both horses and humans.
Last year, TaPs had to discontinue the Kids' Club program due to a lack of volunteers, but a new Horse Pairing program was implemented in January. Under the program, volunteers contribute $50 a month and help with small chores. In return, they are assigned a special horse, which they can teach basic skills, such as being haltered and groomed. This makes the horse more adoptable.
"We help them set a goal of what they want to do with that horse, and then we help them meet that goal," Teague said.  "We're basically here to answer questions and help you reach your goal, but not give you a lesson and hover over you."
The program socializes the horses and allows them to bond with a specific person. It also allows potential adopters to talk with someone who is familiar with the horse's personality, which helps ensure a good match.
"It's been a really good experience to see the development [in the horses] and the character that this place holds," said Bridget Lamm, a senior at Rockwall Heath High School who has been volunteering at TaPs for five months along with her mother, Mary. "It's extraordinary. It makes my heart smile to see improvement in the horses each time we come."
Rachel Papson, a member of the Horse Pairing program who has been volunteering for two years, loves seeing the transformation in the horses.
"Most people think if you have a horse you just want to ride it, but it's also taking care of them," she said. "That's one of the things I love about TaPs. They teach you from the ground up."
As TaPs expands to help more people and horses, Teague said the most important challenge is to keep the unique, personal environment from getting lost in the process.
"Karen created an environment here on this property where people feel welcome," Teague said. "Where they felt they could be themselves. Where there were rules in place to keep you safe, but not so many rules that you felt you were being watched all the time and were going to get in trouble if you did something wrong.  There's a lot of forgiveness here.  There's a lot of joy here.  That, to me, is the thing that's going to be most important to protect and the biggest challenge we will have as we grow."