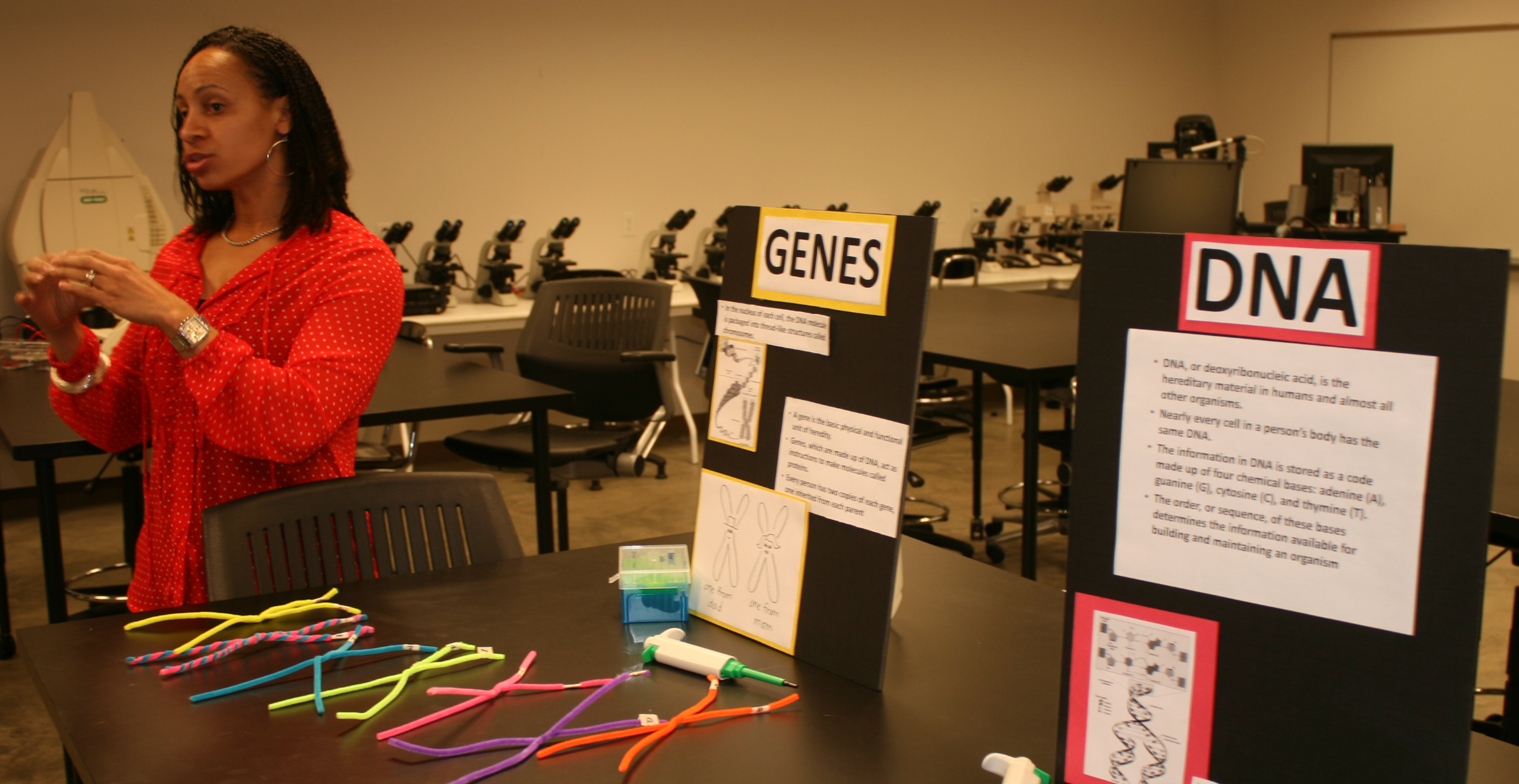 By Anjulie Van Sickle
Professor Danita Bradshaw-Ward worked with DNA sequencing and strands in newborn babies at Baylor Medical Center in Dallas for several years before coming to Eastfield to teach biology, anatomy and genetics.
Now, she is able to use her experience to teach students the importance of understanding how genetics works and how it relates to real-life situations.
Through her experience at Baylor, Bradshaw-Ward is able to provide critical knowledge of genetics to the students and faculty in the Eastfield science department.
On March 8, Bradshaw-Ward designed a tour of the college genetics lab in W-116 as a part of the Science Week.
Although the lab has been available to science and forensics classes for almost two years, it is still somewhat of a secret on campus.
"A lot of people don't realize it's here, because it is over here in the criminal justice building as opposed to the S building over in the biology department," Bradshaw-Ward said. "I wanted to make more people aware of it."
The lab is used not only by science instructors, but also by the criminal justice and forensics programs.
Similar to the television show CSI, the genetics lab doubles as a crime lab. Within it, students are able to learn techniques about how to solve crimes.
"We wanted to have a genetics course to expand the biology offerings in general," said biology professor Rik Post. "The reason we're able to get the genetics lab set up is because it fits in with the forensics program and the criminal justice program here at the police academy."
DNA can be found anywhere in the body, Bradshaw-Ward explained during the tour, passing around a vial filled with a white, floating substance.
It was the DNA of a strawberry.
The students carefully held it, making sure not to drop it or shake it up, and passed it around the room. As she continued to go through the different stations she had set up in the lab, Bradshaw-Ward captivated her audience with explanations about DNA, its sequencing, chromosomes, genes and dominant and recessive traits.
The students were able to take away a great deal of new information.
"We only ever scratched the surface when we were learning about chromosomes and DNA," biology major Zulema Martinez said. "This definitely showed us more of what goes down in genetics."
The science department hopes to expand the genetics lab and make students more aware of the classes offered on the subject.
The thought is that if more students knew about the lab and the high-quality machinery available, more would be inclined to take the course.
The ties with the criminal justice program can also make a difference in class enrollment.
"We needed to have a genetics course to begin with, because biology is moving towards genetic everything," Post said. "They can now do a DNA fingerprint using genetics. So, it helps the criminal justice students find out if someone did do a crime or not."