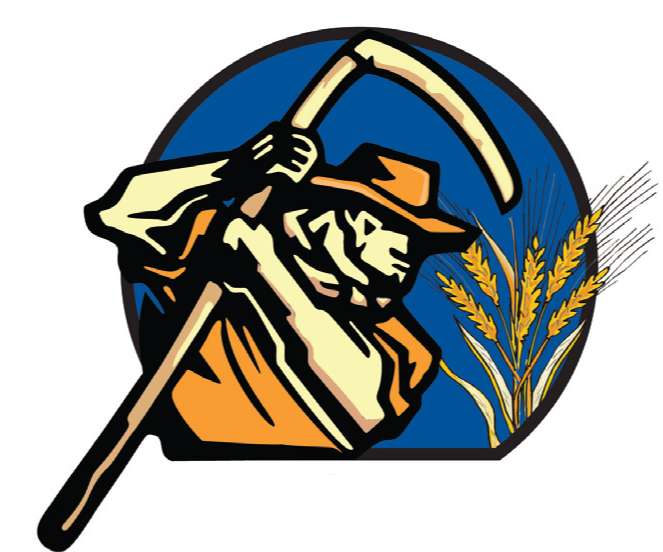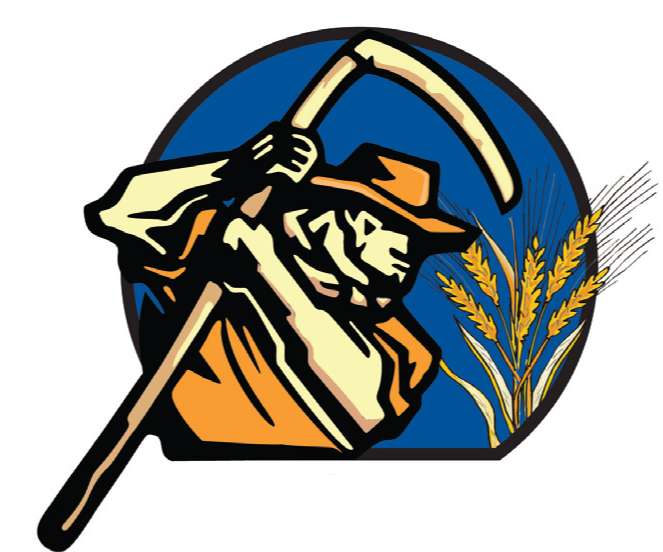 By Justin David Tate
Eastfield is being forced to change its Harvesters logo due to trademark infringement concerns.
In a letter dated Oct. 2, the University of Texas at El Paso (UTEP) asked the college to cease use of the logo, deeming it "remarkably similar" to UTEP's own Miners logo.
"The Eastfield Logo, in fact, appears to be a replica of the UTEPMark, with the mountains removed and the axe replaced with a highly similar scythe," trademark lawyer Jered E. Matthyssewrote in the letter to the college. "Your use of the UTEP Mark in this manner is highly likely to confuse consumers that you are licensed by the university."
Matthysse said the UTEP logo has been in use by the university since 1999. The current Harvesters logo was created in the fall of 2009 and adopted by spring 2010, according to Sharon Cook, assistant to Eastfield President Dr. Jean Conway.
The college, which had never had a mascot logo before that point, began searching for one at the request of athletic director Anthony Fletcher.
During the search, college officials found the logo of Pampa High School in West Texas, which also calls itself the Harvesters. Eastfield received permission to use Pampa's gold and green scythe-wielding Harvester logo as a starting point for its own.
Conway said she was unaware of the resemblance to the UTEPlogo and was surprised to receive the letter concerning the trademark issue.
"I was distressed, because our values [are] integrity and honesty, and we certainly didn't want to be doing something without permission, that doesn't follow our values here atEastfield," Conway said. "But it was without knowledge, so all we could immediately do is say we are sorry and not do this any longer."
Eastfield has stopped producing T-shirts, and other promotional items that have the logo on them. At its own request, the college was given May 1, 2013, as a deadline to phase out all use of the logo. It is being removed from the college's website as well as table drapes, flyers and other documents and materials.
The college hasn't placed the logo on any uniforms or on any permanent part of the campus' structure. However, Student Life Director Judy Schwartz was on the verge of making an expensive investment — a $3,000 mascot costume — when the school received the letter.
"I'd already saved money to buy a mascot suit," Schwartz said. "This kind of came about at the right time, because I'm saving money by not buying the old one and now having to replace it. I'm just hopeful we can get one designed and approved and be able to move forward."
Unlike Eastfield, Pampa, which also received a letter from UTEP, will not be completely without a logo. The high school uses a variety of logos that can be used interchangeably.
"We disagree with [UTEP's] assessment, but we're not going to make a big deal out of it because the individual that did that logo did apparently start with their logo," Pampa Superintendant David Young said. "We feel like it was altered enough that it was unique. We also feel like our two organizations are pretty mutually exclusive in terms of purpose and fan base and that that wouldn't be a big issue, but we respect their copyright."
Conway and Schwartz are now looking into the creation of an original Harvesters logo. One option is to have a design contest among students and staff.
"Once we get our new design, we'll be able to use it for all eternity," Schwartz said. "Around next fall we'll get a mascot costume so we can have a student trained to wear that costume around campus and [athletic events] and build some school spirit."