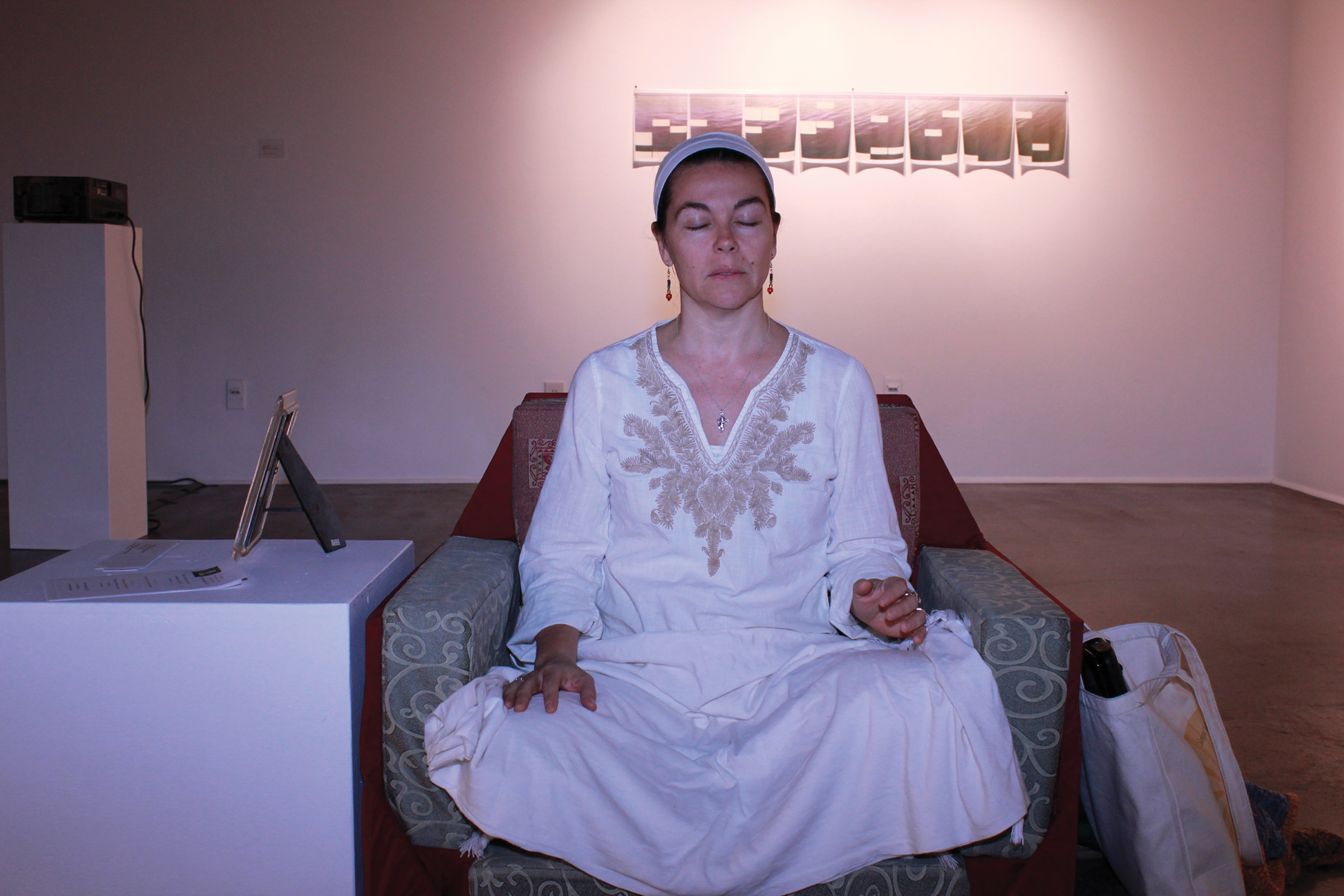 By Braulio Tellez
Finding your "center" can calm the crazy stress of the college classroom.
Although juggling a hectic school and work schedule can be difficult, finding time to clear the mind can help alleviate some of the stress.
That's one reason yoga instructor Beth Cunningham recently began leading meditation sessions in H-100. She welcomes anyone interested in the peaceful art of centering the mind to join her.
Cunningham began the sessions after taking part in the "Fast" art exhibit, where she noticed people were captivated by her calm demeanor amongst the chaos of the show.
"I really wanted to open people up to the practice of meditation and help anyone who might be curious about the subject," Cunningham said.
She said everyone finds peace of mind at least once in their daily lives. They just don't always realize it.
"Quieting the mind is actually very easy," she said. "It's staying in the quiet that is the hard part."
Although there are traditional ways of meditating such as yoga, tai chi or mantras, Cunningham said everyone has the ability to find peace in his or her own way. By allowing the mind to fall into that state and suspend it there, we are meditating.
"When you reach bliss, there's an experience of your own true nature, which is divine," Cunningham said. "The practice of meditation is the extension of that experience."
Cunningham suggests doing something that relaxes you, but not anything that is complex or requires a lot of thinking. Closing your eyes while waiting at a bus stop or listening to soothing music after a shower for about 15 minutes are examples of how people can meditate and center themselves.
"One of the greatest examples is the snooze button," Cunningham said. "When you push that button, you don't really go back to sleep. You're really comfortable and warm. If someone were to walk in, you would know they were in the room, but not what they're doing because you're in that zone. That is a taste of what meditation offers you when you reach that state."
English professor Betsy Joseph teaches classes all day and takes care of her family, yet she still finds time to practice yoga.
"We are stretched to capacity being of service to others, which is wonderful and is my passion, but sometimes you forget about yourself," Joseph said. "If we are not centered, how can we be what we need to be for others?"
Joseph recommends taking time out of the day, even if it's while waiting in traffic, to relax and push the stress of daily life to the side. Instead of driving past the park on the way home, stop and sit at a picnic table. Rather than drive down the street to a friend's house, walk and clear the cluttered thoughts in your brain.
Joseph believes meditating is one of the few times we grant permission to do something for ourselves.
"You do not think about your past and you don't worry about what lies ahead of you," she said. "Remember to be where you are in that moment and spend that time to think about yourself."
Business student Julia Reynolds is a full-time student who works as a waitress. After getting ready for the day, she plays some of her favorite ambient music while lying on her floor for about 20 minutes and staring at the ceiling.
"It really makes me feel good, the music," Reynolds said. "When I stare at the patterns in the ceiling, I slip out of the immediate world and channel into a nice state of mind. Once I slip out of it, I feel this calming buzz over me, and it gets me going."
Reynolds said finding those few minutes of peace can produce a sense of wellness and clarity, as well as focus.
"Your life energy just seems to be at full throttle when you [meditate] on a daily basis," she said. "I feel great at work and at school. I even try and get a little meditation in between classes to keep my energy in check."