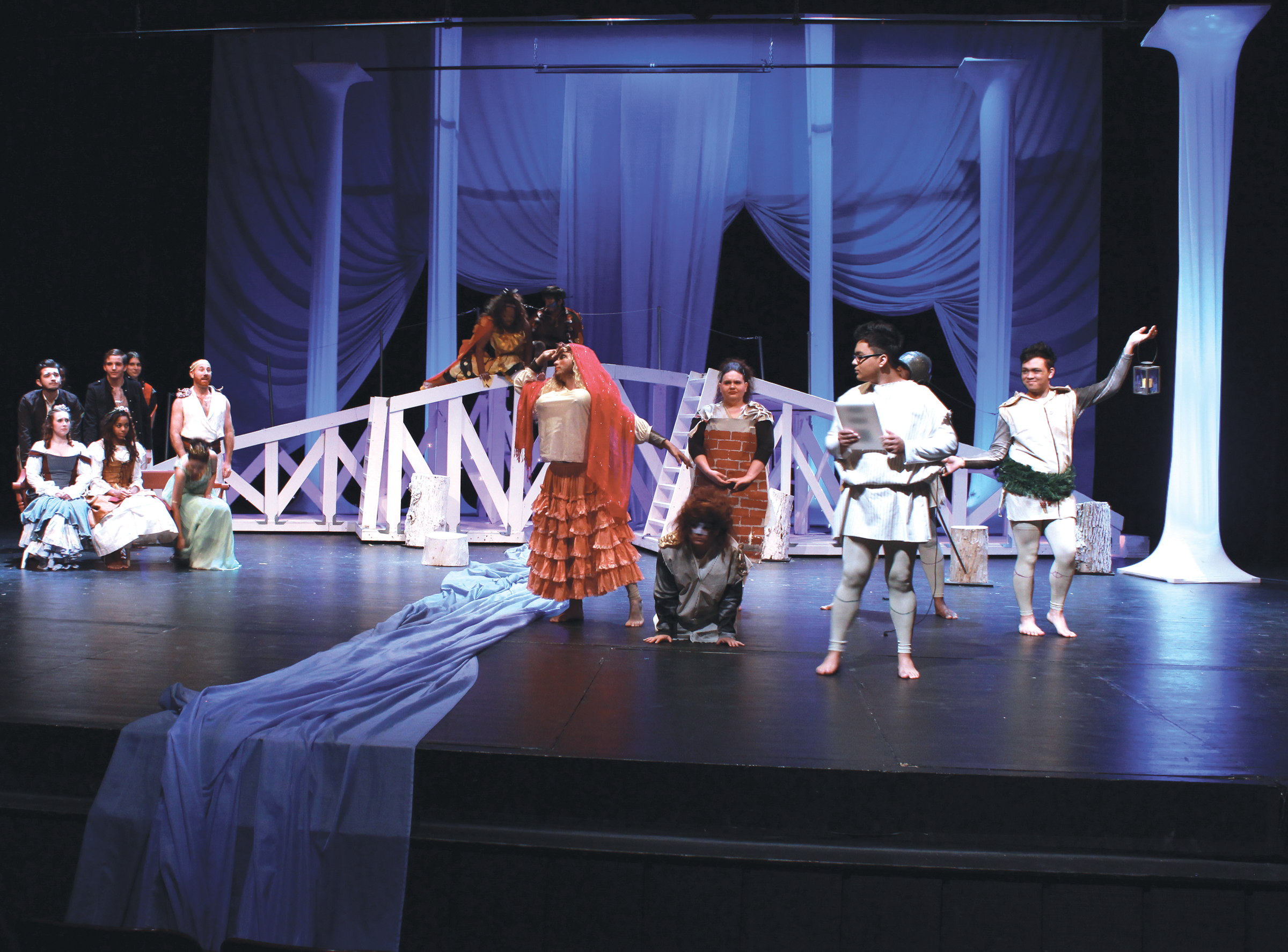 By Sergio Leon
Fairies, love potions, royalty and young lovers can all be found in the Theater Department's unique adaptation of Shakespeare's "A Midsummer Night's Dream." But they are not as you remember them from your ninth-grade English class.
As promised, director Lori Honeycutt delivered an edgier take on the classic.
The Theater Department did a fantastic job of modernizing one of Shakespeare's most mythical plays with the use of techno dubstep.
Dubstep was played in a number of dance numbers throughout the show. These dance numbers gave the old play a very contemporary feel.
The show began with a projector screen playing a video of a series of apocalyptic explosions with — you guessed it — dubstep playing in the background. This really set the mood for the rest of the play.
After the video a group of fairies made its way down to the stage through the audience, climbing and rolling over chairs. This added an element of interactivity to the show and seemed to make many of the audience members uncomfortable as fairies invaded their personal space. Some fairies were more graceful than others and made their way to the stage with elegance and ease, while others were quite clumsy.
The performances in "Midsummer" were well delivered by a group of seasoned Eastfield actors and a couple of new faces.
In the role of Lysander, Samuel Galindo once again achieved greatness with his powerful voice, much like he has in previous productions such as "Dracula." Galindo stands out among the cast as one of the actors with true vocal projection.
Brianna Lewis also drew the audience in with a strong performance as Helena. Lewis successfully embodied the frail mind-set of her character, who is torn apart by love.
In the role of Nick Bottom/Pyramus, Jerome Phillips was a natural at providing comic relief. His comedic timing and mannerisms helped ease the tension of previous scenes and gave the audience many laughs.
Shakespeare's works are always challenging to perform. However, I commend the cast on its work.
While the dialogue was a bit rushed at times, it was still delivered in a manner that was understood by the audience.
Much of this production is a joint effort between staff and students alike. The impressive work onstage and off can not go without mention.
Blayze Carter undertook the role as Helen's father while also being the master carpenter for the production.
Stephanie Carroll had a big role in the show as Puck, and she still managed to do the makeup design.
Theater Department head Dusty Reasons designed the costumes, which were all unique and appropriate for each character.
The amount of talent in the college's Theater Department really shows in "A Midsummer Night's Dream."