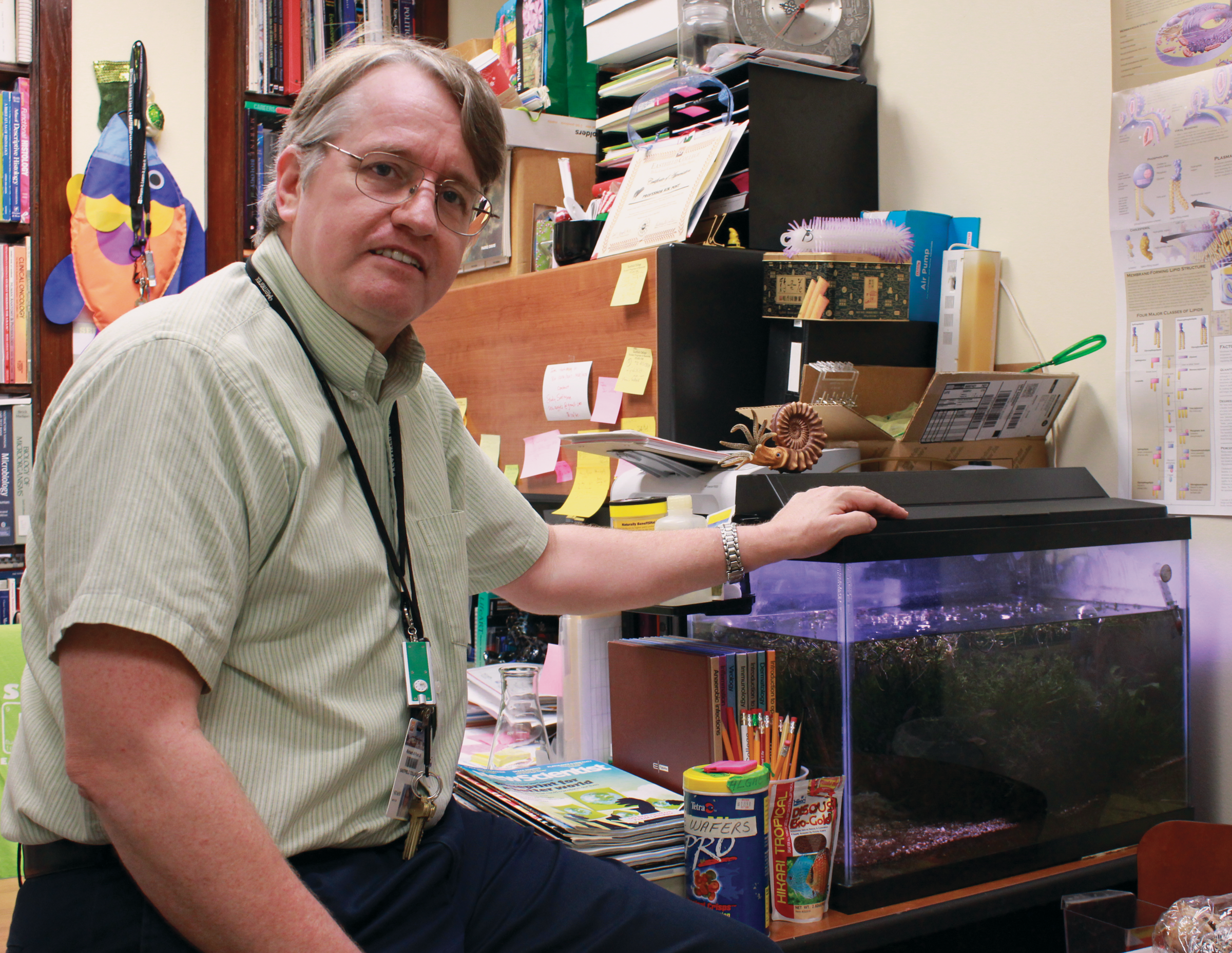 By Ginny Morris
Rik Post has been fascinated with fish since he got his first fish tank at the age of 10.  Three years after his father bought him his first tank, Post had a dozen in his bedroom.
As a teenager, he bred and sold his own fish, including the popular betta fish, and worked in pet shops to make money.
While working at the pet shops, his love of fish increased as he discovered that he could buy exotic fish.
As an adult, the biology professor's interests turned to conservation, and he realized he had an opportunity to help save endangered species of fish.
"I wanted to make some contribution along the lines of working to conserve species," Post said. "I knew that one way I could make a contribution was by breeding."
Post breeds fish from the family goodeidae. goodeids, as the many species are collectively called, live in small pools of water in arid regions of Mexico, Central America and the southwestern United States.  Although they are not as flashy as their domestic relatives, goodeids are related to common aquarium fish such as guppies and swordtails.
Goodeids are nicknamed "pupfish" because of their friendly personalities and obvious interest in the world outside their tank.
"Because they're affectionate, I can feed them," Post said. "I can put my hand in the water and they'll come up and swim against my hand. They have personality."
Most species of goodeids are endangered, and a few species become extinct every year.  Because they live in tiny pools left behind by shifting rivers, the goodeid populations never grow to be very big.
The high demand for buildings to accommodate growing population means the areas where goodeids used to live are being destroyed.
"In Mexico, because of the population expansion, they've had an issue where some of the species are going extinct in the wild because they're paving over the swampy areas for parking lots for grocery stores and so on," Post said.  "So how about that for a reason for a species to go extinct—parking lots."
Some populations of goodeids are incredibly tiny.  Post said he once had one third of the entire world population of a goodeid subspecies in his tanks. The restricted environment in which goodeids live has proved to be their greatest handicap in recent times.
The incredibly miniscule range of some goodeid species is illustrated in the case of the Devil's Hole pupfish.
The entire world population of Devil's Hole pupfish lives in an area smaller than an average-sized swimming pool.
It is nestled in a volcanic crack near Death Valley National Park. The Devil's Hole pupfish have never been raised outside of that one pool.
"It is the most severely geographically restricted range of any species of vertebrate on earth," Post said. "Because it's actually a crack in the earth due to volcanic activity. . . It's a bizarre kind of situation."
One of Post's goals is to involve students in his passion for saving endangered species.
His main concern is maintaining all of the goodeid species in captivity until such a time as they can be released into the wild safely.
"We can't [release them into the wild] yet.  That problem is for further down the road in the future," Post said.  "Our job now is to maintain these species in captivity. Because if we don't, and they go extinct in the wild, we've lost the opportunity; they're just gone forever. "
One reason Post is eager to involve students in raising endangered fish is because it is critical to keep endangered species spread among many fish keepers.
With a wide distribution of endangered fish, it ensures that if one group dies, the species doesn't end there.
A few years ago, Post experienced a power outage in the middle of winter leaving him without heat for five days.
He kept his endangered species alive by placing them in buckets and keeping them next to the fireplace.
All of his other fish died.
"It was a miserable five days. I was desperately trying to keep at least my endangered species alive, because it was critical," he said.  "But in doing that, I lost all my other fish."
After a trial period with non-endangered goodeids, Post allows students to keep and breed the endangered fish, thus ensuring that the species is around for many generations to come.
"This is a way to get back to my ichthyology roots, so to speak, and do something worthwhile—to leave some mark on the world," Post said. "It's not a massive change, or anything, but … [for students] who have any interest at all in direct conservation, this is an easy way to do it."
For more information on how to help endangered fish, contact Post at rpost@dcccd.edu.