Female veterans discuss rewards, challenges of military service
May 8, 2023
This year marks the 75th anniversary of the Women's Armed Services Integration Act, which allowed women to become permanent servicemembers in the U.S. Armed Forces, and the 10th anniversary of all combat service roles being opened to women. Today, women make up about 18% of the U.S. military's active-duty force, totaling 231,147 members, according to the Department of Defense.
From cheerleader to Marine
Melawn Dineen is from a military family, but she never expected to be a Marine.
Her father is retired from the Air Force, and her grandfather is retired from the Army. But Dineen was a high school cheerleader with no plans of joining the military.
However, when she was a 17-year-old student on scholarship at Eastfield, her brother was involved in a serious motorcycle accident after returning from deployment as a Marine in Iraq. When he couldn't re-enlist, Dineen reconsidered.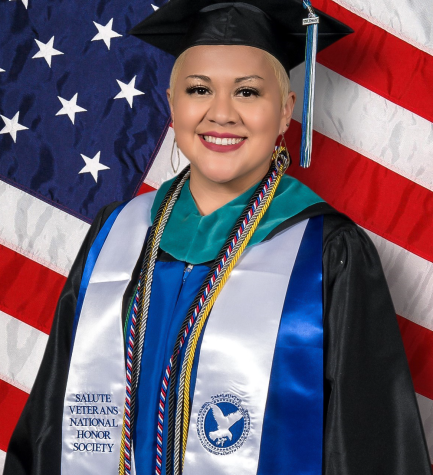 "Maybe it's my turn because he can't go," she thought.
In September of 2006, at age 19, Dineen made her decision without the knowledge of her family. She walked into the Marines recruiting office in Mesquite and said, "Hey, I think it's time I joined."
The recruiter responded jokingly, "The cheerleader?"
"Yes, sir," Dineen said.
She already had plans for her military career.
"I don't want to work in the air conditioning," she said. "I'd like to work on the helicopters that go over my house every day."
Soon she would find herself working on those very same helicopters, the Boeing Ch-46, as an aviation electronics technician. She was one of six women in a male-dominated unit totaling 287 soldiers.
Today, Dineen is the program lead for Veteran and Military-Connected Services program at Eastfield, which provides resources for students currently enlisted in the military as well as military veterans and their dependents.
Dineen was one of five female veterans who spoke at Eastfield's "Courageous Conversations: Women in the Military" event on March 21. The panel also featured fellow Marine Jacqueline Shorter and Army veteran Deandrea Montague, who are also program leads, as well as Air Force veteran Jessica Sanchez. It was moderated by VR Small, a Navy veteran and founder and CEO of the Veran Women's Enterprise Center.
Dineen served five years, but her experience did not come without its share of ups and downs. She met and married her husband during that time, but they were in the same unit and were often pitted against each other.
In 2009 Dineen was preparing for deployment to Iraq when she was told, "they didn't need any other females for deployment." Her husband was deployed, while she was given the job of training other Marines for deployment.
Determined to prove how good she was, Dineen posted the best test scores, became the best shooter and reached supervisory status faster than her male counterparts.
When she left the military in 2012, Dineen had PTSD, specifically military sexual trauma. It took her 11 years to bring it to the attention of Veterans Affairs. Then she was directed to a male physician who dismissed the severity of her sexual trauma.
"This delayed my seeking assistance and my emotional healing," she said. "It was rough."
Despite her struggles, Dineen said she says she has grown and become better because of her military service.
"That's why I'm sitting here today."
Leap of faith
For Jessica Sanchez, taking the leap wasn't always easy. But after joining the Air Force, it became her new motto.
Sanchez's parents were born in Mexico, and like many first-generation Mexican American students, she did not have a lot of guidance when it came to school. Despite finishing high school a year early, she had no plans after graduation. After speaking to a recruiter, she joined the Air Force and became the first in her family to serve in the military, serving for five years in Space Command, which is now Space Force.
"I took the leap, and from then on, everything I've done has been that same model," she said. "Take the leap. Just go for it and do it because you'll come out better on the other side."
The military introduced Sanchez to nonprofits, which is how she became the manager of a nonprofit organization in her community. She is also the owner of TheColorPOP Print Studio in Grand Prairie, has written two e-books and serves on the Gildan Board of Decorators.
Sanchez was 17 when she was sent to boot camp for six weeks. As the youngest and one of the only women in her unit during basic training, she faced much adversity.
"
Take the leap. Just go for it and do it because you'll come out better on the other side."
— Jessica Sanchez, Air Force veteran
She was housed in dorms where "there were drugs, alcohol and anything you could think of that happens in university dorms." The dorms Sanchez lived in for six weeks were not separated by gender.
"A lot of stuff happened in the dorm rooms after hours," she said. 
The military is a male-dominated field and many women experience sexual assault or harassment during their service, including Sanchez.. 
"There was no one I could talk to, and I didn't have the resources," she said.
Afraid of what would happen if she spoke out about the abuse she endured, she didn't tell anyone until she left boot camp.
Other panelists also discussed the challenges that came with being women in the military.
Montague, the daughter of two Army parents who enlisted at the age of 22 and served for eight years as a supply sergeant for a medical logistics company, recalled the discomfort that came with being around large groups of male soldiers during her first deployment in Qatar. 
"There wasn't a lot of control and restriction, so it fell back on the female soldiers," said Montague, who served as a Sexual Harassment/Assault Response and Prevention coordinator for her unit. "It got to a point where we couldn't wear certain things to the gym, instead of leadership taking the time to say, 'Hey, guys, males, control yourself. Don't do this.'"
The panelists said women in the military are forced to be strong and confident since they constantly have to prove themselves to their male peers. 
Shorter added that sexual harassment from leadership was not uncommon.
"When I'm a private first class, and a gunner sergeant who's supposed to be my leader is coming onto me, I have no guidance," she said. "But that's not being done to male Marines."
While efforts to combat sexual harassment in the military have been made, many female service members fear that reporting harassment will keep them from being promoted.
"Retaliation can come out in so many ways, with honorable discharge and medical discharge," Small said.  "All of these other things that have nothing to do with service end up a part of what you went through."
Despite the challenges she endured, Sanchez said her military experience was life-changing. She started the first Hispanic Heritage Organization on Peterson Air Force Base in Colorado Springs and continues to help educate and train people in her community who want to start their own business.
"The military really helped me become the woman I am today and helped me be that person that decided to take the leap," she said.
Forging a new path
Jacqueline Shorter had planned on earning a scholarship and going to college after graduating from her high school. Then her house was destroyed in a fire, and she lost everything.
Shorter was forced to change her plans and find guidance in her path.  She found an opportunity to earn a living by joining the military.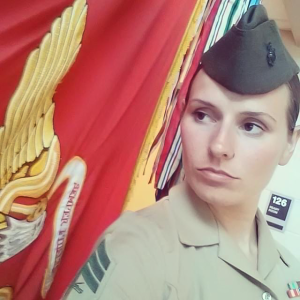 "I felt like I wasn't a strong person in my character," Shorter said.  "And I looked at a commercial for the Marine Corps, and I was like … 'You know, I'm going to do something to help me become a better person, a stronger person. To have agency over myself and my choices.' And I went to the recruiter and said, 'Sign me up.'"
Against her mother's wishes, she enlisted and went to boot camp a week after graduation. But the physical demands were even more challenging than she expected.
"The (physical training) definitely showed me that I was not even a varsity softball player," Shorter said.  "That level of fitness in high school was completely different than the Marine Corps level fitness, so I had a lot of catching up to do."
Shorter not only made it through basic training but went on to serve as an unmanned aerial vehicle technician for more than eight years. Her job took her to locations like Okinawa, Japan, and Kaneohe, Hawaii, and even led to her meeting her husband. After winning several military medals and commendations, she has since earned her master's degree in English literature and is a program lead for the Veteran and Military-Connected Services at Eastfield, where she helps ensure that others maximize their military benefits.
Like the other veterans in the panel, Shorter has now adjusted to civilian life and enjoys helping provide services to student veterans.
Her advice to female service members is to love yourself and know that your rank does not define you.
"Who you are when you lay your head down at night is what matters more than anything else," she said. "And whether you're civilian or military, that does not change."