Never a dull moment
March 7, 2023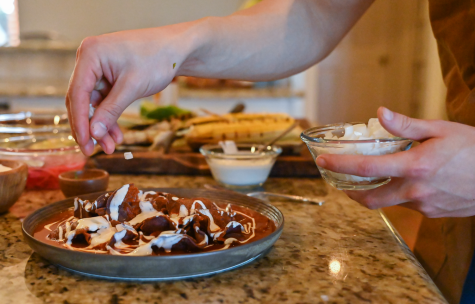 Even though he's made advancements in his career, Nguyen feels like he still has a lot to learn about being a professional chef.
It's more difficult for him to be satisfied with his creations since his cooking was put on a pedestal.
"I'm my biggest critic," he said. "Every dish I put out, my first question is 'what I can do to improve upon it?'"
While in a fine-dining kitchen, Nguyen learned techniques such as quality control and sophistication in a high-pressure, fast-moving environment.
"You have to make [food] look like art," he said. "There's this higher level of expectation that you really have to put on everything."
Whenever Nguyen crafts a dish at home, his camera takes the first bite. His house has a nook where he prepares food photos for his Instagram account, @theculinarycode.
"It helps to look at it through the camera. You see what pops out and what doesn't," he said.
Color is quintessential to Nguyen's dishes. 
He views them as art pieces, and his most enticing meals contain vibrant hues. 
A "good balance of color" is key, he said.
Nguyen's biggest fans are his family, and he's always trying to find new ways to reinvent dinner.
"Food and family are his core values," said Emma Nguyen, Preston's mother. "People saw that during the World Food competitions – it was us, as a family, cooking food."
Family-owned restaurants are a tradition in the Nguyen family. Preston's relatives have owned a Brazilian steakhouse, a Vietnamese kitchen, several Mexican restaurants and a pastry shop. 
Nguyen is continuing the pattern with the restaurant he plans to open with his family someday. His father dreams of seeing his son work in a setting like that.
"It's great he can have a career doing something he loves," Peter Nguyen said. "It brings everyone closer because everyone eats. … Food is real important in our lives."
Although Preston thinks his cooking will never exceed the quality of a homemade dinner cooked by a loving mother, the passive competition in his family kitchen keeps him on his toes.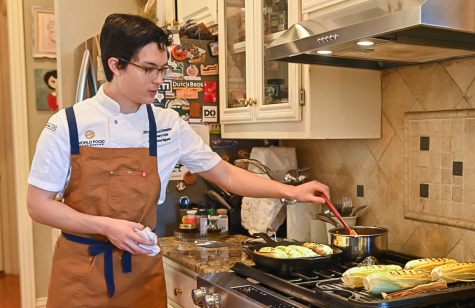 "It's wonderful that he's able to cook us a wonderful meal. I'm like, 'Yes, we're gonna have a really good dinner tonight,'" Emma said. "The other night he made a rack of lamb, and it was phenomenal."
However, after a hard-fought competition like '"Next Level Chef," the Nguyen family settled for nachos while watching the premiere.
"When I first popped up on TV, everybody screamed so loud I couldn't hear what was going on," Nguyen said. 
Having his food judged by Ramsay was a high-pressure situation that felt novel, but Nguyen found his ways to keep cool in the midst of the celebrity chef's notorious insults.
"We had a bingo card," Nguyen said. "Idiot sandwich, raw, lamb sauce – he said all those things."
There are moments when Nguyen wonders what he could've done differently, how he could've seasoned his dish or seared a steak.
That was the case with the chilaquiles he made for Ramsay. After pouring the sauce into a bowl of chips, then decorating the crunchy tortilla fragments with bits of red onion, cilantro and seasonings, he let the stew settle for a while to get the chips soggy.
There wasn't time to do so when Nguyen served it to Ramsay. Working fast caused the dish to fall short of his expectations.
But it didn't matter in the end because Nguyen's parents, quietly observing him from a distance, believed in the final product being another taste to remember.
"They're my biggest supporters – since day one," Nguyen said.