Family Recipe: Preston Nguyen's cooking reaches 'Next Level'
March 7, 2023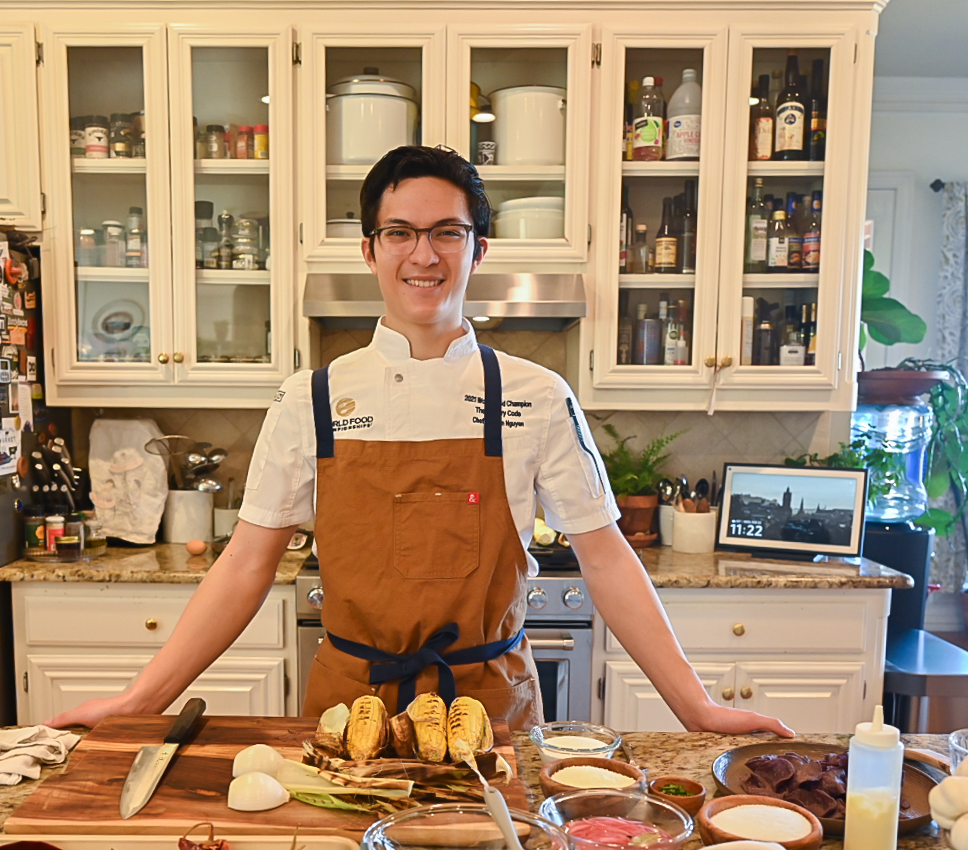 Student chef building culinary empire
The kitchen is a warzone. Onions and poblanos are chopped to bits in the machine gun-like chatter of a silver knife as thick steam rises from a bubbling, crimson stew. Preston Nguyen pivots to a stove, breaking an egg into a pan over a steady flame.
In a fast-paced kitchen, the 19-year-old chef can't stay in one place too long. He plates the egg once it crisps into a sunny-side up, placing it next to an assortment of colorful spices.
"
I like the challenge.
— Preston Nguyen
"You build muscle memory," Nguyen said, pinching cilantro and salt without measurement, then seasoning the egg in precise sprinkles. "That's what it's supposed to look like … and then also you develop what it's supposed to taste like."
Nguyen is making chilaquiles, the same dish he served Gordon Ramsay on the second episode of "Next Level Chef," but this time he's serving the dish in his Arlington home.
Nguyen's cooking is taking him to new levels in a cutthroat industry. Although he hasn't yet graduated from Dallas College, he's traveling the world seeking career opportunities. He looks forward to making his first cooking demo this summer in London.
"I like the challenge," Nguyen said. "It adds this level of excitement, not knowing what the outcome is going to be."
The El Centro student started pursuing his culinary journey at Dallas College in Fall 2021. He's currently taking a gap year to focus on competition, followed by relaxation away from the kitchen.
After that, he wants to become the youngest recipient of the James Beard Award, a medal presented for outstanding culinary achievement. 
Nguyen got his big break in the 2021 World Food Championships. Competing in the World Chef category, he battled 1,500 veteran chefs, many of whom had been in the craft longer than he'd been alive.
"Going into it, I was intimidated because I've seen these people on TV before and I grew up watching them," Nguyen said.
With his parents as sous chefs, they served numerous dishes while steamrolling through the tournament brackets, culminating with fried quail lollipops in a hot honey glaze. It made Nguyen the youngest winner in the category's history – earning him a $100,000 prize.
Now the Nguyens are creating a family business. And hopefully, opening a restaurant in the coming years. 
"This is something we can achieve together as a family," Nguyen said. "[We can] take culinary competitions to the next level and change the food scene."
Kid with a gift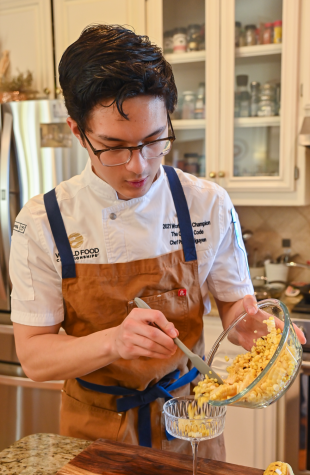 When word came out about Nguyen's victory at the World Food Championships, he returned to his El Centro culinary class to a round of applause.
"Preston was amazing. [He] really struck me as a student who worked with deep commitment and focus," culinary instructor Jeffrey Glick said. "[He] had a lot of attributes I looked for when I was in the industry and interviewing applicants."
Glick is no stranger to teaching successful chefs in his 30-year career, but Preston went the farthest by reaching the limelight of national television.
"I take pride in that," Glick said. "I was thrilled to have a student reach that level so early in his career."
The cheers weren't confined to the classroom. Tarrant County officials marked Oct. 25 as Preston Nguyen Day in honor of the chef's victory.
"I'm thankful for how supportive everyone is because that's another thing that keeps you going," Nguyen said. 
Nguyen started his culinary journey at age 7. His first dish was a scrambled eggs breakfast-in-bed for his aunt. 
"She liked it a lot," Nguyen said. "It felt nice to be able to serve somebody else."
Cooking runs on both sides of Nguyen's bloodline. All four of his grandparents were chefs, who then passed their skills on to Nguyen's parents. When his parents noticed the young chef's interest in cooking, they taught him how to work the kitchen. Nguyen quickly caught on and began cooking dinners for his family. He even became one of the main chefs for Thanksgiving dinner.
"[My family has] always been here for me, and so giving back to them always has a special place in my heart," he said.
Cooking was just a hobby throughout middle school and most of high school. His primary focus was the architecture program at the University of Texas at Arlington.
"I got really far in the program in high school," Nguyen said. "Then, in my junior year, I went to the program for an internship. I hated that job."
A desk job wasn't in the cards for Nguyen. 
He needed something more hands-on, so he turned back to his hobby. 
Nguyen enrolled in Dallas College and made the switch to culinary arts. 
Initially, he didn't dream of entering the competitive scene. He volunteered at the World Food Championships as a helper for extra credit, but joined the contest when he heard of an open slot.
"Sometimes you have somebody that's very talented, but they're not willing to put in the hard work … and that is not the case with Preston," culinary instructor Jesmary Sbraga said. "He's very humble and well-rounded." 
Fine-dining sites have noticed the victories under Nguyen's belt; he works at Prince Lebanese Grill in Arlington and cooked at The Mansion Restaurant in Dallas. He balances schoolwork with shifts that have gone on for 18 hours.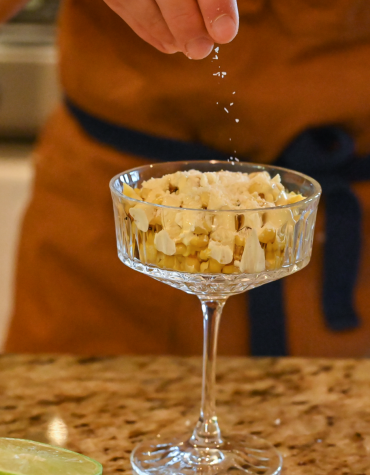 "It was cool to experience being an adult in the culinary scene," he said.
Nguyen stays in touch with his classmates and instructors. The sense of community in his culinary classes became his favorite part of the program.
"The cool thing about culinary school is that you're going to meet a lot of people who are also passionate about food," Nguyen said.
One assignment in Glick's advanced class features a mystery basket with unknown ingredients. His students are required to cook with what they get.
Nguyen crafted a chicken quarter with his random assortment of ingredients.
"I was absolutely blown away by his presentation," Glick said. "I think we all were. It was an exquisite visual presentation. … He's one hell of a cook."
Never a dull moment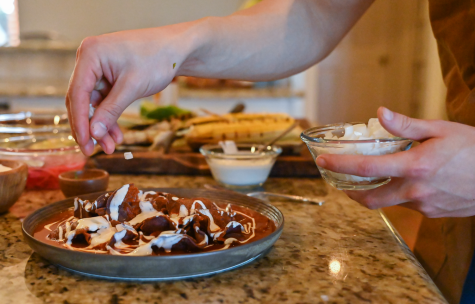 Even though he's made advancements in his career, Nguyen feels like he still has a lot to learn about being a professional chef.
It's more difficult for him to be satisfied with his creations since his cooking was put on a pedestal.
"I'm my biggest critic," he said. "Every dish I put out, my first question is 'what I can do to improve upon it?'"
While in a fine-dining kitchen, Nguyen learned techniques such as quality control and sophistication in a high-pressure, fast-moving environment.
"You have to make [food] look like art," he said. "There's this higher level of expectation that you really have to put on everything."
Whenever Nguyen crafts a dish at home, his camera takes the first bite. His house has a nook where he prepares food photos for his Instagram account, @theculinarycode.
"It helps to look at it through the camera. You see what pops out and what doesn't," he said.
Color is quintessential to Nguyen's dishes. 
He views them as art pieces, and his most enticing meals contain vibrant hues. 
A "good balance of color" is key, he said.
Nguyen's biggest fans are his family, and he's always trying to find new ways to reinvent dinner.
"Food and family are his core values," said Emma Nguyen, Preston's mother. "People saw that during the World Food competitions – it was us, as a family, cooking food."
Family-owned restaurants are a tradition in the Nguyen family. Preston's relatives have owned a Brazilian steakhouse, a Vietnamese kitchen, several Mexican restaurants and a pastry shop. 
Nguyen is continuing the pattern with the restaurant he plans to open with his family someday. His father dreams of seeing his son work in a setting like that.
"It's great he can have a career doing something he loves," Peter Nguyen said. "It brings everyone closer because everyone eats. … Food is real important in our lives."
Although Preston thinks his cooking will never exceed the quality of a homemade dinner cooked by a loving mother, the passive competition in his family kitchen keeps him on his toes.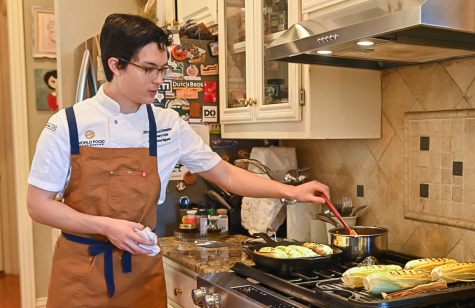 "It's wonderful that he's able to cook us a wonderful meal. I'm like, 'Yes, we're gonna have a really good dinner tonight,'" Emma said. "The other night he made a rack of lamb, and it was phenomenal."
However, after a hard-fought competition like '"Next Level Chef," the Nguyen family settled for nachos while watching the premiere.
"When I first popped up on TV, everybody screamed so loud I couldn't hear what was going on," Nguyen said. 
Having his food judged by Ramsay was a high-pressure situation that felt novel, but Nguyen found his ways to keep cool in the midst of the celebrity chef's notorious insults.
"We had a bingo card," Nguyen said. "Idiot sandwich, raw, lamb sauce – he said all those things."
There are moments when Nguyen wonders what he could've done differently, how he could've seasoned his dish or seared a steak.
That was the case with the chilaquiles he made for Ramsay. After pouring the sauce into a bowl of chips, then decorating the crunchy tortilla fragments with bits of red onion, cilantro and seasonings, he let the stew settle for a while to get the chips soggy.
There wasn't time to do so when Nguyen served it to Ramsay. Working fast caused the dish to fall short of his expectations.
But it didn't matter in the end because Nguyen's parents, quietly observing him from a distance, believed in the final product being another taste to remember.
"They're my biggest supporters – since day one," Nguyen said.