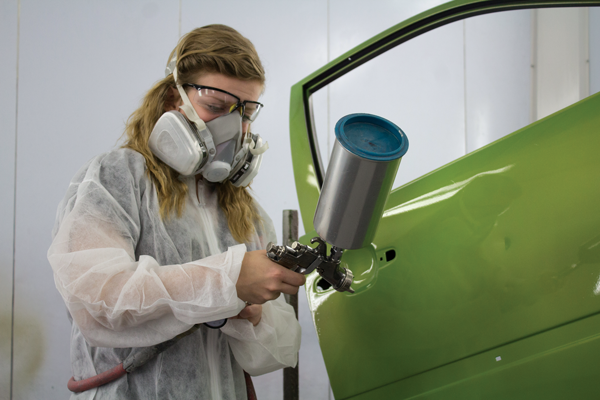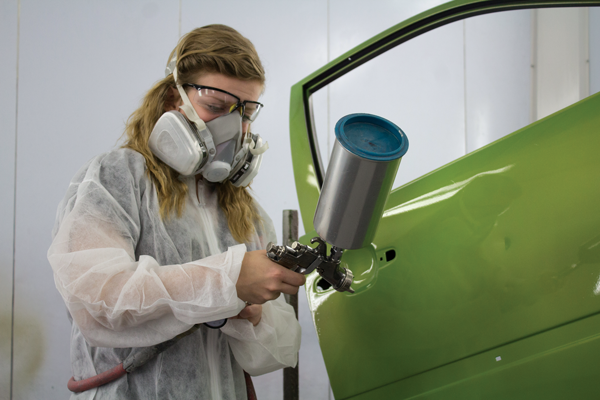 By Parker Ward
Jennifer Scruggs didn't need anyone to make her pursue her dream job.
Nobody told her to take extra classes while working full time. But she did, and now she'll be walking the stage Saturday a semester before she was expected to graduate.
She will earn a certificate in auto body management, which she believes is the best way to prepare for her dream job at an auto body shop.
"I want to be an estimator, and hopefully I am one by the end of the year," Scruggs said. "I can only go forward from here. I don't plan on going backward."
An estimator is the person in charge of coming up with a price to give to customers based on the damages.
They are also the last person to check the work done to a vehicle and are a direct line of communication between shop and customer.
While earning her degree, she worked at a car dealership shadowing an estimator.
"Jennifer is driven and she is passionate about what she is learning," auto body program coordinator Carlos Ojeda said. "She went out to interview for a position with the company she works with, and she landed it all on her own."
A good estimator can mean the difference between success and failure at an auto body shop, Ojeda said.
"The estimator is the most important person in the shop being that estimator is the direct line to securing the money. Without that estimator, the company could go under."
Scruggs always knew that she was interested in cars. She was a part of the Duncanville High School collision program before graduating in 2013.
However, it was not until after she earned second place in a competition by painting cheetah print on a car hood that she felt like she could achieve success in the automotive field.
While trying to find a job in her field of study, Scruggs applied at two other businesses before landing a position at a dealership. She said the other places did not give her much of a chance.
"At the first one, they asked me, 'Are you sure you are really ready for this?' " she said. "At that point, I knew the interview was over. He didn't even get up to shake my hand."
Despite landing a job, she believes that the automotive industry as a whole does not have enough women.
"At the shop I work at, I'm one of only two females in my shop," she said. "The other is the receptionist. Even when you go to other shops, all guys. There's not very many females, and a lot of people frown upon it.
There are very few people that find it to be a good addition to the company."
As a woman, she said, applying for a job in the automotive field is taking a big chance.
"It's just a gamble," she said. "You have to go to the place with your head held high and hope for the best. I'm hoping that if other females see me succeeding, then it will show them, 'You can do this.' "
In contrast, fellow auto body student Zulemma Morales believes that companies might take prospective female employees more seriously.
"You don't find a lot of women working in this industry, but I really think they take a good look at you if you are one because they want a lot of us in there," Morales said.
Scruggs' family initially opposed her pursuit of a career in the automotive field.
"They were scared for me, but I'm here to prove them wrong," she said. "It doesn't matter that I'm a female in a guy's environment. At the end of the day, we are all human. It doesn't matter whether you are male or female as long as you get the job done."