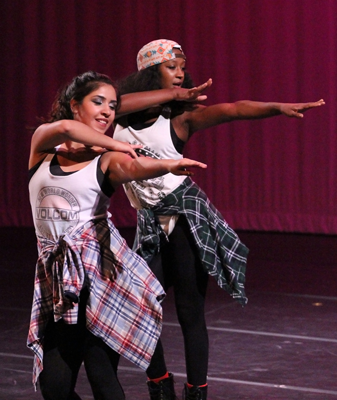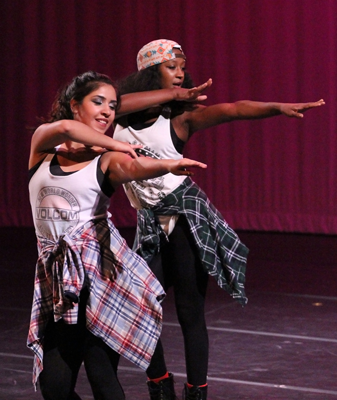 'Body of Words' features student choreography, dancers

By Sidney Murillo
With a total of 20 two- to three-minute dances, the Eastfield Dance Company told a story of heartbreak through a performance by student choreographer and dancer Bre'anya Johnson to Nancy Sinatra's "Bang, Bang" and a story of young love through a dance choreographed by Colby Calhoun with music by The Moldy Peaches.
"A Body of Words" comes from the relationship and connections between literature and dance.
The music for the concert varied from upbeat jazz numbers such as "All That and More" to alternative music by Arctic Monkeys.
Calhoun, a musical theatre major and student choreographer, said the challenge of storytelling through dance comes from making everything look fluid.
"Every dance is about something, and if you are busy trying to fix your leg moving here or there, you get stuck," he said. "When telling a story through dance, it should all just be natural."
But Danielle Georgiou, dance professor, program director and lead faculty member in dance, believes "A Body of Words" has been the dance company's best performance yet.
"This really was our biggest and best show that we've done to date in the last three years," she said.
She gave special mention to Calhoun and student Lo Goodson.
"Those two have improved the most as dancers and choreographers," she said.
Goodson, speech pathology and psychology major and student choreographer, has been dancing with the Eastfield Dance Company for two years. She believes an audience can walk out of a show feeling an array of emotions, but only if the performers focus on relaying a story through dance.
"A lot of the dances I'm in are somber, desperate, very strong emotions," Goodson said. "When you are dancing, you are always supposed to tell a story. It's like when you read literature. You are living inside those words. The same thing ties into dance. You're supposed to make people feel something."
Georgiou says having new dancers every semester pushes returning dancers to work harder.
"It's really nice to have fresh bodies and fresh energy in the room," she said. "It's a joy to have new people come in every semester who want to learn about dance."
Georgiou choreographed two of the dance pieces inspired by this year's common book, "The Illustrated Man."
The dance "Falling Stars" was inspired by the chapter "Kaleidoscope" and "The Last Sunset" was inspired by the chapter "The Long Rain."
"I wanted to show a different interpretation of that narrative and to explore more of the freedom of floating in space and not so much the fear of it, which the story is more about," Georgiou said. " 'The Long Rain' from my reading was a story that connected most with me and that I remembered the most, visually and metaphorically, so I wanted to put that on stage."
Georgiou said she is happy with her dancers, but would like more people to see them.
"There's nothing I would have changed in the show," she said. "I think for the future, I say we just keep growing in advertising, getting more people out there and increasing awareness in dance and in the arts on this campus."