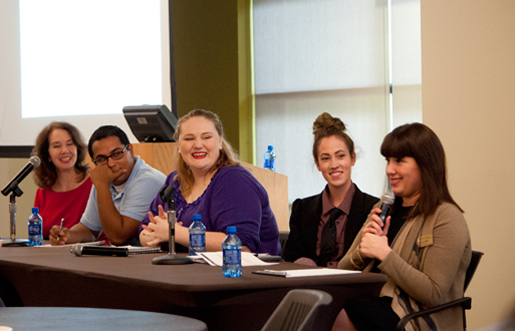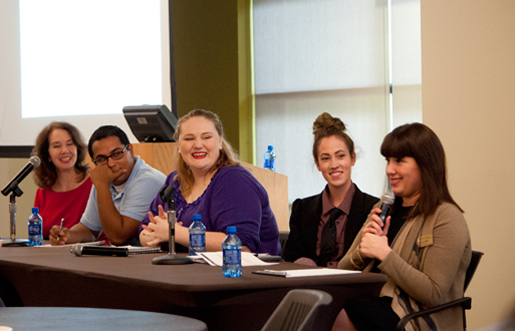 By Emma Hahn, Staff Writer
While munching on cookies and chips, students were able to skip a lecture period to watch a documentary and participate in a panel discussion about gender equality on Oct. 21.
The documentary, "Miss Representation," flashed images and YouTube clips of scantily clad women doing everything from dancing to washing cars in bathing suits and thongs.
Decades ago, these images might have been cause for concern, but some students in the audience were either bored or chuckling at the half-naked celebrities on the screen.
This panel attempted to change those apathetic attitudes during the discussion, which was a part of Freedom of Speech Week. It was designed to educate students about the representation of women in the media.
The documentary explained that women in movies aren't typically portrayed as intelligent or powerful. Instead, they are shown as useless objects of affection or emotional train wrecks.
"Miss Representation" featured interviews from psychology experts, female leaders and high school girls. Each told stories of pain, depression and discrimination.
According to the documentary, more than 78 percent of teenage girls are unhappy with their body by the age of 17. The film explained that these girls, from infancy to adulthood, have been pounded with the notion that only beautiful girls are worthy of love.
The film also showed how advertisers turn a normal-looking woman into a fashion model. The process began with a team of stylists and makeup artist working feverishly on the woman until they sent an image of the final product to an editor. The editor then proceeded to enlarge her eyes, delete flyaway hairs and erase blemishes in her skin.
The film stressed that this is an impossible mold for women to fit in, one created more by Photoshop than nature.
Experts interviewed in the film said the media also portrays women in a manner where they are not seen as capable of becoming leaders.
The panel, which was made up of students, faculty and administrators, debated many of the issues discussed in the film, particularly the topic of women leaders.
Can a woman be a powerful leader in the U.S.? The entire panel, including the lone male student, Jose Rayas, agreed that women should be national leaders.
Gloria Culpepper, a student who attended the event, said women leaders often have a different outlook than their male counterparts.
"Men ask how we can get things done, but women ask what steps need to be taken to get things done and what's going to happen if we do it," Culpepper said."They look at the whole picture."
Another student, Brenda Vuniga, said the documentary was enlightening and interesting.
"It's something that everyone should hear because women are so suppressed in the media," she said.
One of the most powerful moments in the film was when a teenage girl explained how her little sister was depressed because she didn't think she was beautiful. She burst into tears and began describing the pain she feels knowing her sister cuts her body to punish herself.
The girl asked a question that hung in the air, silencing the chuckles and disinterested private conversations of the audience: "How long is it going to take for someone to take a stand?"