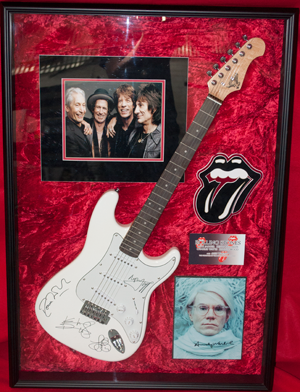 BY JUSTIN DAVID TATE, LIFE & ARTS EDITOR
A music memorabilia exhibit entitled "The Legends of Rock & Roll" is expected to arrive in the library Oct. 10 and remain until Dec. 12.
The exhibit will to include the guitar Carlos Santana used to play his chart-topper, "Smooth" in 1999 and a guitar used and signed by the Rolling Stones. The display will also include the famous Rolling Stones tongue and lips logo created by John Pasche and a signed photo of artist Andy Warhol.
Math instructor and art enthusiast Terrence Wickman spearheaded the hunt for interesting art after seeing other schools such as SMU having artwork and memorabilia donated to them.
"A number of folks had told me that there were things like this that were circulated to other colleges," Wickman said. "So I contacted them and asked would you consider doing something like this for Eastfield College?"
One of the people Wickman contacted was Sherry Rooker, a social media and marketing administrator for Dan and Kim Foster, who own six Uncle Dan's Pawn Shops in the Dallas Metroplex.
The Fosters bought the guitars in 2012 through their pawn shops from a seller who remains anonymous.
"The general public may not associate the buying and selling of such valuable, collectible merchandise with a pawn business. However, many celebrities and collectors will borrow money using their collection as collateral or sell through a pawn shop to protect their privacy," Rooker said.
The library will have additional materials for students to learn more about the legends involved. Librarian Kathy Carter is in the process of creating a LibGuide, a one-stop resource on various topics related to a research topic.
"We haven't published it yet, but it's going to have content on the history of rock and the Rolling Stones," Carter said.
Wickman said one of the more interesting parts of the exhibit will be the addition of a matted die cut of the Rolling Stones tongue logo.
Though Warhol did not originally design the Rolling Stones lips-and-tongue logo, he did design two album covers for the band: "Sticky Fingers" in 1971 and "Love You Live" in 1977.
"When one artist in one area of art links into another area like art, that's pretty unique," Wickman said.
Even though Wickman has worked closely with the project, he credits Eastfield President Jean Conway with its realization.
He's happy to have her support despite some of his colleagues questioning what value the exhibit will bring.
"I think she deserves almost all the credit," Wickman said. "She said, 'Let's pursue it.' And a lot of folks said, 'Carlos Santana? Boston?' But some people don't get the art."