Salsa dancers move to the beat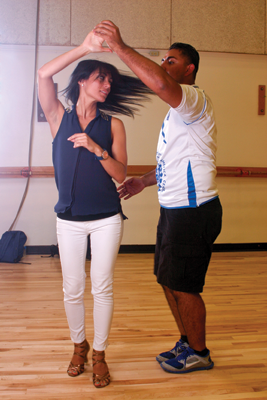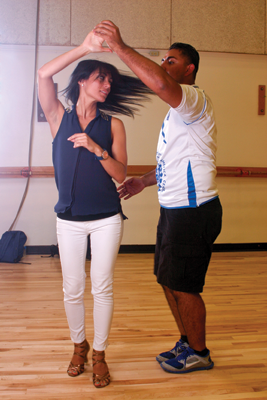 By Maria Garcia, Staff Writer
President Eric Nestares welcomes newcomers and returning club members. Everyone nervously spits their names out and why they are interested in the Salsa Club.
After the introductions, Vice President Miguel Gaitan directs the group outside. That's when it becomes clear this is no ordinary club.
The group is greeted with loud bachata music and the rays of the warm sun. Nestares stands on a platform and begins to lead the group in a line dance called "Danza Kuduro."
With quick feet and beads of sweat rolling down several faces, the meeting is in full swing.
Math instructor and current adviser Oraldo Saucedo founded the Salsa Club in 2008.
When Saucedo stopped dancing salsa for a while, he missed it. The absence of salsa in his life is what prompted him to create the Salsa Club.
Saucedo, now in his fifth year of advising the group, is pleased with how the club has been going.
"They started organizing themselves and they were wanting to perform," Saucedo said.
The club continually changes, but the focus on dance remains the same.
It typically meets three times a week: Mondays and Wednesdays from 3-5 p.m. for practice, and Fridays for performances only.
Nestares leads the group with help from Gaitan and the rest of the executive board. Both Nestares and Gaitan have been involved with the Salsa Club for the past two years. Each sees their years in Salsa Club as a fun learning experience.
Although the club's primary focus is salsa dancing, members like to include other genres such as bachata, merengue and cumbia.
Gaitan, like officers before, said he is hoping to add some new dance styles to the list.
"I would like to include more than just one genre of music," Gaitan said.
In hopes of diversifying the music styles, the Salsa Club is also looking to collaborate with the Dance Tank.
The Dance Tank is a new dance club featuring hip-hop and several modern genres of dance. Their collaboration will include future choreography and possibly some performances together.
The Salsa Club showcases moves during performances at local schools around Mesquite.
Aside from entertaining the local community, Salsa Club also performs service to those in need of help.
This year the Salsa Club is looking into doing more community outreach by teaching residents of Mesquite's Sunrise Nursing Home how to dance.
Since the creation of the club, several students have not only learned how to dance, but have also acquired leadership skills that could help them in the future.
"The most fulfilling part of having a college club is to learn skill sets like how to organize a group of people that have a common interest," Saucedo said.